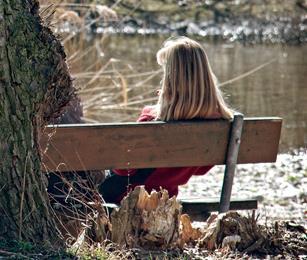 I was used to the idea of people having a list of priorities, sometimes adjusting them in changing circumstances, so that Priority Two becomes Priority One and Priority Six drops off the list altogether.

Then I read Greg McKeown's interesting book Essentialism, proposing that the whole point of a priority is having only one. He encourages the reader to establish, "What is my priority?" This helps you achieve better focus and live more effectively.

Undoubtedly the priority of Jesus is love, and I belong to him so his priority must shape my discipline of life. But for me — and this is steadily increasing — the priority is peace. I have an overwhelming need to live simply and quietly, without conflict, with few possessions, with an uncluttered schedule and a minimum of social interaction.

My father's priority was similar — solitude. After 49 years of marriage he moved out of the elegant, comfortable home he shared with my mother, and went to live quietly in a little cottage by himself with his dog! He loved her, phoning her every day; but he discovered his priority was solitude. I live in a shared house; I understand his hunger for the peace in being alone!

I learned from the spiritual writer Wayne Dyer to ask myself the question, "What will bring me peace?" Perhaps surprisingly, this is not a lazy or complacent approach. If you are honest and dig deep, you'll find you cannot know real peace if you have unfulfilled commitments, jagged shards of broken relationships, tough lumps of old grudges, or undisciplined habits. Prioritising peace, it turns out, takes work; it's a considerable endeavour. You have to deal with all that hoard of rubbish up in the mental attic, and maybe even re-shape your whole life.

Traditionally we make resolutions in January for the year ahead, but I think it's more often now, when the sharp clear light of spring illuminates everything, that we feel the urge to make changes, and begin to set our house in order. Perhaps this Lent could be a time for inner questioning, finding your way to the desert with Jesus, to sit with him in silence and ask the question, "What is my priority?" Not to make yourself feel guilty because it isn't the priority you wish it was, but so you can become the person you were meant to be all along. Try it?
Three questions to ask

What is my priority right now? In one sense, what you always choose or do shows you that. But you may be letting someone else's priority dominate your life, or be confused and overwhelmed by demands and commitments. Take time alone. Write down possibilities. There'll be one the light shines on for you. Identify it.

What will bring me peace? Even if 'peace' was not the priority you identified, this is still a good question, because identifying your true priority for the present time will work towards bringing you peace. So ask the question, of your conscience, of your heart, of your life, of your Lord. See what answers come.

How do I align my priority with the priority Jesus chooses? His priority is love. So love is the cake you're making. But what flavour will it be? Chocolate, coffee, simple vanilla? That's your priority. Discovering your priority will let you love authentically, as you offer the real you and respect who others really are.

Penelope Wilcock is an author based In East Sussex. Connect with her at kindredofthequietway.blogspot.com