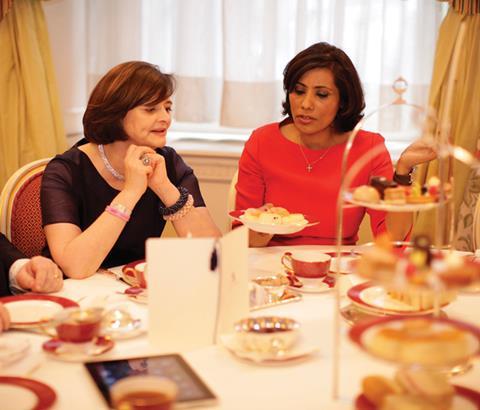 From the Ritz to the rubbish dumps
Ali Herbert joins a gathering of high-flying businesswomen keen to help women in developing countries fulfil their potential
Afternoon tea at the Ritz. One of the last remaining bastions of upper-class Englishness, along with cricket, Ascot and boating at Henley. Today the skies are leaden and grey along Piccadilly, but the Ritz building is as glamorous and enticing as ever, with glittering colonnades and expensive jewellery in its windows.
Inside, the Palm Court pianist melodically accompanies the genteel clinking of teacups and silverware. Ah, life is good. In a room just past the famed Palm Court, a group of women have gathered. As you might expect in such surroundings, there is a good smattering of Jimmy Choos and Mulberry handbags – but something a little unusual is happening here.
A Woman's Call is an event run by Shaneen Clarke. It's a gathering of 50 high-flying business women, both Christian and non-Christian, to meet, network, share the Gospel, and hear about ways to get involved in encouraging and empowering women in poverty across the globe. The event seeks to bring a seed of hope: there is more to life than money and success, and it is possible to have a relationship with a loving God.
It is aimed specifically at women because, as Shaneen says, "Women play such a vital role, they influence their families, homes, husbands, communities, nations and can make a huge difference." Shaneen sees meeting in the Ritz as symbolic of the generosity of God and the excellence that God can inspire in us.
The classic afternoon tea is clearly part of the attraction that brings some of these women together – with an opportunity to spend the afternoon in luxurious surroundings. But the stories told today are of quite different environments – of prostitutes from the rubbish dumps of Kenya, of women raped and humiliated in the streets, of women trapped in childhood marriages and forced to give up their education, of horrific poverty that most of us cannot even imagine.
And it is indeed shocking to experience the incongruity of sitting in luxury while being confronted with these images of misery and despair. But the point of this meeting is that change can happen – and that the women sitting in the Ritz this afternoon have the business acumen, wealth and capability to bring genuine transformation to their counterparts living in poverty.
These women may be wealthy – but they are clearly serious not only about sharing their wealth generously with some of the world's poorest people, but also about contacting, supporting and mentoring women in developing countries who can then pass lasting benefits on to their families, communities and future generations.
The event's speaker stands up at the small podium and it is Cherie Blair QC, speaker, author and wife of ex-Prime Minister Tony Blair. Mrs Blair is impressive, coming from a working class background in Liverpool, defying the odds to make it in the Law Courts, having four children – one while living at Number 10 Downing St – travelling the world as a well-respected speaker and now setting up the Cherie Blair Foundation for Women.
Speaking movingly about the opportunities she had to fulfil her own potential, she contrasts the opportunities missed across the globe for millions of other women. The foundation particularly supports women entrepreneurs, giving them the tools and support needed to grow successful businesses – not just for their sakes, but also for their families, their communities and even their countries. As Cherie says, "Giving women the chance to become financially independent and make the most of their talents is the key to higher living standards and stronger economies."
Mrs Blair's words are borne out by the testimony of Heather Venezia, who speaks about her work with Alpha in Kenya. Heather is a successful businesswoman whose heart was broken a few years ago when she visited the rubbish dumps of Kenya. The women who live in these places must form gangs for their own protection, have mostly been raped and gang-raped, have given birth in these dumps and must forage for tiny scraps of filthy food just to survive each day.
These are women on the true edges of existence, and Heather was moved to help in any way she could. Two of the gangs were told about Jesus – in this place where he genuinely is good news – and their lives have been transformed. With financial support and business help, they have set up a café and vegetable and fruit stall, and are thriving against all the odds.
This is Christian love in action and, as our world turns increasingly into a global village, there is every opportunity for us, not only to enjoy good things from across the world, but also to share each other's burdens. There is every opportunity to have our eyes opened to our suffering brothers and sisters, and to find ways to share our money and time with those so desperately in need.
As Shaneen Clarke, Cherie Blair and Heather Venezia share small parts of their stories, there is a growing sense of urgency in this beautiful room. As the formal event comes to a close, women are talking excitedly, making connections with each other, swapping contact details, sharing stories and encouraging one another. Each woman present has had opportunities, education and financial support in a democratic and stable country, and there is a fresh determination to bring the same to other women who currently have none of these.
While it has been an incongruous place to meet and talk about poverty, it seems that the women have networked and connected with each other and, more importantly, have been inspired to take what they have and use it on behalf of others. From the Ritz to the rubbish dumps. Afternoon tea has never tasted so good.