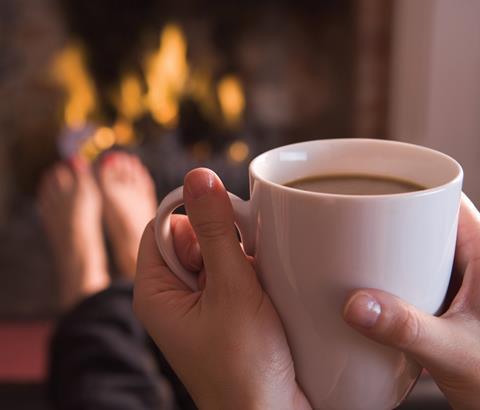 10 ways to embrace winter
Money worries, failed diet, post-Christmas fatigue? Even scientists have declared that mid-January is the most miserable time of the year. But can winter be a season of inspiration and wonder? Helen Jaeger explores ideas to reinvigorate this chilliest of seasons
1 Winter walks
How: Remember as a child walking in winter across muddy fields, cheeks bright red from the cold? It's tempting, when the weather's miserable outside, to huddle into the warmth of home – and frankly, there's nothing wrong with that! But for fun and health, you can't beat a winter walk. So why not wrap up warm, drag out some friends or family and revisit the joy of breaking ice on frozen puddles? You'll come back glowing inside and out – and ready for that well-earned hot chocolate.
Consider: "The heavens declare the glory of God. The skies proclaim the work of his hands" (Psalm 19:1).
2 Light a fire
How: Whether it's the roaring warmth of a log fire or the gentle glow of candlelight, we all love to sit around sources of natural light and warmth. In the cold clasp of winter, a flame warms not only our bodies, but our hearts and spirits, too. If you're the extrovert type, perhaps you could gather people together for a hearty winter meal by a fire, at home or in the nearest accommodating pub! More introverted? Not a problem. Sitting in gentle candlelight is atmospheric in itself – but you could also have it as a time to unwind and, if you like, contemplate or daydream. There are some great Christian meditation resources you could also use. Winter is the perfect time for your body and mind to find the relaxation that other busier seasons, such as summer, don't always offer.
Consider: "Jesus said: 'I am the light of the world. Whoever follows me will never walk in darkness, but will have the light of life'" (John 8:12).
3 Cosy knits
How: Winter may traditionally be a darker time of year, but there's no reason your dress sense needs to be, too. Consider bringing some warmth to your world through what you wear. Bright reds, oranges, yellows – even turquoise – can cheer up your winter and other people's too. It doesn't have to be expensive. A scarlet scarf from the charity shop may be all you need to raise a smile on the darkest of winter mornings.
Consider: "When it snows, she has no fear for her household, for all of them are clothed in scarlet" (Proverbs 31:21).
4 Fragrant life
How: Cinnamon, spice, and frankincense – such heady smells we traditionally associate with Christmas. But why restrict these gorgeous fragrances to just a few days of the year? Instead, you could let their soft, subtle scents waft through the whole of winter – and your home. Better yet, set up a quiet place to pray with a stick of incense or a fragranced candle or two. It's a great visual reminder of your prayer gently wending its way heavenwards, plus an invitation to let yourself be led into the deep peace of the season.
Consider: "May my prayer be set before you like incense. May the lifting up of my hands be like the evening sacrifice" (Psalm 141:2).
5 Bare essentials
How: Winter offers more thinking and reflecting time than any other season, so use it to your advantage. Take a look out of the window and you're bound to notice how bare the trees are. This is a season of stripped-back nature – essentials only. You could apply the lesson of winter to your own journey. What are the essentials that you want in your life? Set aside some time to think about what you really want and what your true values are. You could use the following categories to help your thinking: spirituality, relationships, work, home, and health. In an ideal world, how would each area of your life look? Depending on your personality, you could list, collage or journal your ideas – and perhaps end in prayer. (This also works well for a group.) Now may also be a time to develop new interests.
Consider: "May he give you the desire of your heart and make all your plans succeed" (Psalm 20:4).
6 Star-gazing
How: It's dark, it's cold and it's very, very frosty. No one in his or her right mind would venture out aimlessly on a winter night. Or would they? Dark, cold nights are perfect for star-gazing. There's something wonderful and awe-inspiring about surveying a night sky filled with glowing stars and planets. Plus, it's rarely clearer at any other time of the year and even if you do star-gaze in summer, you can't do it in the early evening! So find a good star guide and head out. (Alternatively, Google offers a great app called 'Google Sky Map' for on-the-night, accurate star spotting). Let that sense of awe from the night sky fill you, even if you're only outside for 15 minutes!
Consider: "Those who are wise will shine like the brightness of the heavens, and those who lead many to righteousness, like the stars for ever and ever" (Daniel 12:3).
7 Duvet days
How: Many people report a natural slowing down in winter, similar to the desire to hibernate. Of course, it's unrealistic in our 24/7 culture to do so. But you could explore the restfulness of winter by establishing an occasional weekend 'duvet day'. Get up late, watch a DVD, make popcorn, play games or even eat ice-cream. The only rule is that you do as little as possible, slowly. If you start to feel guilty at the thought of everything you could or should be doing, remember the importance of Sabbath rest. Now is a good time to check that your life has this essential rhythm, especially if you're naturally busy or if your Christmas has been hectic. Families who use this idea report that they feel closer and more ready for the natural challenges that life always brings, whatever the season.
Consider: "Jesus said: 'Come to me, all you who are weary and burdened, and I will give you rest'" (Matthew 11:28).
8 Give thanks
How: An essential part of Christmas is celebration. However, by January, most of us are grumbling about the bad weather/bad boss/badly-behaved kids! An alternative is to keep a gratitude journal. At the end of each day, spend a little time reflecting on what's been positive. It doesn't have to be big. It could be the way the snow fell softly outside or that your health is good or that a friend sent you a nice text. In a notebook or on your computer, list five things you're thankful for. As you make this a habit, you'll be amazed at how easy it becomes, plus you'll find a positive sense of optimism growing within you.
Consider: "Do not be anxious about anything, but in every situation, by prayer and petition, with thanksgiving, present your requests to God" (Philippians 4:6).
9 Go global
How: Celebrate being part of one global family with ideas from around the world. If you're married to someone from another culture or country, you're probably aware of different winter traditions. A friend of mine's husband is Swedish. Whereas a few spots of drizzle may draw the average Brit towards a pair of slippers, rather than a pair of skis, in Sweden winter sports such as tobogganing, skating and slaloming are just part of life. The result, says my friend, is that they have a naturally active winter and are a healthy, happy family. But it doesn't have to be action-packed. A quick internet search will yield other ideas. Stollen and gluhwein, anyone?
Consider: "After this I looked and there before me was a great multitude that no one could count, from every nation, tribe, people and language, standing before the throne and in front of the Lamb" (Revelation 7:9).
10 Comfort food
How: Winter can be a particularly challenging time of year for some people, particularly the elderly and the homeless. The cold and dark can be a real threat to their health and well-being. If you have elderly neighbours on your street, perhaps you could make a point of ensuring that they are warm, regularly fed and cared for? Or maybe you'd like to do something more organised? Charities welcome volunteers at any time of year. A local soup kitchen would welcome your extra pair of hands or how about volunteering for a project that works with the homeless? You may not have talents to do the front-line work, but even admin in the office is a help. Helping others in this way not only brings a warm glow of comfort to them, but may do so to you too – however bleak the weather outside.
Consider: "All they asked was that we should continue to remember the poor, the very thing I was eager to do" (Galatians 2:10).