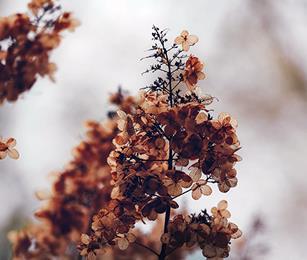 I gaze at myself in the mirror and I see a person who is ageing. I have tried to buy other mirrors, experimented with different potions, considered changing my glasses – but the lines and wrinkles remain! I am ageing and I will die. It is a difficult certainty to absorb. In our culture, death is the worst thing to happen, but is that my truth as a Christian? I need an alternate perspective, a God perspective.
"We all, who with unveiled faces contemplate the Lord's glory, are being transformed into his image with ever increasing glory, which comes from the Lord, who is the Spirit" (2 Corinthians 3:18 NIV).
I love these words. This is what God wants for us. This is what I choose for myself. To 'transform', to 'become' – not to 'age'. Although ageing is true of my physical body, within I am changing to become more like Jesus in every way.
Death is no longer about what I am losing, but rather about gaining what I have given my life to pursuing.
A spiritual perspective
When a loved one dies, the starkness of our own mortality and that of others confronts us. But what is our spiritual perspective? Do we believe death is catastrophic or do we trust our God and recognise death opens the door to eternity? As Christians we have a no less painful story to tell than others, but one that is gloriously hope-filled.
The Bible explains that one day all sickness will pass, all echoes of this fallen world fade and our half-seeing eyes will open fully to the joy of being resurrected into the presence of Jesus. "I am the resurrection and the life. The one who believes in me will live, even though they die" (John 11:25).
As Christians we are people of hope, basking in the light of eternity even whilst living in our time-space limited world. When we search for our God in the midst of death we discover deep wells of reassurance where most have none. Let's not allow fear to overcome us.
The Bible is forensic in the detail of Jesus' death, burial and resurrection. The positioning of grave clothes; the soldiers who verified his death and stood guard; the angels who declared Jesus risen; Mary, convinced of body-snatchers, seeing her resurrected Lord when he called her name. Why? To put beyond doubt that he died and rose again!
If Jesus did not rise from the dead, then we are lost. But if Jesus did rise from the dead, then we carry the hope of all mankind within us. "Do not be afraid" – the words of the angel still speak to us today from the tomb.
So consider – What if …?
•What if dying carried with it a sense of promise and a sense of excitement?
•What if meditating about dying brought a fresh sense of perspective and purpose?
•What if talking about dying, although scary, was positive and helpful not only for ourselves, but also for those whom we love?
•What if we took the opportunity to finish our life well, perhaps in contrast to some other life decisions?
•What if we could resolve that which remains unresolved in our lives to the best of our abilities?
•What if we could be brave and courageous about death and leave a positive and healthy legacy?
•What if we face the unthinkable and discover peace?
•What if, in our dying and death, we became our best selves?
Dying well
It is easy to make the mistake of thinking that our death concerns us alone. Yet its true impact reverberates for those we leave behind long after we have gone. Have we said, or written, the words our loved ones need to hear? Will the sound of our applause and pride in them ring in their ears, or will they inherit a sense of failure?
Regrets are a terrible thing to carry into our dying hours or to be left with when a loved one is gone. A failure to seek God's help to build bridges of reconciliation now, to deal with bitterness, unforgiveness, anger and other negative emotions while we have the chance, can leave a terrible legacy. Let's act now to avoid this.
We make meticulous preparation for the major events in our lives – just think of a wedding! – so why don't we prepare for our passing? If we fail to, then we leave our loved ones with a catalogue of difficult choices. When my father died, he made no preparation. In Holland, where he died, the burial must take place within a week. Seven hours after his death the undertakers arrived with myriad questions. The last thing you want to do when a loved one dies is choose their coffin.
My sisters and I knew my father was dying. I remember trying to have the conversation about his death, but I failed miserably. He didn't want to die and we lacked the words to help him face it.
In my book Time to Live: The Beginner's Guide to Saying Goodbye, I seek to help others do what I could not. The first half considers the Christian hope in death, but the second brims with accessible information regarding legal and emotional practicalities, and facilitates the essential conversations we can find so hard to start.
Seven years ago I started a monthly tea party, with many attendees in their eighties and nineties. It shocked me how ill-prepared they were to talk about dying and death. The idea for the book germinated.
There are simple steps we can all take to begin conversations around the practical and emotional aspects of death. Ask open-ended questions and don't be tempted to fill the silences or answer for people. And we must be honest with ourselves – if we have not faced our own mortality, then our own fears will hinder every conversation. Those who have the conversations talk of peace descending when decisions have been made.
Our final word
Most people want to die at home, but for the majority of us that doesn't happen. Foreknowledge of the caring options available can make it far more likely that we will get our wish. Writing an 'Advanced Decision' (Living Will), whilst challenging, allows our choices to be paramount and aids our loved ones. Giving them Power of Attorney means they are empowered to help us die well and relieves them of great stress if we suddenly decline.
Recently I spoke at All Saints Church Ealing. Prior to the service I was chatting with a son who bemoaned the fact that his 85-year-old mother, also in the congregation, flatly refused to talk about death. Afterwards she made a beeline for me, borrowed money from her son, and bought the book. Delighted, he couldn't thank me enough. We all need that enthusiasm!
I encourage us to be strong and courageous, and to take time to reflect on our end on this earth. It's ok to be scared – God will meet us where we are. Our death will be our final word, so why not make it one of service for him?
The opportunity to demonstrate our Christian hope, share the Gospel and bless those we love is enormous.
Ann Clifford has wide-ranging professional experience encompassing church and organisational leadership, screenwriting, film-making, special needs education and public speaking. Ann is married with two adult children. Connect with her at www.annclifford.co.uk