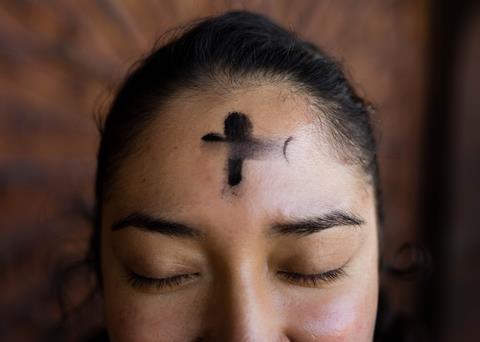 'To dust you came and to dust you will return', the priest says over me, marking my forehead with a cross of ash. In years gone by, at least, they did. This year will be different. As we stream or Zoom the service, the priest won't be able to mark us with the cross – another moment of physical touch lost. One among so many this past year.
It will be different too in that while previous Ash Wednesdays have rudely awakened me from my delusion about the reality of death, this year I need no such reminder. I might have once thought I would live forever – the only problem was how to remain wrinkle-free – but that was before the daily death tolls. That was before I knew the potential power of my own breath to put someone else's life in jeopardy. That was before I knew that my health lay, quite literally, in the hands of total strangers.
So this year, Ash Wednesday does not need to remind us of our mortality. But maybe, after a year of being reduced to an avatar on a screen, it can remind us of God's blessing on our embodied humanity.
We are deeply social creatures, our fullest selves when living in community. But in many ways, this has been a year in which our lives have been more digital than physical – our identities have been as profile pictures and usernames, a face against a square background, unable to turn to, or touch, the others in neighbouring boxes.
If you are feeling disconnected from your physical self, perhaps Ash Wednesday can be an opportunity to remember God's loving act of creation, in giving you form, and physical sustenance, meeting you in the daily bread He provides. Having become incarnate in Christ, God has not forgotten what it is like to be human – to have physical aches and pains, to be tired and hungry.
The fact that Jesus performed many healings through physical touch, when we know He could do miracles from a distance, shows He knew the power that can have in making us feel seen and accepted in the midst of our need and weakness. This Ash Wednesday is a time for us to also reflect on ways we can make those around you feel more human, even while we keep our physical distance.
But I think it is also an opportunity to bring to God our sorrows, including those for which we have no words. Ashes in the Bible were used to express grief – for regret over one's own sin but also in the face of tragedy. It seems they recognised better than we do that sometimes our suffering is too great to verbalise.
This year, we come to God with our hands full of the dust of what was once precious, what was once taken for granted, and of dreams we dared to believe in. But Ash Wednesday reminds us that that dust is cross-shaped; that God has entered fully into it and tasted its bitterness; but He has also promised to transform it, to raise life from what was seemingly burned to cinders.
We may be dust, we may be frail and finite, but by the grace of God who steps in and redeems all suffering, we are particles swept up in the restoration of all things, a whirlwind bound for glory.
Florence Gildea almost lost everything to an eating disorder, but somehow it opened her up to the infinite. Her debut book, Lessons I Have Unlearned, will be published in June 2021 by John Hunt Publishing.
Photo by Annika Gordon on Unsplash