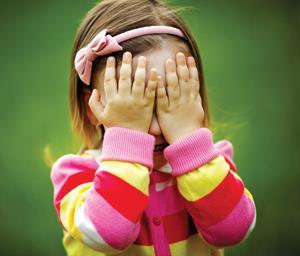 God's promise of forgiveness
God is always ready to forgive and enable us to move on, so if there is anything spoiling your relationship with him, now is the time to take this promise to heart, says Anne Le Tissier
When I was young and did something wrong, I hid in my bedroom, dreading having to face my parents. I knew they loved me, but I felt unsettled by my sense of wrongdoing and was unable to look them in the eye. I stumbled over my words and acted distracted.
Sooner or later they would find out my fault and confront me. But as painful as that might have felt in the moment, it soon passed. There may have been lessons to learn, restitution to make or penance to serve! But there was also release from that awful place of not being able to communicate with them in my usual free and easy manner.
We all recognise a need for God's forgiveness when we first come to faith, but Scripture reiterates our ongoing need of forgiveness. And so John writes, "If we confess our sins, he is faithful and just, and will forgive us our sins and purify us from all unrighteousness" (1 John 1:9).
It is a familiar promise perhaps, but it is important that confession doesn't just become a ritual, or something we feel obliged 'to do' as part of our devotions. For if we don't live in the promise of God's forgiveness, it can have a detrimental effect on our spiritual life, and potentially, our emotional, physical and mental well-being.
Hiding from God
Just as I used to hide from my parents, so too, unconfessed sin can create a barrier in our communication with God. For knowing that we have fallen short of his ways may nurture a sense of unease in being free and open with him.
John reminds us that God is "faithful and just". Consequently, he "will" respond to a contrite heart. No matter how we feel about our wrongdoing – that we have slipped up once too often and cannot be forgiven the same thing for the hundredth time – we can be assured that God is faithful to his promise to forgive us; forgiveness that in turn brings relief to the soul and restores uninhibited communication.
Feeling convicted or condemned
Conviction by God's Spirit is specific, highlighting attitudes, habits, words or behaviour that fall short of his ways. Consequently, we may feel guilt – remorse, self-reproach and perhaps sadness – where we feel responsible for letting God, or other people, down.
In many ways it is good to feel that responsibility if it drives us back into God's loving arms, seeking his promise of forgiveness and restoring peace and harmony in our relationship with him. But guilt can turn sour and fester into condemnation if we do not seek forgiveness and its cleansing relief.
Unlike conviction, condemnation is unhelpful as it makes us feel unworthy, unforgiveable, inadequate, disapproved of, and unable to approach God. It offers no escape or acquittal – just a foreboding sense of hopelessness or ruin. It is exactly what the enemy wants us to feel and he will heap it on in great measure if we do not trust in God's promise.
Feeling shame
Similarly, shame can cripple us with feelings of humiliation and hypocrisy when we know we've done something wrong. Shame is more than an initial conviction of sin; it is an ongoing companion that sucks life, peace and joy from our spiritual and mental wellbeing.
It hounds our conscience, pesters our thoughts, invades our sleep patterns and disrupts our relationships. It is the knowledge that we really ought to have known and done better than we did; that there is no excuse – we really let ourselves down.
We are all capable of feeling ashamed about something that we have said or done wrong. But we also have the means of being released from its oppressive, humiliating shackles of disgrace, if we would recall God's promise to those who sincerely confess their sin.
The clutter of sin
Last summer I created a new vegetable patch on what, for many years, had been an untended paddock. Skimming off the top layer of weeds and grass was hard enough, but then the real work began as I attempted to dig up wayward shrub roots, break down lumps of clay, clear the stones (plus rusted metal, broken pottery and glass!), mulch in compost, and dig the inadequate soil over and over again.
It really was hard going and physically painful at times. But unless I had cleared and cleaned that ground I would not now be enjoying a bountiful winter crop of potatoes, parsnips, cabbage, carrots and swede.
Our lives can be like that too. Jesus talked of sowing seed in various types of soil. Sin can both pollute and take root in our lives if not kept in check; if not weeded or dug out on a regular basis. And while that soil will still support certain elements of life, the bountiful fruitful harvest that God intended will most likely be stunted.
Drifting away
Leprosy can cause permanent damage to nerve-endings, numbing an individual to pain. Consequently, secondary infections arise from inadvertent cuts and burns. Feeling pain, therefore, is a good thing when it warns us of danger and potential harm.
Left untreated, sin, like leprosy, will desensitise us to its harmful consequences and sadly, over a period of time, it can even affect our faith. We may start drifting increasingly farther away from God's path, and ultimately, our faith may run aground on the opinions, lifestyles and behaviour that we adopt by taking that route.
But it is never too late to return to his path where God waits with his promise of forgiveness.
We're all different, but if any of these situations resonate with you, please do continue your reflection and hear God's gracious promise calling out to your heart.
Take it further
Are you hiding?
"Then the man and his wife heard the sound of the Lord God as he was walking in the garden in the cool of the day, and they hid from the Lord God among the trees of the garden…'I heard you in the garden, and I was afraid because I was naked; so I hid'" (Genesis 3:8 –10).
• Have you shut your prayer closet, too afraid to approach God and admit where you have gone wrong?
• Are you avoiding certain people, or hiding behind a mask for the same reason?
Then remember, if you are sincere in your confession, God will listen and forgive you. Please don't let this linger any longer, for God's peace, love and reassurance are just waiting to restore your life.
Do you feel guilty?
'"Woman, where are they? Has no one condemned you?' 'No one, sir,' she said. 'Then neither do I condemn you,' Jesus declared. 'Go now and leave your life of sin'" (John 8:10 –11).
• Do you feel convicted? Has God made you aware of something wrong in your life? Then acknowledge it, turn away from it, and receive his forgiveness.
• Are you harbouring guilt? Remorse is good only in so far as it brings us back to our Father in repentance. Perhaps you need to do that now and receive his forgiveness.
• Are you drowning in condemnation? This is not of God. Forgive yourself, and allow God to forgive you. Receive it with an open heart and be kind to yourself.
Are you feeling ashamed?
"Then [Peter] began to call down curses on himself and he swore to them, 'I don't know the man!' Immediately a rooster crowed. Then Peter remembered the word Jesus had spoken: 'Before the rooster crows, you will disown me three times'. And he went outside and wept bitterly" (Matthew 26:74 –75).
• Are you weighed down with a sense of shame? You may feel embarrassed, humiliated, degraded, disgraced, unworthy, afraid.
God does not want you to remain in this state. He wants to liberate you. But first you must ask his forgiveness and trust in his character to fulfil his promise to you.
Is your spiritual life stunted?
"Others, like seed sown on good soil, hear the word, accept it, and produce a crop – thirty, sixty or even a hundred times what was sown" (Mark 4:20).
• Is the spiritual soil of your life choked with bad attitudes, irresponsible choices, ungodly behaviour or words?
If so, confess your sin, that you may plough up the soil of your life and let God's Spirit bring his cleansing. In turn, God will nurture your sense of value in his love, purpose in his will, and satisfaction as he bears fruit through your life.
Have you turned away?
"… holding on to faith and a good conscience. Some have rejected these and so have shipwrecked their faith"
(1 Timothy 1:19).
• Do you recognise a sin in your life to which you have turned a blind eye? Confess it before it draws you away from God.
• Have you already turned away from God's conviction and walked in the other direction? If so, do you wish to restore your relationship with him?
Trust in God's promise of forgiveness, confess and turn from your sin, and run back into your loving Father's embrace.
Pray
"Who can discern his errors? Forgive my hidden faults. Keep your servant also from wilful sins; may they not rule over me ... Have mercy on me, O God, according to your unfailing love; according to your great compassion blot out my transgressions. Wash away all my iniquity and cleanse me from my sin …To you, O Lord, I lift up my soul; in you I trust, O my God … No one whose hope is in you will ever be put to shame …" (Psalm 19:12–13; 51:1–2; 25:1–3).