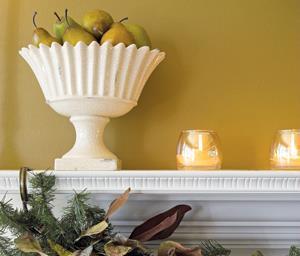 All is calm
If Christmas makes you feel more frantic than festive, try some of these ideas to help you relax and keep Jesus at the centre of your celebrations
Build your faith
? Christmas arrives at the darkest part of the year, so light some candles and remind yourself that Jesus came to lighten our darkness.
? Read a Bible version you don't usually use or even one in a foreign language if you have some knowledge of one. It's surprising what we can learn when things are presented in a new way or we have to struggle to understand a passage.
? Pray the presence of Jesus into every room as you decorate for the festive season. Enjoy sorting through your Christmas decorations; give thanks for the memories they hold and for your home with its comfort and warmth.
Share your joy
? Spend a nostalgic afternoon revising your Christmas list. Add new friends and those you miss. Pray for all those on your list. What do you wish for them this Christmas and for the year ahead?
? Make a basketful of little gifts to keep by the front door – small Christmas ornaments, sachets of speciality teas, individually wrapped sweets, bookmarks or beauty samples, and offer one to friends who visit during the days leading up to Christmas. Tie a verse from the Christmas story to each gift. Or why not make up a basket for an elderly family member or friend who is in a nursing home or has home-care visitors? They will enjoy being able to offer gifts to those who visit and help them.
? Involve others in your Christmas preparations. Giving other people something to do makes them feel good because they are contributing – and this works for children too! So write down chores that need to be done on pieces of paper, put them into a bowl, or basket and then invite friends or family to pick out a slip. This can also work well if you are organising a party. People like to feel useful and this is a bit of fun and can be a great ice-breaker too.
Your home and family
? Be creative with your decorations. Fill baskets with pine and fir cones mixed with satsumas and a few sprigs of holly for a simple but festive decoration. A simple bowl of apples or a clear vase filled with nuts also make cheap, but effective decorations.
? Make room for people. Go for walks, dust off your board games and have fun together. Or why not plan a project for the new year and enthuse each other with ideas? Keep in mind that people will remember more about the time you spent with them than the gifts you bought, so don't worry too much about the details and enjoy spending time with those you love.
? Keep a Christmas journal. Put down anything you learned: what worked and what didn't, things you'd like to try next year and things you'd like to change. It will provide a handy reference for next year!
Look after yourself
? Sniff sweet-scented flowers. Rose and lavender are recommended as the top relaxing scents, but the scent of oranges is also said to soothe nerves.
? Eat some salads and fresh fruit to balance all the rich foods traditionally eaten at this time of year. An overload of rich food and drink can affect your absorption of certain vitamins and leave you overfed, but undernourished. For a sweet treat, choose a lovely satsuma or fresh grapes.
? Enjoy some fresh air. Wrap up warm and take a trip to the seaside for a bracing walk along the promenade or go out to the countryside and feast your eyes on scenic views. Local parks can be good too, so make the most of what's available to you.