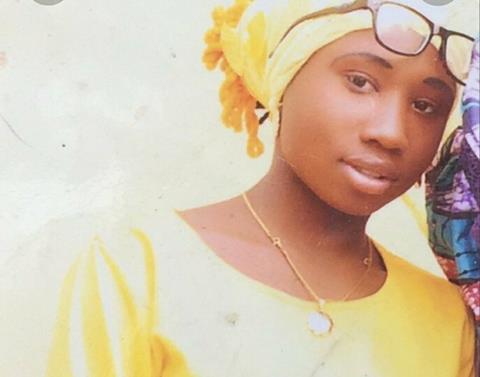 Woman Alive readers will remember the story of Leah Sharibu, who was one of 110 girls abducted from their school in Dapchi, Nigeria by ISWAP (an offshoot of Boko Haram) on 19 February 2018. The next month, following negotiations by the government, the surviving girls were put into vehicles to go home. However, Leah, the only Christian, wasn't among them. She wasn't released because she refused to convert in exchange for her freedom.
Earlier this year her mother, Rebecca, was joined by protesters outside the Nigerian High Commission in London as she sought to draw attention to her daughter's plight and call for her release.
On Thursday 14 May, Leah will turn 17, far from her family and loved ones. We're marking her birthday by praying for freedom for her and all those like her who have been abducted. Please join us, wherever you are, and ask your church to pray on Sunday 17 May.
Leah is still alive
According to the most recent confirmed report, Leah is still alive. Jennifer Ukambong, one of five aid workers released by ISWAP on 15 January 2020, shared that while in captivity she met Alice Ngaddah, a Christian nurse also captured in 2018, who confirmed Leah is alive and well. Alice, who is now called Halima, had asked for prayer, adding that she had left everything to God.
Pray for all those abducted in Nigeria
It feels as if the situation in Nigeria shifted in late 2019. News of attacks on villages, killings and abductions for ransom by militia of Fulani origin in central Nigeria come in to our team at CSW almost daily, even amidst a Coronavirus lockdown. Clergy and their family members are particularly vulnerable. There is also deep dismay at the failure to address this violence and suspicion that some in authority may be complicit in these atrocities.
We believe that prayer makes a difference. Join us in praying Psalm 142:7 over Leah and all those who are still held:
"Set me free from my prison, that I may praise your name. Then the righteous will gather about me
because of your goodness to me." – Psalm 142: 7 (NIV)
Please pray
That Leah, Alice and all other hostages would be released
For God to protect them from the terrors of their surroundings
That the Lord will be a refuge and a comfort to Nathan, Rebecca and Donald Sharibu and every family like Leah's, awaiting the return of their loved ones
For divine protection for villages in central Nigeria, and the release of those abducted for ransom
For CSW's work, particularly with the UK Government, at the UN, EU and in Nigeria itself, to challenge governments to address the ongoing crises effectively.
CSW is a human rights organisation specialising in freedom of religion or belief. The organisation works in over 20 countries across Asia, Africa, the Middle East and Latin America.