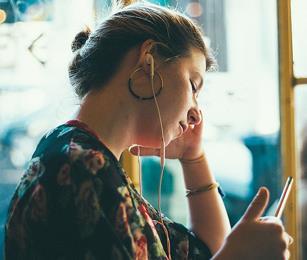 Study with others

Many people involved in leading Bible studies say that it really encourages them in their faith, as they have to wrestle with a passage and study it in order to help others. Also, you benefit from other people's insights and enthusiasm for study. Link up with other women through Know Your Bible, which offers Bible teaching to women, by women through day and residential conferences and group Bible material. Find out more from www.knowyourbible.org.uk or call 07516 847997. You can also join an online community of women who study God's Word at www.SheReadsTruth.com
Write out your own version

How's this for a challenge? One reader told us how she was inspired to copy out the whole of John's Gospel during Lent and found it such an enriching experience that she decided to write out the entire Bible with a fountain pen. The process of writing slowly and carefully made her focus on the words and their meaning, and she kept a journal alongside to record her thoughts and prayers inspired by what she was reading.
Read a different version

There are so many Bibles available to us and it can help to read a passage in a different version to the one you use regularly. Perhaps the richness of the Authorised Version would impact you, the Amplified Version would give a new breadth of meaning, or the direct and modern language of The Message would speak more clearly into your situation.
Use a journal

Some people process things visually and so find engaging with God's Word in a creative way has helped them to remember key verses and to take in God's truth on a regular basis. A journalling Bible is usually printed on thicker paper and gives space in the margins for your observations, reflections and notes, or includes verses to colour in and decorate. Alternatively you could simply buy a sketchbook and doodle, sketch or paint your response.
Bible reading notes

Accessible, structured notes to guide and explain passages of Scripture can make a world of difference to our Bible reading. The trick is to find the one that works for you, the one that makes you look forward to your quiet times with God. Every Day with Jesus and Inspiring Women Every Day (CWR), Day by Day with God (BRF) and Encounter with God (Scripture Union) were all recommended by readers in a survey we did in 2014.
Use an App

A Bible reading app offers lots of flexibility. YouVersion is one of the best known and is quick and easy to access. As well as offering reading plans and a variety of versions, you can have a daily reading sent to you each day and it allows you to connect with friends so you can encourage each other. Bible in One Year and Bible.is are also recommended.
Start a Bible book club

If the idea of leading a Bible study is a bit daunting, some groups approach their study like a book club, choosing to study a whole book or perhaps a few chapters telling the story of a character. Questions are sent out to get people thinking and then they meet up for a lively discussion over coffee. Bible Society offer handy guides and free downloads from www.biblesociety.org.uk/biblebookclub
Read or sing Scripture out loud

Another way of bringing the Bible to life is to read passages out loud, using modern, colloquial language in the dialogue sections. One reader who tried this said it really made a difference – "rather like going from black and white to technicolour". Alternatively many people have found singing Scripture has helped them both to remember key verses and to apply them personally.
Listen to an audio Bible

Sometimes it can be helpful to listen to someone else reading Scripture. An audio Bible can bring the drama of many of the Bible stories to life and encourage you to listen to whole chunks of the Bible rather than just a few verses. Try listening to an entire book of the Bible on long car journeys and build your knowledge of the biblical narrative.
Three more sources of inspiration

Facing a difficult time? New from BRF is Anxious Times, by Carmel Thomason £4.99 (ISBN 978 0 85746 660 0), a collection of 24 undated reflections to help people draw strength and find encouragement from God's Word, even in those times when God seems silent and absent. BRF publish a wide range of resources to help people get into the Bible. Find out more from www.brf.org.uk or call 01865 319700

Struggling to apply God's Word? Anne Graham Lotz teaches a method of Bible study that encourages you to list the facts in a passage, look at the lessons we can learn and then turn each lesson into a question to see how it applies to us. Watch a short video explaining the technique and find free downloads at www.annegrahamlotz.org

Seeking a more contemplative approach? Lectio Divina is an ancient study method, which has been around since AD300. Based on a four-step approach: reading, meditation, prayer and contemplation, it encourages you to use your imagination and to place yourself within the story, asking questions of those involved and seeking to meet with God in his Word. Find more information and free downloads from www.biblesociety.org.uk/explore-the-bible/lectio-divina