TV presenter, Tearfund ambassador and now author Gemma Hunt talks to our editor Doll Fisher, about how her career has developed
Doll: Tell us how you were drawn to the work that you do.
Gemma: I've had quite a long career working in children's television, but it came off the back of having a prophetic word when I was 16, at the festival Soul Survivor.
The word was that I would be salt and light in the dark place of the media. I love working with children so when I was choosing my degree I thought what I'd really like to do is be a Blue Peter presenter, and so I managed to find a related course in Luton.
While there, I got to take part in a national search for a new presenter for MTV. Despite being from the West Country, I went to the London round and won! A few weeks later, all the finalists from around the country came together for the finals.
I was in the running to be in the semi-finals, then got pipped at the post. But I count my blessings, because it meant that I could finish my degree. God knew best!
Doll: He always does! How did you actually break into children's TV?
Gemma: In my third year at university, an agent gave a presentation on how to put together a show reel – clips of you doing stuff on TV, a bit like a CV.
I said to her: "I've got this stuff of me on MTV on VHS." She took a look and said: "It's not brilliant", but sent the VHS off to contacts that she had at CBBC and CITV.
They said they weren't sure about me but, thankfully, she had a good friend at the BBC who she persuaded to meet me. I went down to London and met the team at CBBC. They asked me in to do a screen test in a room that overlooked the Blue Peter garden at Television Centre!
I was so nervous but knew that I wanted to honour God from the get go. So when they asked me to talk to camera for a minute, I chose to talk about the church summer camp where I came to faith.
I've always put God right at the centre of my career, wanting to do my best to honour the prophecy as well. After the audition, I went off to meet a friend then got a call from the agent saying I was being offered a six-month contract! I started on American Independence Day, 2003.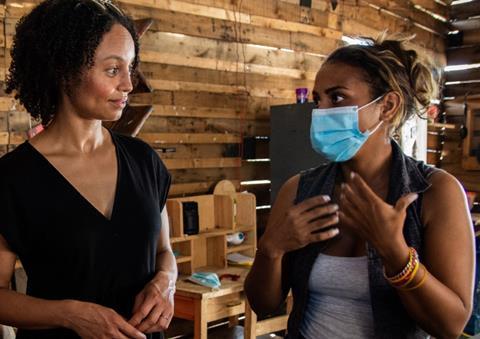 Gemma Hunt with Zuleima, a Venezuelan migrant who makes a living by repurposing driftwood into home decorative items.
Doll: What an incredible story! It sounds like you had one door open after another but I imagine there were moments of doubt in between – or were you so sure because of the prophecy, that this dream would come to pass?
Gemma: It wasn't easy! Prior to that audition, I had sent out my CV and lots of photographs to different TV corporations. I still have the letters, including one to the BBC – I have since worked with the people that said no! But I decided to keep pursuing it because God had spoken.
Doll: I think it's really encouraging to show the life before the success stories. You received the prophecy when you were 16, so did you grow up in church?
Gemma: Yeah, well, my mum's Jamaican, my dad's English, but they separated when I was four. It was always mum who took me to church. When I was with my dad, I had a Sunday just hanging out.
But when I came to faith, at eleven, I would take myself off to church even on the weekends I was with my dad. The funny thing is, when I told my mum that I had become a Christian at the church camp (Hill House), she was very casual about it all, saying: "Alright.
How long is that going to last?" So then I was like: "OK, now I'm going to show you!"
Mum knew me well enough to know that I needed to be challenged. And I was. I think I could have had the potential to go off the rails a bit. But I think that having a faith grounded me. Jesus became my backbone, the crutch that I needed to lean on.
Some people say that's a negative thing, but I say it's a positive. I'd much rather lean and depend on someone who is not going to let me down. I know myself and I definitely can't do this in my own strength.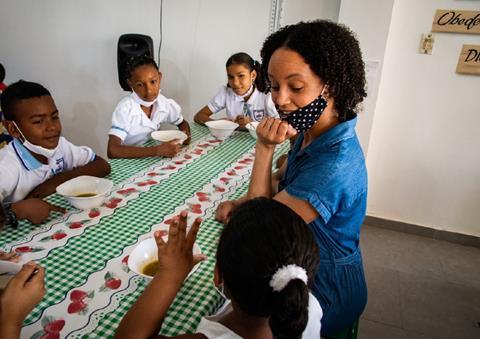 Through Tearfund's local partner, FUNCO, around 80 Venezuelan migrant children between the ages of 4-12 receive one nutritional meal a day in Villa Corelca, Cartagena, Colombia. All images: ©Linda Esperanza Aragon/Tearfund
Doll: It does seem as though God has been leading you to some interesting projects. How did you get involved with Tearfund?
Gemma: The lovely youth leader who introduced me to the Hill House camp was also really involved with Tearfund. We participated in something called Tearfund TV where they gave out scripts and lots of different sketches and scenarios to act out in church. It was so great – kind of like my first experience of being a TV presenter.
We were then talking about what I could do after university, and I knew I wanted to do something in my summer holidays. I ended up going to Brazil for four weeks with Tearfund just before I got my A-Level results, working on a project digging soil and then polytunnels along the agricultural land so that the community could plant and grow their crops without worrying about the weather. It was so wonderful meeting the people there – so selfless and faithful.
I was with people from all over the UK with a mix of ages and abilities; it was a fantastic trip. So, when I was approached earlier this year to go out to Colombia, I felt that I wanted to go but knew I had to prepare myself for feeling emotions more because I'm now a wife and a mother.
I didn't want to go out there and be all weepy and sad for them. Because yes, we are there to equip and empower them to get out of the poverty that they've been in…but I also wanted to actually celebrate what they've achieved. It was so good to have the local church step in to look after its community.
Through these trips I've seen people with very little, but they've got joy. So now at home when my daughter is getting stressed about not having something, I say to her: "You don't need to buy another magazine this week. There's already three in the house from the last few months that aren't finished yet!"
Doll: How old is your daughter and how do you encourage her in today's tough world?
Gemma: She's five and very sassy with her own opinions. My husband and I encourage that but it's tiring at times. It's also like looking in a mirror, which is probably why I get so frustrated! But we want to empower her. We want her to be strong and to have her own voice. We are bringing her up in church and just want to focus on being good – and positive – role models in her life.
Doll: One of the things you've done to help that is write your new children's book: See! Let's Be a Good Friend.
Gemma: It is basically my family story. So there's me, my mum, my dad, my husband and our daughter. And, for the sake of the book, we've also adopted a son. It's all about how children can imitate other people around them who are acting in a Christ-like way.
The book is split into five different Bible stories that I've rewritten for a modern-day setting, trying to help families experience the Bible together – but in a way that isn't overtly Christian. So, families can gift it to other children who don't go to church too.
It's been a great journey, just trying to bring Jesus into every area that I work in – whether it's television or writing, because I do a lot of writing for Lectio for Families* too. It's really important to try and get families praying the Bible together.
Doll: Congratulations on your first book! Lastly, back to your time presenting children's TV: were you ever asked to do something that you felt was in conflict with your faith?
Gemma: I think the only time that might have happened would have been during Halloween. I knew that I was called to be a light in the darkness. So, rather than saying: "I'm not doing anything for Halloween", I decided I would be light on that day. I might have had a little witch's hat on but I could still bring the joy of the Lord through how I behaved and what I said. Other people might not be cool with it, but I know my heart and God knows my intentions are good.
Lectio for Families is a free devotional app that helps families to read the Bible and explore faith through conversation and prayer together.
Gemma's book See! Let's Be a Good Friend (Lion Children's Books) is available now.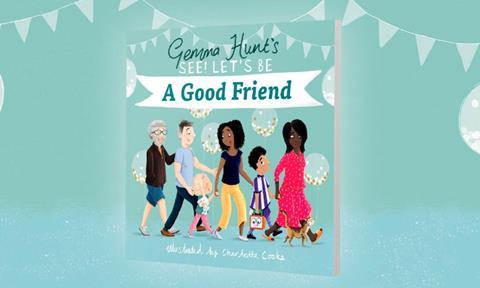 Tola-Doll Fisher is the creative director and editor of the Premier Woman Alive brand. Tola is also the author of 'Still Standing -100 Lessons From An 'Unsuccessful' Life' (SPCK).
View full Profile