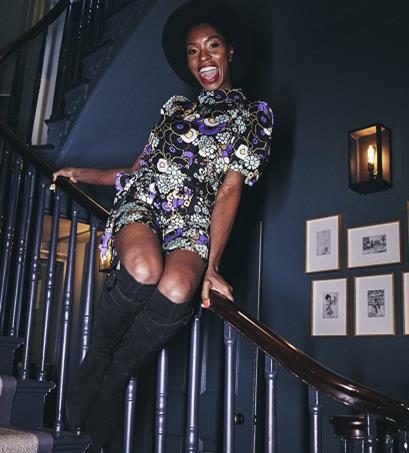 When I got a message from Suzie Kennedy on Instagram about my book, I did a double take. Not only was I surprised that this clearly well-connected person with the coveted verification status was contacting me, I was also stunned by her incredible resemblance to Marilyn Monroe. That was six months ago and several coffees, conversations and a memorable shoot later, we are firm friends. On the face of it, Suzie has enjoyed a glamorous lifestyle being flown around the world by those entranced by the Hollywood icon for whom she is an internationally acclaimed lookalike. However, beneath the surface there is so much more and it is ironic that Suzie's life has so closely mirrored Marilyn's. I feel honoured to be the first person to share that story in print.
During the shoot for the cover, Suzie spoke so passionately about Jesus that everyone on set was amazed and encouraged. The next day, our photographer began re-reading the Christening Bible that had sat on her windowsill for years and I went to church for the first time in weeks, having succumbed to the ease of digital service for perhaps a little too long.
I make no secret about the fact that I am a huge ambassador for women and in this issue, which covers Mothering Sunday and International Women's Day, we all pulled together to produce content celebrating women and all we do. I hope you are as inspired by the women in this issue as we were creating it. And I hope you take time to be proud of yourself too! Wherever you are in life, you are known and loved by God. Remember that.
Issue favourites: Suzie Kennedy as Marilyn Monroe was my favourite piece this issue; find out why this incredible woman with a passionate love for Jesus made me both laugh and cry. When I introduced the 'Life Lessons' articles, giving space to women aged 70+, I loved hearing their stories, so it is sad to hear that many older women feel side-lined by our society. Read more in "The invisible women".

Tola-Doll Fisher (known as Doll) is an author and Editor of Woman Alive. Her first book, 'Still Standing -100 Lessons From An 'Unsuccessful' Life' (SPCK) was published in 2020.