Joyce Murray shares the story of Grace Chocolates, a luxury confectionery brand handmade by women who have been touched by the criminal justice system in Scotland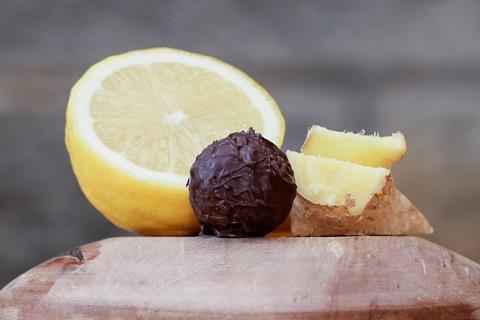 There are a few reasons why I named our business Grace Chocolates. Firstly, I love the message of the hymn 'Amazing grace'; we are each where we are only by the grace of God.
Also, one of the meanings of the word 'grace' is to be given another chance when you haven't earned it. That is really the heart of what we are doing: making something high-end, delicious and luxurious and, in so doing, giving another chance to women who have not have the easiest of lives.
The idea is born
I was working in the corporate world and came to a point in my career where I decided I had one career move left before retirement. I realised I wanted to do something different with the gifts and skills that I had.
At the same time, my husband and I moved to Stirling from Glasgow. I wanted to get involved with the local community and the Family Help Hub at HMP Cornton Vale, on the outskirts of Stirling, was looking for volunteers. The hub needed people to make cups of tea and chat with family members who were arriving to visit the inmates. I started volunteering there in 2012.
Not long after, my husband and I were on holiday in Italy. We were meeting up with an Italian friend, and the guidebook said: "If you're going to visit an Italian family take a box of 'exquisitely wrapped chocolates'."
When we came back home, we were invited out to friends for dinner and the expression of 'exquisitely wrapped chocolates' dropped back into my mind. I went to look for such a box of chocolates to take, but I couldn't find anything. I made a throwaway comment to my husband: "I'm going to make chocolates and I'm going to get the women at HMP Cornton Vale to help me!"
I don't know where the idea came from, but he encouraged me. I started to have a few conversations with people that I had met through the Family Help Hub about the idea. I was expecting a patronising response of "that will never work, pet", but it just didn't come. Every one of them said: "Go for it."
Preparing the way
My corporate life had been spent in business development, marketing and operations. Then I had moved into the voluntary sector and worked for a project within the Church of Scotland. Part of my role was to set it up as an independent charity within the Church of Scotland. I learned about all the different governance structures needed for setting up financial systems, processes and procedures.
So when I set up what became Grace Chocolates, I had already had all the business training I needed. That still makes me smile, because it reflects my entire faith journey. I feel God said: "Well, I've prepared you for this. I've been preparing you your entire career."
However, I had no experience in chocolate making at all. So I went to an afternoon chocolate-making course, and had a conversation with somebody who had previously run a social enterprise making chocolates.
She gave me lots of helpful information. I went home and ordered some ingredients, went into my kitchen and prayed: "If you want me to do this, you're going to have to show me how to do it." I then went on YouTube, found some tutorials and started making chocolates.
The first ones I did were strawberry and white chocolate. They were edible, but not great. We had a few more trial and errors before we landed on the recipes for our five basic truffles.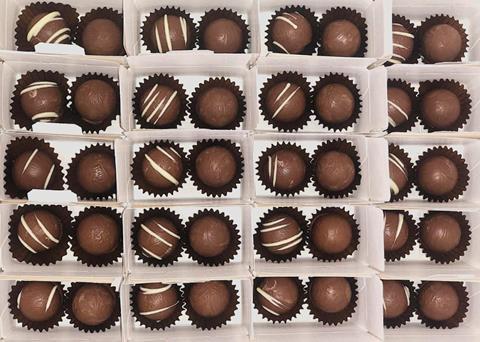 The early days
I knew I couldn't work with the women at my home; I needed a kitchen that would pass environmental health standards. So I put a shout out to a group of friends and people that I knew who lived in the area.
One of my colleagues from the Family Help Hub said: "Why don't you try Bridge of Allan parish church?" So I went up to church and the minister immediately asked: "What can we do to help?" Their kitchen had just been passed by environmental health. He said: "There's the kitchen; it's not used on a Friday, so you can use it then."
That all happened in 2017. At that time, there were independent living units – six houses outside the perimeter fence of the prison – where women who had served longer sentences were reintegrating back into the community.
They did their own shopping, cooked their own food and did their laundry etc. The prison was looking for organisations who would take them on for work experience. So we started working in partnership and have done so for the last five years.
Initially we had to find 100 per cent of the funding. The profit from the sale of chocolates was zero. And then slowly, but surely, we've built the sale of chocolates and our reliance on grant funding has reduced.
We've also worked with women who have served their sentence and are now living in the community or who received non-custodial sentences. In total, we've supported over 70 women in the last five years.
The business today
We started off with five chocolates in our range; we now have nine truffles. We have solid chocolate products, a vegan range and we do products specifically at Christmas time (for example a hot chocolate stir in).
The lead up to Christmas is our busiest period. Two years ago, we had one order of 96,000 pieces of chocolate! At Easter time we do Easter eggs and bunnies. So our product range over the course of the year is made up of nearly 30 different products.
We now have our own production facility on the outskirts of Stirling, which we moved to about three years ago. Today, we have a full-time chocolate maker so she and I work together to come up with the different recipes.
It is important to us that 100 per cent of the profits are reinvested to support the women and 50 per cent of our workforce is made up of women with lived experience of the justice system, because it's about helping and supporting them. We also have a woman with lived experience of the justice system on our board.
We've got four services in total: the work experience, a mentoring programme and we've got a six-week programme that runs over two days a week called 'making positive changes'. We also run health and wellbeing workshops. The profits support all of these services.
Volunteers help us in lots of different ways too. We have pop up shops they help with, and also help us pack for or come with us to speaking events. We're so grateful for their support.
One of the ladies who was a participant in our 'making positive changes' programme in February 2019 has said about Grace Chocolates: "They met me at a low point in my life and have helped me pick myself back up and have supported me ever since.
I wanted to create a better life not just for me but also for my family and it makes me want to change even more." She is now a staff member. It is so exciting to be part of a business that sells an 'exquisite' product, while helping get people back on their feet.
Grace Chocolates is generously offering Woman Alive readers a 10% discount on orders placed before the end of November 2022 using the code WomenAlive10. For more information about Grace Chocolates visit gracechocolates.co.uk

Joyce Murray is Founding Director and CEO of Positive Changes (Scotland) CIC Joyce primarily built her career within the private sector in marketing, business development and operations for professional service firms. Towards the end of 2012 she decided to redirect her career path and utilise her skills and experience to further social purposes and began working in the Third Sector. Moving home to Stirling in 2013 she was looking for opportunities to integrate into the community and was one of the first volunteers at the Family Hub at HMP Cornton Vale, a women's prison on the outskirts of her new home town. The plight of the women in custody touched her heart and a throw away comment resulted in her founding Positive Changes, an organisation supporting women who have touched the criminal justice system towards employment through the making and selling of delicious chocolates branded: Grace Chocolates changing lives. GraceChocolates.co.uk
View full Profile