Joyce Murray's chocolate-making social enterprise supports women who have touched the Scottish criminal justice system and gives them the opportunity to make a fresh start.
Joyce had a good career in the private sector working for accounting firms, law firms and business development and marketing operations before she started Grace Chocolates. She says, 'In 2012, I left that world and went to work for charity. I felt it was the right move but I felt like a square peg in a round hole; it was not a good fit.' After a break Joyce went to work for another charity and her successful leadership of that project helped set it up as a charity in its own right and this experienced primed her for what God called her to five years later.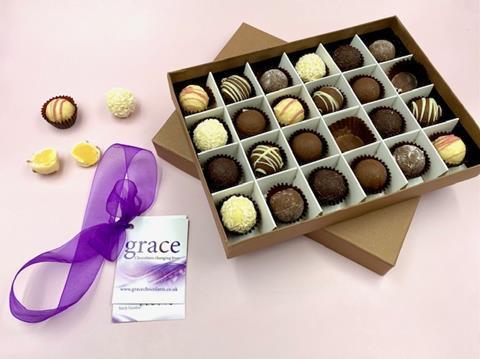 But Joyce also had some "on the ground experience" which made her passionate about supporting women in the prison system. 'When I moved with my family from Glasgow to Stirling (in 2012), I found out, through a local church, about a volunteering opportunity at HMP YOI Cornton Vale, at that time Scotland's only women's prison which is just on the outskirts of Stirling. The prison had high suicide rates and a report by Former Lord Advocate Dame Elish Angiolini recommendations included that better facilities for visiting families might help with some of the issues.
'There were about 40 volunteers and I worked one night a week but I found very quickly the plight of the women I came across really touched my heart. Women have a bit of a raw deal in the criminal justice system. I admit that this might come across as a sweeping statement but generally, women stand by their men when they're in custody, while men tend not to stand by their women.
'It's reckoned that about 80% of women in custody have children but the official statistics are much lower due to underreporting. Women are afraid of what will happen if somebody is looking after their children so they tend not to disclose that information.'
In 2017, a trip to Italy cemented the idea of how she could help the women she met in her role at Cornton Vale. 'My husband and I were invited to a family home and when we looked up etiquette in the guidebook it said a good gift is "a box of exquisitely wrapped chocolates.". When we got back to the UK, this phrase stuck with me so I tried to look for some when we were invited to a friend's house locally. My only options were in M&S, Waitrose or Thornton's, none of which particularly inspired me.
'I remember making a throwaway comment to my husband and said, "I'm going to make my own chocolates and I'm going to get the women at HMP Cornton Vale to help me."' And over the course of the next year, that's exactly what she did. In the initial stages Joyce was still working four days a week at her day job; setting aside one day a week to work on what was to become Grace Chocolates. The official start date was September 2017 and while they struggled like many start-ups with funding, Joyce is encouraged by the progress in the first five years, even weathering the pandemic. 'We wanted to build an organisation that allows women to make positive changes to their lives following an experience with the criminal justice system. This isn't really about chocolates; we train women to make them and that's what gives them a skill to take out into the world.
'Having a new skill also helps with confidence and we've worked really hard at creating a positive learning environment. We don't allow women to speak negatively about themselves – or each other. We survived two years of a pandemic. We kept open and supporting the women throughout. We had to adjust and adapt our service as many people did, and we put it online. But the advantages and the blessings that have come out of that are that we now support women across Scotland and we have a range of online services, which means that more and more women can use our service.'
The name Joyce chose is a reminder that none of us are exempt from life's curveballs and comes from the phrase attributed to English evangelical preacher and martyr, John Bradford (circa 1510–1555): There but for the grace of God, go I.
Grace Chocolates is a social enterprise: our chocolates are handmade by women with convictions who are choosing to make positive changes in their lives. We have a fabulous range of delicious Easter goodies from milk chocolate Easter eggs to white chocolate bunnies and delicious caramel filled butterflies. We have also developed a range of chocolates free from dairy, gluten and nuts which are suitable for vegans and those with certain dietary requirements including some great vegan friendly Easter treats.
100% of the profits from your purchase goes back into supporting the women move towards sustainable employment. In using chocolate as a way to support women, they journey towards employment and financial independence.
Gracechocolates.co.uk

Joyce Murray is Founding Director and CEO of Positive Changes (Scotland) CIC Joyce primarily built her career within the private sector in marketing, business development and operations for professional service firms. Towards the end of 2012 she decided to redirect her career path and utilise her skills and experience to further social purposes and began working in the Third Sector. Moving home to Stirling in 2013 she was looking for opportunities to integrate into the community and was one of the first volunteers at the Family Hub at HMP Cornton Vale, a women's prison on the outskirts of her new home town. The plight of the women in custody touched her heart and a throw away comment resulted in her founding Positive Changes, an organisation supporting women who have touched the criminal justice system towards employment through the making and selling of delicious chocolates branded: Grace Chocolates changing lives. GraceChocolates.co.uk
View full Profile