This month I'm relinquishing…
My kids are 18 and 15, and my 'third child', which is turning 16, has been the Woman Alive Book Club. I've realised that I need to relinquish this teenager, which feels gutting and hard and yet necessary. My work as a writer, retreat leader and spiritual director means that my focus increasingly lies in areas of spiritual formation. And although I love reading widely, I now need to hand over the beloved book club to another host to guide it through the late teenager years and beyond.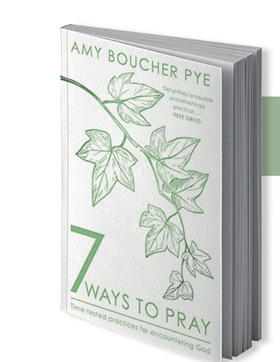 I'm thrilled that my top choice to take on this role has agreed: Claire Musters. She's already known to you with her articles, interviews and the unseen but fine editing she does for the magazine. She and I share a passion for words, books, writing and spirituality, and I've no doubt that she will give her own wonderful imprint on the book club. Passing along the baton feels much easier when I know that she will excel with it.
As I look back over the past years of reading and discussing books, my overwhelming feeling is of gratitude. The need to read and review a book or two each month has not only enriched my faith and my understanding of God but has fostered friendships among
readers, writers and publishers. So much reading and reviewing has helped me to find my own voice as a writer and fostered good habits of reading, noticing and meeting deadlines.
In our first book club in July 2006 I featured Jennifer Rees Larcombe's wonderful Journey into God's Own Heart (John Murray Press). In the months that followed I can see books that make me now cringe a bit (Captivating by John and Stasi Eldredge) but others that I still love (including those by Michele Guinness, C.S. Lewis, Adrian Plass and Ruth Haley Barton). My natural bent would be to share my favourite reads on spiritual formation and prayer each month, but in overcoming that desire I've enjoyed branching out with works of memoir, fiction, Christian living and others (although biblical fiction is still not my favourite)!
I'm grateful to the former editor of Woman Alive Jackie Harris, who agreed to the idea all those years ago. And to Doll Fisher who has kept it going and who, with the rest of the WA team, is finding fresh ways to engage readers.
This month those reader reviewers who don't yet subscribe to the magazine will receive a three-month subscription. And those who subscribe will receive a copy of my latest book baby, 7 Ways to Pray, which reflects my desire to help people to encounter God through time-tested prayer practices.
I'll remain a member of our Facebook group; hope to see you there. Keep on reading and sharing and reviewing!
7 Ways to Pray: Time-tested practices for encountering God Amy Boucher Pye
(Form, ISBN 978-0281084963)
YOU RECOMMEND…
The Grace Outpouring
Roy Godwin and Dave Roberts
(David C Cook, 2nd edition 2012)
This book is such an inspiring read, telling of all the wonderful things God has done at Ffald-y- Brenim in Wales, a missional house of prayer and Christian retreat centre. Those who run it bless everyone who visits, many of whom were drawn to the centre in inexplicable ways. The book shows the reality of God changing lives dramatically.
Margaret L Moore
Hungry
Grace Dent (Mudlark, 2020)
I was dimly aware of Grace Dent as one of the slightly terrifying Masterchef critics and then read an article she had written about her mother's funeral. It was simple, beautiful and poignant.
I decided to read her memoir, Hungry, and was not disappointed. Her 70s' food memories will strike a chord with those around at the time. She describes growing up in a loving family which, like all families, had its eccentricities. I was fascinated by her journey to her dream job, the glamorous and the not so glamorous episodes. However, where the book really came into its own was when she shared the difficulties of juggling her busy media career with her desire to support her parents as they became older and frailer.
I would recommend this book. It is funny and moving, and it helped me cross off one of the very few squares I managed in the 'Book Bingo' last summer!
Rachel Rowles
Miss Benson's Beetle
Dr David Jeremiah (FaithWords, 2012) Rachel Joyce (Doubleday, 2020)
An unusual, rollercoaster of a book! Full of surprises, twists, turns, laugh-out-loud situations and yet providing such compassionate poignancy for the characters whose lives bump together. Set mainly in 1950 it is the story of an expedition to discover a rare beetle on the other side of the world from Britain. The crux of the tale, however, is the remarkable friendship that develops between two women very different in age, background and personality. A joy to read, the story doesn't finish until about 1983 for reasons that will become apparent if you read the book. And I would highly recommend that you do!
Carol Hall
ADHD is our Superpower
Soli Lazarus (Jessica Kingsley Publishers, 2021)
This book is written from the point of view of 13 children who have ADHD. They each take a chapter to explain what is special about them in order to help other children to understand what is going on in their lives.
This is a quick, fun, easy read that will benefit both children and the adults who care for them. It helps children to see the positive side to their condition. There's lots of useful information and contact details of helpful organisations. But most of all it is full of positivity and will be a help to all those who are living with ADHD or who have a family member who is living with it.
Anne Shakeshaft
Travelling with Friends
Stephanie Kirby (Melrose Books, 2007)
This book is a great encouragement to all who would follow God's teachings and lead a Christian life. The author details the preparations for her own journey of learning to accept and love Jesus. However, she writes, too, with great honesty about the difficulties she had to overcome. The manner in which her friends, her fellow travellers, became Christians, receiving God's guidance and encouragement through the grace of the Holy Spirit, is also described. The author shares valuable insights into the character of God revealed in Jesus Christ and feels strongly that the things that she and her friends have learnt should be passed on to benefit others.
Caroline Buddery
Next month:
The new-look book club pages revealed
As we introduce the new host of the book club, we are also revamping the content, so look out for author interviews, details of the books that changed authors' lives and book recommendations from a different commissioning editor/publisher each month. You can continue to post reviews on the Facebook group: Woman Alive Book Club.

Amy Boucher Pye is a writer, speaker and spiritual director, and Transforming Love: How Friendship with Jesus Changes Us is her fifth book. She joyfully founded the Woman Alive Book Club 17 years ago, which is now facilitated by the amazing Claire Musters. Find her at amyboucherpye.com and sign up for her monthly newsletter, which includes a prayer exercise.
View full Profile