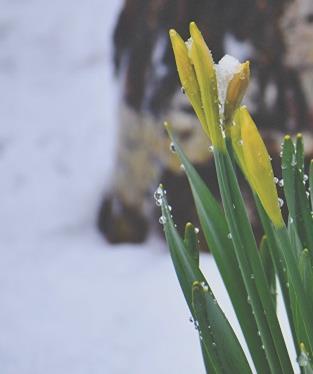 Walking along a familiar path I stopped and breathed in the air around me, my senses suddenly becoming awakened by the newness of the spring day. I realised how thankful I was that God had carried me through the dark and dreary winter months.
My ears tuned into the chorus of singing birds; my eyes dazzled with the soft golden splendour of daffodil bulbs starting to unfold after pushing themselves through the hard winter surface, their glory for all to see. The long cold winter months will soon become a distant memory to us all, as the days grow longer and we can feel a touch of warmth in the air around us.
Song of Solomon 2:11-13 (NLT) says: "Look, the winter is past, and the rains are over and gone. The flowers are springing up, the season of singing birds has come, and the cooing of turtledoves fills the air. The fig trees are forming young fruit, and the fragrant grapevines are blossoming. Rise up, my darling! Come away with me, my fair one!" Let us each thank the Lord for this new day that is unfolding around us.
Let us notice the signs of fresh life and dance with abundant joy in our hearts that God is with us, beckoning us to follow him on a new adventure.
Lord we thank you for being a beacon of light and keeping us safe during times of darkness. Help us to leave the winter behind us and step forward with you. This is a season full of hope, as new life emerges from the natural world around us. Let us fall deeper in love with you, as we draw closer to your heart and keep our focus on you alone. Let us take hold of each new day with open eyes and hearts. Help us to be fruitful and grow stronger in our faith, embracing all that is ahead. Even though we may still have challenges and times of difficulties this spring, let us look to you, our lighthouse keeper, for guidance through the mist. Amen.