Writer Penelope Swithinbank took on the challenge of a 200 mile pilgrimage to mark her 70th birthday, spending time with God and raising money for charity at the same time.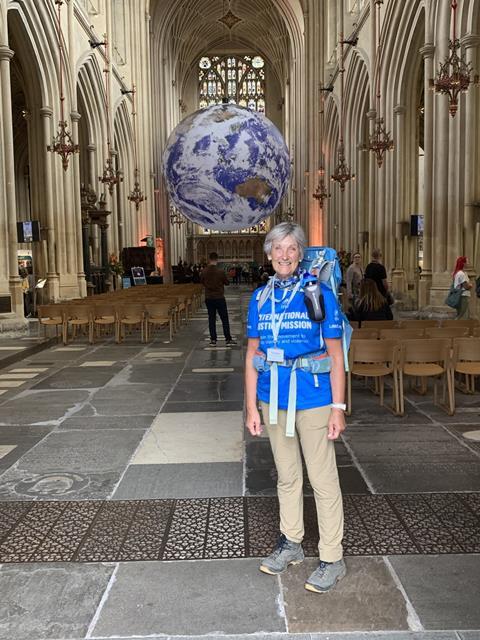 I decided on a long walk to celebrate my 70th birthday. A mere 200 miles. I hiked from Coventry Cathedral to Bath Abbey, along the canals and waterways of England, asking people to sponsor me for International Justice Mission (IJM), a Christian non-profit working in 20 countries around the world to end modern slavery and human trafficking. The walk took a little organising – planning the route, and where to stay each night. I offered up my own guestroom to Airbnb to earn the money to pay for the accommodation. I practiced walking with a loaded backpack and set up a JustGiving page.
I started at Coventry Cathedral, where Bishop Christopher prayed with me and then sent me on my way. Over the next 19 days (17 walking, two resting) I experienced weather ranging from an oppressive heatwave of mid 30sC, to Storm Nigel and torrential rain. The paths were flat along the Coventry and Oxford canals, walking 12-15 miles daily. One landlord refused payment for my coffee when he discovered I was walking for charity. And Hannah, my host on day three, wouldn't accept payment for supper. I also managed to snag some free lunchtime entertainment - watching people struggling with the lock gates! Plus there was the bonus of lots of dogs: I played with Jessie, a gorgeous spaniel, while owner Mandy spoke of her husband's brain tumour and lung cancer. He does better when on their boat. Promising to pray for him as I walked, I later discovered Jessie had donated to my Justgiving page. While another couple who hosted me in their AirBnb turned out to be a retired Bishop and his wife.
A couple who hosted me in their AirBnb turned out to be a retired Bishop and his wife.
Some days were tough. There were periods of feeling extremely tired and in need of encouragement, which often came in the form of amazing donations to my IJM Justgiving page. Day four was 20.85 miles and came with two surprises. Firstly, an overgrown path, with a hidden trip hazard caused me to fall heavily, fortunately not sideways into the canal. Nothing was broken (thank you, Lord) but a badly grazed knee needed attention from my first aid kit. Second, there was a closed towpath due to huge HS2 works, causing a five to six mile detour. There were days walking alone, days of chatting with boaters and walkers, days accompanied by a friend or two and a day on the Thames Path when it climbed extremely steeply up through beech woods.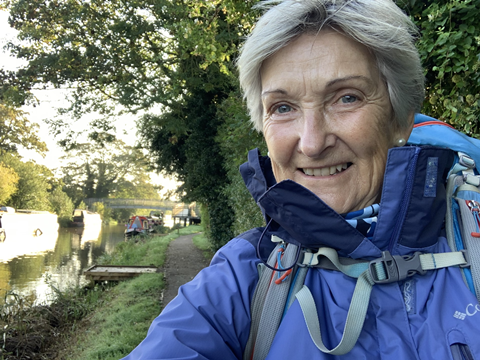 I choose a daily rhythm. I started by listening to Lectio365 each morning followed by a time of prayerful conversation with the Lord, including plenty of time to listen and allow my soul to be still. Walking brings its own rhythms and allows me to enjoy the beauty of God's creation, listen for his voice, become conscious of that "unseen figure" walking with me, holding my right hand, keeping me company and keeping me safe. There was often no need to talk. I just enjoyed a companionable silence. Jesus withdrew from the busyness of his everyday life to have time alone with his Father; I know I need to do the same.
Walking brings its own rhythms and allows me to enjoy the beauty of God's creation.
On Day 13 I excitedly started on the fourth waterway: the Kennet and Avon Canal, leading from Reading home to Bath. I was determined to walk the whole way – although a ride on a canal boat often seemed tempting! Down the famous flight of 29 locks from Devizes and suddenly it was Tuesday, the final day – I walked 11 miles to Bath Abbey, accompanied by members of our Church Tuesday Walkers Group.
Unbelievably, I had walked 208 miles – and raised about £3,800 for IJM. I ceremonially binned my boots – I'd walked right through both heels. It was worth every. Single. Step. And not one blister the entire way. Thank you, Lord: for safety and for funds for IJM!
You can contribute to Penelope's fundraising for IJM, who work to free people trapped in modern slavery, using the link here.