With constant controversy surrounding Amazon, including the death of six of their warehouse employees last week, Christians are asking whether they should keep shopping with the e-commerce giant. Writer Lauren Windle weighs up the pros and cons.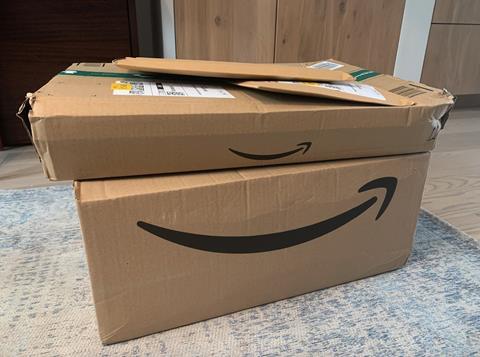 Amazon is in the news again with questions over employee safety after a tornado struck their Illinois warehouse last week leaving six dead.
The federal Occupational Health and Safety Administration have launched an investigation but it's not the only controversy surrounding the e-commerce giant.
There are also allegations that the company failed to 'adequately notify' workers and health officials of Covid-19 cases, there are constant questions over their rising profits but diminishing tax bill and then there's the extortionate fees they charge small businesses to trade on the platform.
I do not stand here in judgement of people who shop on the site, in fact as I type I have an Amazon delivery winging its way over to me in time for Christmas. The picture accompanying this article is not a stock image, it's my living room.
Amazon is quick and has the infrastructure to get things to you immediately, sometimes on the same day as you place your order. Very few – if any – other companies can do that. They also have a huge range of products and prices that are often kept low.
The convivence of the internet giant is undeniable but should we be choosing convenience over supporting local, more ethical businesses? I can't tell you where you should and shouldn't shop and the Bible doesn't directly offer instruction. Jesus sadly didn't dedicate any parables to boycotting businesses due to corporate greed.
But the Bible is a framework for living that we can apply to all situations, even those a million miles away from the ones Jesus would have faced. Romans 14:5-12, is a good place to start for navigating grey areas. The principle here is that: 'each one should be fully convinced in their own mind' (v5). And whatever a person does, it should be done 'in honour of the Lord' (v6). We are encouraged to follow what we believe to be right in these areas as 'each of us will give an account of himself to God' (v12). So basically, where there isn't a definitive answer, we as believers have the freedom to seek God's will.
I don't think it is God's heart for us to endless plough money into a company that doesn't prioritise the value of people and their safety.
I don't think it is God's heart for us to endless plough money into a company that doesn't prioritise the value of people and their safety. I know that I don't want to be complicit in the decline of small business and my local high street. But that doesn't mean I will never shop with them again.
There are times when I'm caught off guard and it's far more practical to get a 24-hour delivery than to shop around and for now – I will continue to use them on those occasions. But I am committing to trying to be more organised, more patient and (let's face it) less lazy when it comes to my shopping. With just a few gift-buying days before Christmas, I'm pledging to physically hit the shops for my last bits rather than order them from my sofa. For some who are isolating or in a remote location, that may not be possible, but it feels like a good (albeit small) next step that I can take.
When you pray about your relationship with Amazon – what small step do you think God is calling you to take next?

Lauren Windle is a journalist, author and presenter who focuses on faith, recovery and love. Her debut non-fiction book Notes On Love: Being Single and Dating in a Marriage Obsessed Church (SPCK) is out now.
View full Profile