For many people, times are tight this Christmas, and lots of us are feeling the stress of keeping the house warm, the family fed, and providing a fun Christmas Day. To help families manage the pressure of the festive season as the recession hits, Spurgeons children's charity are offering their top tips to navigate the coming weeks without breaking the bank, but still creating wonderful family memories.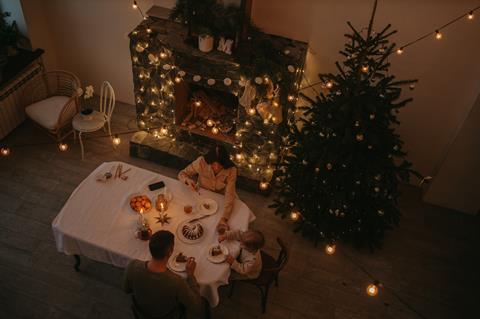 Talking to your child about money
Should parents talk about money problems with their children? According to Spurgeons' parenting experts, it's best to be open with your children about why some things might be "off the menu" for now. In child-friendly language, teach them about the various factors putting pressure on people everywhere. Follow up with an explanation of how you're going to cope as a family to help curb their anxiety.
Managing your child's gift expectations
Using daily opportunities to teach your values to your children can preserve the excitement of Christmas while keeping realistic expectations. Be firm and honest with your reasons for not following along with the crowd: "Tom's parents make decisions they feel are right for their family, and your dad and I make decisions we feel are right for our family. While our answer on X is no, we do enjoy saying yes to other things we know you'd like." Follow up with alternatives to the luxury items/experiences they would like but are unaffordable and consider the Want-Need-Wear-Read approach — each child gets one thing they want, one thing they need, something to wear and something to read.
Have a thrifty Christmas
Rest assured that you can still celebrate well while spending less. Here are some easy ways to reduce the cost of gifts and food.
Have children make Christmas cards and wrapping paper. Not only is this a fun, free activity, but also better for the environment!
Shop for presents in charity shops. Children won't notice if their gifts are second hand. If your teens are after designer gear, check out Vinted where you can buy great condition or new items for a fraction of the price.
Hold a Secret Santa for the adults. Do a Secret Santa-style one gift per person from a surprise buyer.
Make paper chains and snowflakes. Kids love this! Paper chains are easy to make and can be decorated with glitter or paint. A pretty snowflake can be used to decorate the house or windows.
Get clever with leftovers. Tons of turkey and stuffing? Slap them in a sandwich the next day. Leftover ham and cheese from the buffet? Use them for omelettes or toasties.
Create a hot chocolate station. Put out jars of hot chocolate powder, marshmallows, chocolate chips, and sprinkles so that children and guests enjoy helping themselves.
Focus on making memories
The real magic doesn't come from lots of toys. Focus on activities you can do together as a family, instead of focusing on what gets unwrapped Christmas morning. You're free to be creative and start any tradition you want. These are the things children will remember and talk about year after year.
Free or low-cost activities
Christmas Movie Night – There's a free channel (Freeview 52) that will showcase seasonal films 24/7 until the end of January.
Free local events – Have a quick search on Google, type in "free local Christmas events" and check out the listings.
Homemade Decorations – A local park or forest can provide lots of free leaves, pinecones and twigs which you can use for Christmas crafts. A quick search on Pinterest can give you lots of ideas.
Write to Father Christmas – Get the kids to write their letters to Father Christmas, they can be as creative as they like. Then pop them in an envelope with a stamp and post them to: Santa/Father Christmas, Santa's Grotto, Reindeerland XM4 5HQ.
Christmas greeting video – If you want to stand out this year (and save money!) then consider recording and editing a family Christmas video. Every person in the family can say Merry Christmas and you can even have each family member share one special thing that happened since the last Christmas. Email (or WhatsApp) the video out to everyone instead of spending money on Christmas cards.
Christmas Lights – go on a tour around your local area, looking out for all your neighbours' Christmas light displays. Go for a walk or take blankets and hot chocolate in the car and make it an exciting nighttime adventure. It's guaranteed to fill everyone with Christmas cheer!
Scavenger Hunt – Challenge your family to complete this festive scavenger hunt and find all eight items in nature. It's great for developing kids' observation skills! Can you find something; fluffy like Santa's beard, red like Rudolph's nose, green like an elf's outfit, white like mistletoe berries, orange like a snowman's nose, round like a bauble, shiny like a gold star, curved like a candy cane.
Practise gratitude
Christmas can be all take, take, take – whether that be presents or delicious food and drink. However, a lot can be gained from pausing and reflecting on what you and your family are grateful for. This doesn't have to be just for the adults, either; children can also consider how they are fortunate. Countless research studies have shown that people who have a regular gratitude practice enjoy vastly improved mental health. Gratitude helps unshackle us from stressful thoughts and refocuses us on positivity. It also makes us realise the ways in which our lives are rich and can reduce s the mental impact of our difficulties.
You are not alone
Whether or not Christmas is a big part of your life, your mental health might be affected by it happening around you. It's a time of year that often puts extra pressure on most families; financial, emotional, and social. It can affect our mental health in lots of different ways. If this is a hard time for you, it's important to remember that you are not alone. Asking for help can sometimes feel like a weakness or a failure. How often have you made excuses for not making a request for help? The irony is that most often, people do want to help. We are often happy to help others, but not so kind to ourselves.
How do we get better at asking for help? With practice, you can get used to asking for help. Taking opportunities to ask for help in smaller ways can really make a difference over time. You might find it helpful to reframe your request so it's a conversation, rather than a transaction. Spend some time thinking about the friends, neighbours or family members in your life who you consider your "support team". You can even ask these individuals if it's okay that you count on them for support during this time so that if you need to ask for help later, it isn't such a big deal.
Remember: Often people are willing to provide help, or they know someone who can.
For more family support advice over the festive season Spurgeons' website. If your struggle is urgent and more serious, please consider contacting The Samaritans who are available 24/7, 365 days a year on 116 123.