Being a wedding guest is an expensive business from travel to gifts to outfits to overnight stays, but the costs often start well before the day itself. Here, writer Lauren Windle explains why she's sick of the large amounts of time and money required to have a friend who's getting married.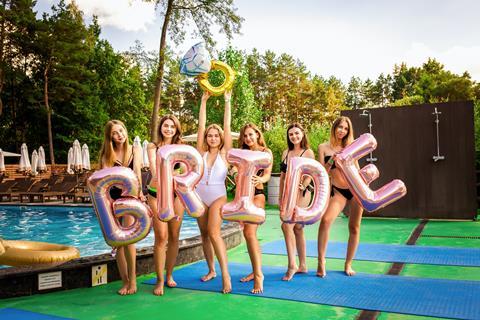 I was in a Zoom meeting with a woman I mentor yesterday and she casually mentioned that she had been asked to be someone's bridesmaid and politely declined. She said she knew the time commitment and expectations would be beyond her capacity. This is the strictest enforcing of boundaries I think I've ever seen and I'm wildly impressed by it. I've often thought of saying no to a bridesmaid offer. Last year I made the decision that it's ok to turn down wedding and/or hen party invitations but to reject a bridal party request is another level I have not yet reached.
The problem is, as a bridesmaid or in fact close female friend of the bride, you'll probably be expected to give up a huge amount of time and money in support of the bride-to-be. And I just don't think that's right. Let's be real; hen dos are often awful. Stag dos sound more fun but not the grotty strip club, drinking out of a shoe ones. More the quadbike racing and lad's outdoors pursuits.
Let's be real; hen dos are often awful.
Instead, women are subjected to flower crown making, encouragement circles, group dance classes and candle making, all in an awkward gaggle of girls they hardly know. The group dynamic is often strained; there's the wild card woman to gets too drunk and offers an abrasive commentary of the others in attendance, the sister-in-law who the bride-to-be doesn't really like and the maid of honour who is tasked with marching round and distributing instructions. Then there's the rest of us, duly trapsing round, cheering every veil topped move the bride makes, praying for the sweet reprieve of closing time.
I truly believe that celebrating is about the people, not the place or price tag. Asking people to go on holiday, a weekend away or shell out of fortune on activities they don't want to do, isn't necessary. If you do choose to host a hen party along these lines, and you are within your rights to, you just cannot be annoyed if someone can't make it because of time, money or even social-anxiety related reasons.
I truly believe that celebrating is about the people, not the place or price tag.
Marriage is an incredible covenant that should be celebrated but our marking of the occasion has become uncomfortable for many. If you're invited to five weddings in a year (and as Christians we often do), you could be seriously out of pocket with the spending required for hotels, outfits, travel, gifts and now extravagant hen parties.
It's time to scale back on the extravagances and focus on the relationships both platonic and romantic.

Lauren Windle is a journalist, author and presenter who focuses on faith, recovery and love. Her debut non-fiction book Notes On Love: Being Single and Dating in a Marriage Obsessed Church (SPCK) is out now.
View full Profile