Many people feel struck down by shame and self-doubt. This Mental Illness Awareness Week Kelleigh Wooderson-Hudson, founder of Life Essence Ministry shares her story and wisdom for those who are struggling.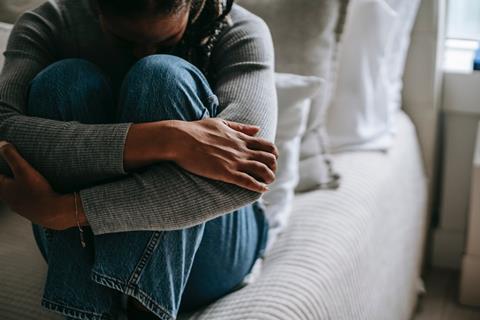 Rejected, abandoned, lonely, useless, unlovable, soul-tied, negative, manipulated, vulnerable, used, ashamed, not good enough, stupid, soft, all of the words that come to mind when I look back on my life seven years ago, and that's how I viewed myself.
I was a baby Christian just born again, still entangled in a worldly relationship where I was manipulated and abused emotionally, mentally and sexually. I was so broken, that I had lost myself and would have done anything to keep this relationship going even though it broke me into tiny pieces, and I was a shadow of my former self.
Eventually God brought everything to an end for everyone involved. This was painful. I was heartbroken, sinful and depressed and completely flat on my face with nowhere to go. But this was where I really met Jesus and experienced his love, grace and mercy.
It was at this point I let Jesus into my life for real, not just partly in. I am talking access to all areas-fully surrendered my heart, soul and mind to him and him only, really building my relationship with him-not just believing that there was a God, but actually knowing him, understanding him, learning and believing every word God had said about me. "I praise you because I am fearfully and wonderfully made; your works are wonderful, I know that full well." Psalm 139:14.
We are not what we went through or what we did, or what others say we are.
We can all end up in some crazy "how on earth did I even get here" type of situations which cut us deeply, leaving us to deal with the mental and emotional impact that the situation or event has left us with. However, we are not what we went through or what we did, or what others say we are. It is so important to focus on how we heal, grow and learn from these experiences that will shape the rest of our lives going forward.
And that is the Essence of Life! Allowing God to use our experiences, events and situations for us to grow and become the beautiful people God created us to be! God used my pain to start Life Essence Ministry, helping other women who have gone through abuse and trauma, providing a safe space and opportunity to work through trauma and realign with the truths of how God views them and who He created them to be.
"Forget the former things; do not dwell on the past. See, I am doing a new thing! Now it springs up; do you not perceive it? I am making a way in the wilderness and streams in the wasteland." Isaiah 43:18-19.
Healing from feelings like rejection, loss, fear and desperation takes a lot of work but guess what? The good news is that feelings are temporary! Learning how to accept and sit with these feelings and thoughts that you are experiencing, is not easy and it's painful because the truth can sometimes be unpleasant. We often think it is easier to ignore the pain and brush it under the carpet, hoping the thoughts and feelings will go away by themselves.
We can look pain in the eye, hold its hand and start the healing process.
We do this by creating distractions to gain temporary highs to numb the pain and to forget being sad for all but a few hours! Some of us use partying, sex, drinking, gambling, masturbation, shopping, self-harm and taking drugs. So now we are in a place where we can either choose to ignore the pain and the situations, as they sit on our shoulders. Or we can look pain in the eye, hold its hand and start the healing process, work through the changes and learn to let go and be free to be your happy amazing self.
Deciding to get up and fight, for me, was the best choice I made because it allowed God to start his healing process. Seeking advice from GP's, having prayer, deliverance ministry and counseling, allowed me to become my healthy self. There was a lot of reflection, determination, focus and it had to start with me and no-one else!
I had to be willing to partner with God on this, as doing it alone was too hard and near impossible! Through doing this, I have been set free and you can be set free also, invest in you and be kind to yourself and start your journey of freedom and happiness!
I had to be willing to partner with God on this, as doing it alone was too hard and near impossible!
"They that wait upon the Lord shall renew their strength; they shall mount up with wings as eagles; they shall run, and not be weary; and they shall walk, and not faint." Isaiah 40:31.
If you would like more information on how you can get support via our courses or groups, please get in touch; Live Life and Know Your Essence and Unplugged-Boundaries Course.

Kelleigh has worked professionally with vulnerable children and families with multiple and complex needs for over 20 years, within Local Authorities, National Health Services and Charity Organisations including church ministries. Now Kelleigh uses her personal, professional and educational skills and knowledge, to develop safe supportive services for women and their community. She is the founder of Life Essence Ministry a faith-based, healthy safe space where services can support women within their complexities.