The England squad are preparing to take on Wales this evening but how many of them will be praying to Jesus for victory? Lauren Windle took it upon herself to do hours of research so you don't have to. You're welcome.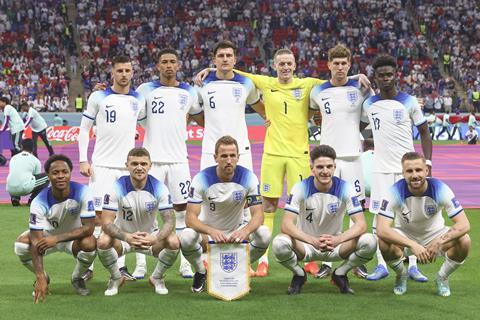 The World Cup is in full swing and plenty of us are glued to our screens. It's a four-yearly opportunity for Baddiel and Skinner to line their pockets with royalty cheques as we all desperately hope "it" will finally be coming home.
If you're anything like me, you've been watching the matches with bated breath, but deep down something's been niggling at you. This football business is all well and good… but do any of them love Jesus? Well, worry not, I've spent the evening doing a Google deep dive into the faith of all 26 members of the squad and I've got the lowdown for you:
Non-religious
The internet suggested that the following players are completely devoid of religious beliefs. This, of course, doesn't mean it's a fact. No one knows what's in someone's heart, but it does mean that bloggers and updaters of Wikipedia pages believe it to be the case. Prayer shawls at the ready, these fellas could still do with a dose of the good news:
Eric Dier
Nick pope
John Stones
Declan Rice
James Maddison
Callum Wilson
Muslim
If my night of research has taught me anything, it is that the internet is a wildly inconsistent source of information. It seems that Luke Shaw is a Muslim. I pressed in further to see if he had referenced this in interviews or had been photographed attending a mosque, but I couldn't find any of this. In 2014 the Daily Mail reported that the footballer had a post-match Burger King. It turns out he ordered a Chicken Royale which doesn't come with bacon anyway so I couldn't shed any light on the situation through his eating habits. The only evidence I could find is a photo of him in Dubai in 2017 with Muslim friends observing Islam's month of Ramadan.
Jewish
There are plenty of reports online suggesting that Harry Kane is Christian but nothing backing it up with any solid evidence. It seems he was born into a culturally Jewish family, and back in 2016 some street vendors around Chelsea football grounds were threatened with a lawsuit for selling an antisemitic T-shirt showing him as a Hasidic Jew. But I can't see any reports of him practicing the faith or attending synagogue.
Could be Christian
The following is a list of people who the internet considers to be Christian. In some cases the justification for this is pretty ropey. For example, I read the following on Conor Coady: "The Wolves Skipper is a believer and a Christian, even though we have no clues or evidence suggesting so." Others have been labelled Christians because they went to Church of England schools, or because they have a name that's also from the Bible, or, in one case, because there was a picture of them and their partner celebrating Christmas on Instagram. It's fair to say that the internet is playing fast and loose with the term Christian here, so let's say that these guys are "assumed Christian" or "culturally Christian":
Jack Grealish – Grealish is English but has Irish ancestry and originally played for Ireland. Before switching to England's national team, it's reported that he consulted with his local parish priest.
Jude Bellingham – the internet is rife with rumours that he's Muslim, but apparwently it's been confirmed he's not Muslim and is, in fact, Christian. Even though no one from his camp has made a comment on either religion.
Kieran Trippier – the internet is convinced that Trippier is a Christian because the defender has a tattoo of hands joined in prayer with a rosary necklace hanging from them. This could obviously mean he's a Christian, but it could also mean that he, like many before him, like the idea of religious imagery as a style statement. If it was only practicing Christians who bought necklaces with crosses on them Argos would go out of business pretty quickly.
Trent Alexander-Arnold
Conor Coady
Jordan Pickford (Catholic)
Aaron Ramsdale
Harry Maguire (Catholic)
Kyle Walker
Ben White
Conor Gallagher
Jordan Henderson (Roman Catholic)
Mason Mount
Kalvin Phillips
Phil Foden
Confirmed Christians
For someone to make it into this category, they need to have spoken about their faith with their own lips, either in interviews or on social media. That leaves us with just three players:
Marcus Rashford – Rashford's mum love Jesus and thankfully it's rubbed off on him. In an interview he said: "If you could see [my familiy's] lives 15-20 years ago to where we are now, it's impossible not to have faith in God and all he does for us." Read Premier's full article on Rashford's faith here.
Bukayo Saka –Saka is overt about his faith. He wrote a letter to a year five class learning about Christianity and fame, and said: "I hold onto God's promises such as the scripture 'Therefore I tell you, whatever you ask for in prayer, believe that you have received it, and it will be yours'. So before every game I ask God to help me play well, help my team and try to score a goal or assist a goal and he answers my prayers so this is why I point to the sky to thank him." Read Premier's full article on Saka's faith here.
Raheem Sterling – Sterling speaks about his faith regularly on social media, regularly tweeting Bible verses and he openly talks about praying before a match. In an interview with political spin doctor turned writer Alistair Campbell, he said: "[My faith is] massive to me. I always give thanks for my life, always give thanks for my family's life and I'm just really grateful for the position I'm in." Read Premier's full article on Sterling's faith here.

Lauren Windle is a journalist, author and presenter who focuses on faith, recovery and love. Her debut non-fiction book Notes On Love: Being Single and Dating in a Marriage Obsessed Church (SPCK) is out now.
View full Profile