Author and campaigner Hope Virgo shares her thoughts on the computer generated 'perfect' people.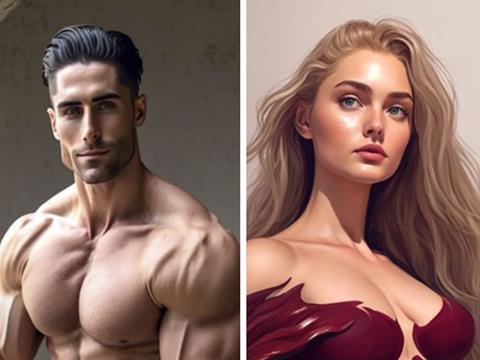 Scrolling through social media is a minefield in itself. The ability to constantly compare ourselves to everyone around us leaves us unsure of our place in society, and forever critiquing our own bodies. Whether it's a positive or negative judgment it's not really okay! But none of this is new. Whether on social media or on TV, comparisons and the ability to judge others have been around for decades.
We thought the scariest thing to come out of technology was the increase in filters that give viewers the impression of flawless skin and slimmer features. But now artificial intelligence has designed what it considers to be the "perfect" man and woman, and the results are… interesting. Surely this is one step too far? And seriously where has that ideal come from? What is the perfect body? Are corporates playing God in choosing what perfection is?
What is the perfect body? Are corporates playing God in choosing what perfection is?
Zeke Rink, DTI and Youth Network Associate Pastor said: "We do see some big companies challenging as there are more and more diverse images of different times of body shapes and sizes being advertised. I think this is a good thing. However, is it actually down to a worship issue, that as humans we want to find 'the perfect body' and then we make that the definition of what everyone should look like?
"When what we see in the Bible is that God has created all humanity in his image and likeness, with many different body types. As humans, in some way, we all bear something of the image of God. So I think it is a worship problem and that we desperately need to go back to worshipping the Creator and not created things. The created things are only a shadow and a glimpse of the God who we were created to worship."
We desperately need to go back to worshipping the Creator and not created things.
With the potential harm in mind, should we, as Christians engage with artificial intelligence at all? Zeke said: "We are pretty much living (for the most part) in a society that neither seeks God nor longs to honour him with their lives. For me, the question in any decision should come to, loving God and loving my neighbour. These are the two greatest commandments in the Bible and whether you believe in the Bible as a source of authority or not, if you are looking to love your creator and your neighbour then you have to be asking questions like: 'What does God think about the choices we are making?' Especially when it comes to the use of technologies that are making huge impacts on the world and the way we treat and interact with others."
Within this narrative we need to keep in mind the more sinister side to all of this is mental illness. While bad body image doesn't cause a mental illness, we know that it can be a contributing factor with so many people looking at AI and other filters and feeling "wrong" in themselves. I believe we need to show love, surround ourselves with the right people, and stand out in the crowd by finding a way to just be as we are.

Hope Virgo is an author and multi-award-winning mental health campaigner for people with eating disorders. Through her talks, Hope helps young people and employers (including schools, hospitals and businesses) deal with the rising tide of mental health issues. She has published three books including bestseller Stand Tall, Little Girl: Facing up to anorexia (Trigger Publishing), documenting her own eating disorder journey. Hope's third book, You Are Free (Even if you don't feel like it) (SPCK) tackles issues around mental health and faith. In 2018, Hope launched #DumpTheScales, calling on the government to stop using BMI as the primary measure to determine whether someone with an eating disorder qualifies for NHS support.
View full Profile