This month Amy Boucher Pye is reading…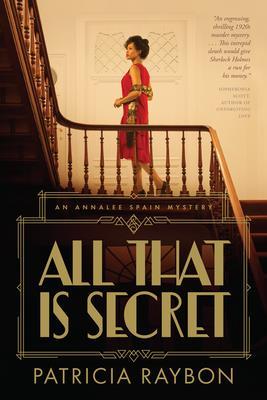 All That is Secret
Patricia Raybon
(Tyndale, ISBN 978-1496458384)
When I heard that nonfiction writer Patricia Raybon had turned her hand to fiction, I thought I'd better reserve judgement until I read her new novel. After all, writing fiction is a different animal to nonfiction. But I've loved some of Patricia's earlier books – My First White Friend: Confessions in Race, Love and Forgiveness (Penguin) still aches with immediacy and power 15 years later and her memoir with her daughter, Undivided: A Muslim Daughter, A Christian Mother, Their Path to Peace (Thomas Nelson), gives a window into tough issues of faith in a setting of love. As I settled down to read All That is Secret, I knew from the start that I needn't have worried. I found it a fine story with many interweaving threads – a suspenseful mystery, the interesting character development of the protagonist, the role of faith, and how an insidious issue of the times, which is still prevalent, exerts its evil influence.
The novel is set in the 1920s, when Annalee Spain decides it's time to leave her prized position of being a 'Coloured Professor' at a Chicago Bible college so that she can have a go at solving the mystery of why her father died on a train heading to Denver, the town where he lived and where she grew up. The story unfolds when she meets a young white orphan on the train to Denver who saves her life. Clearly those who killed her father were out to get her too.
I so enjoyed this gentle murder mystery with the willing but at times timid protagonist. Annalee is a plucky sleuth who, fuelled by love, sets about solving the mystery – she won't be deterred by the expectations of the day, such as what's 'proper' for a woman and what's not. She embarks on her journey loving God but feeling battered and bruised after the death of her beloved (but broken) father. How she learns to trust God again while searching for the answers to her questions unfolds in an authentic and delightful way. A real highlight of the novel is this rich and deep vein of faith – it's integral to the story rather than being tacked on.
Annalee encounters the ugliness of racism not only in its overt forms – this was the time of the KKK – but also its more insidious ways, such as how she was nearly excluded from training to be a professor of theology or the many everyday slights she encountered.
A novel to read and ponder, considering how many of the issues remain today, a hundred years later, both in the States and here in the UK. Enjoy the gentle love story as well!
You can also join our discussions on Facebook. Simply look for the Woman Alive Book Club and join in. See you there!