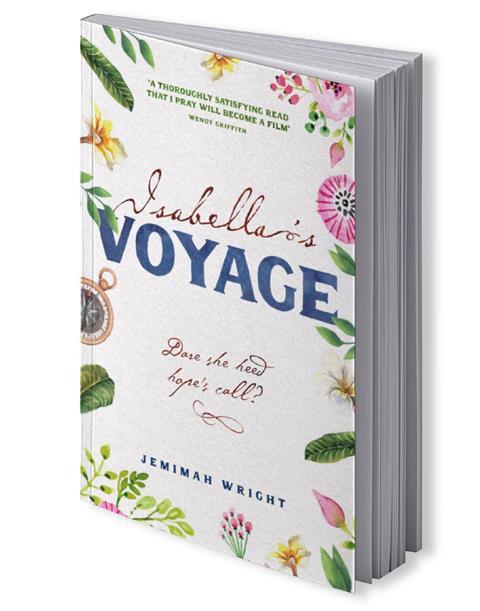 Isabella's Voyage
Jemimah Wright (Instant Apostle, 978-1912726653)
This month I have the huge pleasure of introducing our very own deputy editor's debut novel to you, which is a corker! Isabella's Voyage tells the story of a Victorian woman in her 30s who is feeling constrained by the traditional expectations of life as a spinster, and dreams of a tropical island.
After her uncle goes missing in New Zealand, and her aunt asks for her specifically to go out and help search for him, Isabella ends up on an epic journey that will take her beyond that country to the very island she had been dreaming of. The experience changes her forever.
The novel begins by flitting between Isabella's life in Norfolk and a family in Hawaii and, as the novel progresses, we see how their lives intertwine. Jemimah has weaved the story beautifully; I was drawn in immediately and found myself longing for Isabella to find the freedom – and love – that she deserved.
While this is your first novel, you have written biographies before – how did they come about?
I was volunteering in Haiti with Youth With a Mission (YWAM) for a few months after training as a journalist, Terry Snow, who started YWAM there, asked me to write his book.
I said no a number of times. However, as time went by, I had a growing desire to try to do it, and I wondered whether God was prompting me to give it a go. I had two weeks left before Terry was going to Norway for Christmas so prayed: "Lord, if you want me to write this book, I will do it, but you need to make it clear, as I am going to need your help!
Please get Terry to ask me again one more time, and I will say yes!" The first person I met that morning was Terry, and the first thing he said was: "Jemimah, are you sure you don't want to write my book?" I said: "OK!" It was in fact the easiest one I have done, as Terry was such a good communicator. We submitted it to YWAM publishing, they liked it and then commissioned me to write other missionary biographies – from Brazil, Thailand, Angola and Hawaii.
You have been a journalist for many years and are now deputy editor of Woman Alive. How different have you found writing books to journalism?
As a journalist, you give all the details up front, so I found it hard with a novel as you have to hide the details, and let the reader figure things out. Showing not telling was not as simple as I thought!
Were you always drawn to wanting to write fiction and are there particular writers who have influenced you?
I always thought writing a novel, with a plot and characters made up, was impressive! It's something I dreamt of doing one day, but maybe when I was retired because who has time to write a novel in everyday life!
But then I realised I didn't want to regret anything, so that is why I started Isabella's Voyage. I think Jessie Burton and Marilynne Robinson are geniuses and would love to be able to write like them.
How did the idea for this book come about? And how did you land on Isabella as your main character, who is based on a real woman called Isabella Bird.
People say write about what you love, and I love Hawaii! I first went there when I was 18 to do a YWAM school. I knew Hawaii and England had a historical connection – the king and queen of Hawaii travelled to England to ask King George IV to protect the islands from the French.
However they both died of measles before meeting the King. Also, Hawaiian royalty sent their children to England to be educated, and the Hawaiian flag has the Union Jack in the top left corner.
When I was researching the historical connection, I came across Isabella Bird. I knew I didn't want to write her story, because I didn't want to write another biography, but I loved the idea of a woman travelling from Victorian England to Hawaii.
I bought Isabella Bird's books, and got excited about the idea, but then one day woke up and thought: "What am I thinking!? This is my first attempt at a novel, and I am trying to do an historical novel. I don't know what England was like in Victorian times; I don't know what Hawaii was like in the 19th century." I decided to shelve the idea, and think of a story from the present day, so I could write authentically about it.
A few weeks later I was with some friends who I met with about four times a year, to eat together and pray for one other. I had told no one of my initial book idea. They were all praying for me, writing down what they felt God was saying when one of them said: "Sorry, what I have is so strange, I think I made it up. I don't want to tell you." I said: "Go on, what was it?"
Reluctantly she said: "Well, I saw you writing a book, about Hawaii and England, about a women travelling from England to Hawaii in the 19th century." I nearly fell off my chair! Because of that clear word I didn't give up, even though the process was much harder than I thought it would be.
How did you research the details of life in Victorian England as well as life on the Hawaiian Islands?
Isabella spends quite a lot of time on a steamer travelling to New Zealand, then to Hawaii, and another from Oahu to Hawaii. I was able to go on the SS Great Britain, a steamship museum in Bristol, which was helpful.
And then reading Isabella Birds letters and books gave me an insight into the time and thinking of a Victorian woman traveller. I was also connected to a professor of Hawaiian history, specialising in the Victorian era – she was very helpful.
Jemimah Wright on: The books that have changed my life
Chasing the Dragon by Jackie Pullinger
This book made me excited about adventure with God. It also inspired me to write books about people doing similar things. It is so faith building to read what God does with a person who says "Yes".
Gilead by Marilynne Robinson
I love Marilynne's characters, her observations and her understanding of people. In some ways nothing really happens – it's a story of an old man writing to his young son about his life…but it was captivating.
A Long Walk to Freedom by Nelson Mandela
This book impacted me, because it showed the remarkable resilience, grace and forgiveness of one man. It gave me hope that nations can be changed for the better. I recently married a South African, so I am going to re-read it!
Publisher Recommondation
Stand in Confidence by Amanda Pittman
This autumn sees the release of an exciting new imprint to encourage and equip women to be bold in answering God's call on their lives.
Inspired by the boldness and bravery of Queen Esther in the Bible, Esther Press will publish books, Bible studies and resources that invite women into a deeper understanding of God's word, lead them into a closer relationship with Jesus and ignite their passion for serving him in all they do. For every Esther Press book bought, a donation will be made to help fund ministry to women globally.
Esther Press's first title is Stand In Confidence by Amanda Pittman.
"Society has conditioned many of us to believe false narratives about who we're supposed to be," writes Amanda. "In time, we can begin to think that if we play the part well enough, then we'll gain love, acceptance, validation, and significance.
But the rules are always changing, so we don't know who to be or what to do from one day to the next. As a result, the insecurity drives us to people-please, downplay, settle, and perform."
"Once you start standing confidently in your God-given identity," writes Amanda, "there'll be no limit to what you can do with your life."
Stand in Confidence explains how we can change our perspective by focusing on:
Clarity—Embracing our identity and defining our design
Connection—Connecting with God and with others
Competency—Developing our ability and expanding our capacity
Conviction—Knowing our responsibility and using our authority.
Stand In Confidence by Amanda Pittman was published in October by Esther Press from David C Cook.
PROUDLY SPONSORED BY ESTHER PRESS
BOOK GIVEAWAY!
We are so thrilled to be able to celebrate with Jemimah, and now is your chance to join in as we have five copies of Isabella's Voyage to give away! To be in with a chance of winning one, please send your name and address details by email to womanalive@premier.org.uk with 'Isabella's Voyage' in the subject line before 7 November.

Claire Musters is a writer, speaker and editor. Her recent books include Grace-Filled Marriage and Every Day Insights: Disappointment and Loss. Claire is also the host of the Woman Alive book club and blogs at clairemusters.com
View full Profile