Two newly married couples, Dawn and Tim Laundon and Matt and Coco Morley, told Clare Blake what they learned on their life-changing cycling trips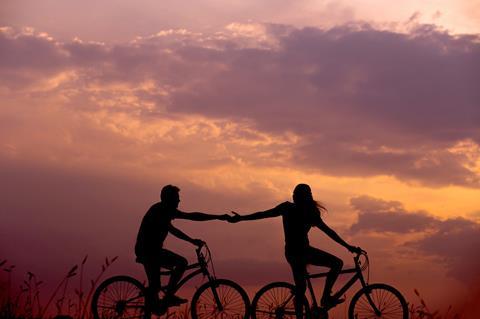 Dawn and Tim Laundon
Dawn, a nurse, and Tim, an Anglican rector, both 37, got married in August 2021 and for their honeymoon opted to cycle 1,043 miles from Land's End to John O'Groats.
How did you meet?
Dawn: I'd been single for over ten years, and had to dig deep into God, trusting that he knew I felt wired for relationship and that marriage was a basic desire of my heart. I'd found online dating quite demoralising until I met Tim on the SALT Christian dating app. We started officially 'going out' after only our second date, which was a bit of a leap of faith, but it just felt so right.
Tim: I'd been divorced, which really knocked my confidence, but Christian friends encouraged me to try online dating. I knew pretty quickly Dawn was the one.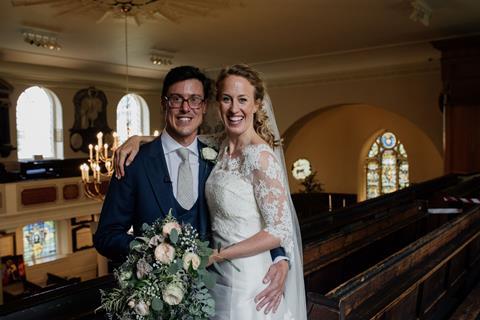 What was the trip's purpose?
Dawn: We wanted an adventure and three weeks cycling through stunning scenery, including ten nights of wild camping, gave us memories we'll never forget.
What were your highlights?
Dawn: We had some incredible gilets made that said 'Just Married' and everywhere we went, people congratulated us, including a big, burly biker. That was lovely.
Tim: We wild-camped in some fabulous places and ate amazing food. We didn't hold back as we felt we'd earned it after burning all that energy.
Any low points?
Dawn: The massive hills were a real challenge. After puffing up an incredibly steep one, my cousin sent me a text that said: "Cherish these times" and I was like: "Yeah, really? This is to be cherished?"
Tim: Looking forward to delicious coffee using our brand-new stovetop coffee maker and finding out the blockage that stopped it pouring was a slug!
How did the trip affect your relationship?
Dawn: We had very different approaches to tasks like putting up and taking down the tent and had to figure out how to do things together. We also assumed being on honeymoon would always be easy and fun, but quickly realised that wasn't real life!
Tim: We so appreciated that the trip gave us quality time to lay good foundations for our relationship.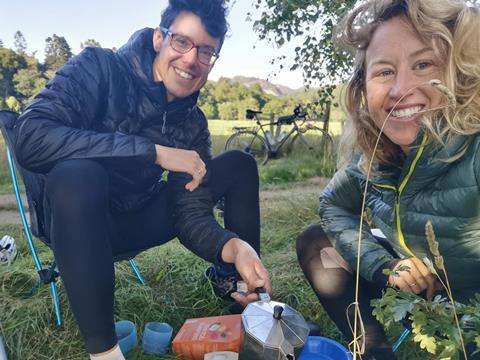 What have you learned about each other?
Dawn: Tim is very good at being present in the now, whereas I can be over busy internally. He has great focus and would be halfway up a hill while I wasted time huffing and complaining. After a while, I started to copy his 'I can do this' spirit and found it really worked.
Tim: Dawn challenged my wanting to always plan ahead, and helped me be freer and trust God more.
Where have you felt God in the journey?
Tim: We prayed for each community we cycled through. The many churches we passed also gave us a real sense of a Christian presence right across this country.
Dawn: We didn't know what was around the corner, where we'd get our food or where we'd put our tent, but there was just this abundance of beauty and sustenance when we needed it and a sense of being really held and protected.
Has the trip made a difference to how you will live your life?
Tim: I've realised we don't have to figure out stuff on our own, but can help one another. Probably the biggest lesson for me has been learning to make it about the journey rather than the destination.
Dawn: Doing this adventure has helped us appreciate simple pleasures while those 'Do you remember?' moments enrich our life on a daily basis.
Matt and Coco Morley
Matt, 31, and Coco, 32, both work at the Department for Education and married in September 2020. In May 2021 they set out on Tour de Moco, an epic year-long cycle from London to Tokyo to raise money for Christian international development charity, Mercy Ships. So far, they've travelled 5,000 kilometres through 15 countries, though recently COVID necessitated a diversion through Thailand.
What was the trip's purpose?
Coco: We wanted to do something for countries with poor or non-existent healthcare – we're so blessed with our fantastic NHS.
Matt: We're fundraising for Mercy Ships, a charity that shares the gospel alongside life-changing operations and long-term investment in medical training and improving healthcare infrastructure in developing nations.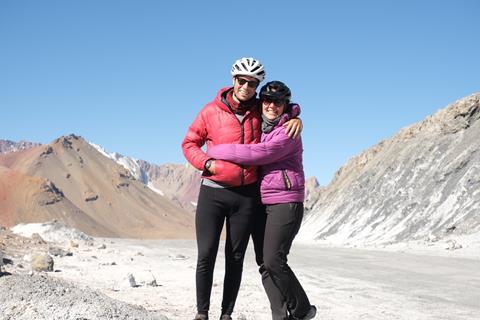 What were your highlights?
Coco: Waking up in Rose Valley, Cappadocia to see almost 100 colourful hot air balloons gracefully floating over our tent.
Matt: The Pamir Highway, dubbed 'The Roof of the World', is at its highest point 4,655 metres, which is really tough, but spectacular. There's something seriously magical about that high-altitude blue sky!
Any low points?
Coco: Stomach bugs – nine so far – the worst while wild camping in a forest in Spain. How I longed for a cool bathroom floor to curl up on!
Matt: No signs warned us of liquid tar on a Tajikistan road and both our bikes crashed. Shocked, bruised and grazed, we were then dowsed with petrol as a makeshift cleaning agent. A week later, a terrible accident at the same spot killed ten people.
Who stood out on your travels?
Coco: Cycling the Pamir Highway, a Kyrgyz family living miles from anywhere with no Wi-Fi, electricity, toilet or shower, humbled us by their generosity, giving us a bed by the stove, hot tea and buttery potatoes.
Matt: We were so exhausted on reaching the Turkish village of Saricailyas that we leapt at Selçuk's dinner invitation. It was a wonderful evening sampling traditional Turkish food cooked on an outdoor stove, swapping stories and learning about Turkish culture.
What have you learned about each other?
Coco: Matt amazes me with his endless grace, energy and ability to be optimistic and cheery. He really lifts me when I'm tired or fed up.
Matt: I like to plan and know what's what, but Coco is good at challenging me that we don't always need to be in control.
Where have you felt God in the journey?
Matt: Getting outside my comfort zone has been really powerful for me, learning to rely on God and trust him for everything. It's something I definitely feel challenged to bring back home.
Coco: I'd been boxing God within my local church community, but now I realise he's so much bigger. He's with us wherever we go.
Has the trip made a difference to how you will live your life?
Matt: We've been impacted by meeting people who live very simple but contented lives so I definitely want to bring some element of that into our hectic London lifestyle.
Coco: The incredible hospitality we've received has challenged us to be really intentional about being hospitable and generous when we return. I've also learned there's real beauty in simplicity so plan to focus more on what's important in life. Most of all, I need to remember that God's in charge, not me – I really hope and pray I won't get back to London and instantly try to take back control.
FURTHER INFORMATION
You can follow Matt and Coco's adventures on Instagram @tourdemoco and donate to Mercy Ships (mercyships.org.uk) here
Clare Blake is a freelance writer and author. She loves to write inspiring stories about real people encountering God.
View full Profile