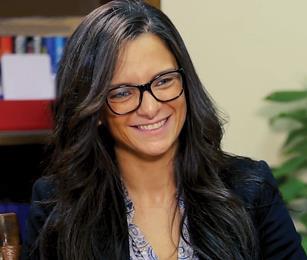 My dream is to change perceptions of women lawyers

Sue Ellen Hassouna has defied prejudice and overcome many barriers to become a top corporate lawyer in Egypt

Sue Ellen (main picture above) believes growing up in a single parent household gave her both her determination and her concern for justice. "I grew up with a single mother who is a fighter; she wasn't lenient and taught us right from wrong.

"The circumstances around growing up in a separated household pushed me to want to be a lawyer to know my rights," she explains.

But despite achieving high grades, she was still rejected by 13 companies. "I felt they rejected me for being a woman," she says.

Undeterred, she went online to research the road taken by successful female lawyers around the world, and discovered two who came from "very difficult backgrounds".

She continues: "I decided from then on that I was going to be a lawyer and would not allow society to deprive me of my self-confidence. I vowed to make the companies that rejected me seek me for employment."

Her determination paid off and Sue Ellen began her legal career in Egypt, despite initially encountering "stereotyping and judgmental attitudes".

In 2010, she had the opportunity to become a legal researcher at the International Court of Justice in The Hague. "It was great training and this is where I learned about law and how to be a lawyer."

Returning to Egypt, she progressed as a corporate lawyer and legal head through several major property and telecommunications companies. Today, she is head of the legal department in Egypt for the Total oil company, an expert on white collar crime, and a passionate advocate for developing young lawyers.

She says the major obstacle to ensuring Egypt's citizens receive true legal justice is having to work with "outdated laws", many of them written in the 1920s. For example, whilst 99% of Egyptian women encounter sexual harassment, this was not criminalised until 2014.

Having achieved her own success the hard way, Sue Ellen is keen to ensure that prejudice and lack of opportunities are not a bar to other talented women. In 2017, she set up her own foundation for legal development that gives legal expertise to low-income communities, and a scholarship to help a disadvantaged young woman begin her legal career.

Taking the long view, Sue Ellen sees that the obstacles that have often stood in her way have prepared her for the pressures and challenges that are part and parcel of her work.

"After all this, I can see God's perfect plan," she says. "I want to make a difference in someone's life. Adverse circumstances strengthen you and you cannot reach your goal without pain."
Sue Ellen was profiled on She's The Story, a SAT-7 women's programme, which seeks to show Middle East women their value in God's eyes, and to encourage and empower them. Discover more about SAT-7 at www.sat7uk.org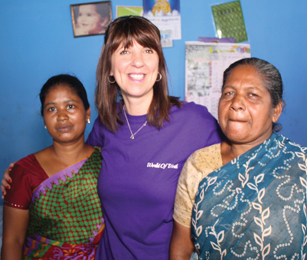 I want to transform the lives of these women

Rachel David and her husband head World of Worth, a charity founded by her parents-in-law to help families and communities living in poverty

I wanted to be a missionary since I was a little girl and, when I met my husband, I was immediately drawn to the work that his parents were doing, running a charity which helped children across the world who were living in poverty. I began to work with them part-time doing their administration and loved it! I used to pray over the photos of the children who needed sponsorship, and celebrated when they found a donor.

In 2004, my husband and I had the great privilege of taking over from his parents, and I soon found myself travelling to India to meet the children who I had been praying for. Little did I know what an impact that trip was to have.

I had been invited to meet 35 widows who the charity had been supporting. We had sent money for these widows at Christmas, and our overseas partners had bought new saris for them.

When I walked into the room, the welcome was overwhelming. The women crowded around me, kissing me, hugging me and showing off their new saris. They were so grateful, they wouldn't stop thanking me and many were in tears. The whole experience was very humbling.

As I left the room, I asked our overseas partner to tell me more about these women. She explained that widows in India are marginalised and seen as cursed because their husbands died before them. They are often rejected by their families, and left to beg on the streets. It is not the custom to re-marry and, as many are widowed at a young age, they have to try and care for their children.

I asked to visit some of the widows' homes, and was heartbroken to see the squalor in which they live. With no running water, sanitation or even adequate shelter, these women have a daily struggle for survival.

Reflecting on my life in the UK, I determined to change the lives of these widows, so they knew they were loved, supported and would have a better future.

Only a few months later I found myself in Ethiopia, standing in a small shack amongst some of the worst poverty I have ever seen. I was meeting the mother of some of the children who were on our education programme and, as we entered her small home, she fell to her knees, wrapped her arms around my legs and sobbed at my feet, thanking me over and over for helping her children.

My heart broke for this woman, whose husband had abandoned her, leaving her with two young children. They lived in one room made of corrugated metal with no cooking facilities and no sanitation. Again I determined to change her life.

We now support over 300 widows in India, 60 women in Ethiopia, 70 in Uganda, and we have just started supporting 20 women in Mozambique. Our aim is not only to feed, educate, provide healthcare and shelter, but also to share the love of God with these women, to let them know that they are women of worth, despite what they have been told and how their society labels them.

World of Worth is a personal charity. I passionately love what I do, know many of the women by name, and want to continue to transform the lives of these amazing women and their families around the world.

Find out more about the work of WOW at www.wowuk.org or call 0300 302 0191.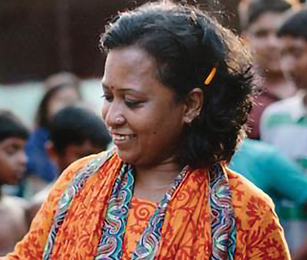 I hope to see Meherpur free of leprosy

Shondha Mondol works tirelessly to transform the lives of those affected by leprosy through the Advocacy for Empowerment Project (AEP) run by The Leprosy Mission, in partnership with Shalom, the development wing of the Church of Bangladesh in Meherpur, where Shondha is project manager.

Now married (her husband teaches in a private school) with two sons aged eight and 12, Shondha did not have a perfect start in life. Her mother died shortly after she was born and her father, unable to cope with a baby girl, gave her up to the local Christian church for whom she works today.

Shondha says the Bible inspired her to work with leprosy sufferers. "I wanted to help those who are neglected and depressed because no one was speaking for them."

All cases of leprosy have to be registered by the government, so communication is very important. "The biggest challenge is motivating the government in Bangladesh," she explains. "It's very tough. The disability card, which provides a small payment to those worst affected by leprosy, is quite politicised here – the distribution of them has a lot to do with getting votes. I'm in regular contact with government officials and if they don't respond, then I go one level up."

When the AEP started in 2015, there was no register of people affected by leprosy, no multi-drug therapy available to treat them and no TLC (TB and Leprosy Community Officer). Because of Shondha's perseverance, all three districts in Meherpur now have all three.

A major recognition of her achievements are the invitations she receives from the Deputy Commissioner to district level meetings, and to civil surgeon meetings, and community and health care partner meetings.

As well as motivating the government to take a more active role in paying attention to leprosy, Shondha organises skin camps in every community clinic. Anyone with a skin problem can have a free consultation and it is an easy and stigma-free way of identifying early signs of leprosy.

"The community clinics serve a population of about 6,000 people, so it makes sense to use their offices for the skin camps. The government sends me a doctor, a community healthcare provider and medicine," she explains.

All this has been achieved by Shondha's single-handed advocacy. She says,"I suppose my dream goal is to see Meherpur free of leprosy."

For more information about the work of The Leprosy Mission visit www.leprosymission.org.uk