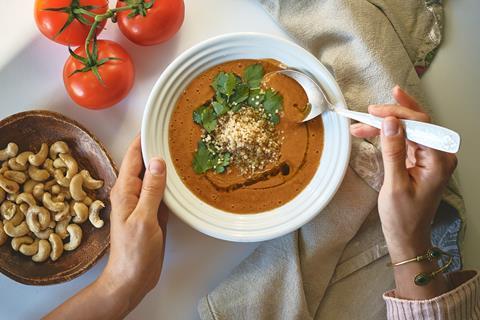 Porridge
This humble breakfast can be the greatest 'get better' meal there is – easy to digest, full of vitamins and minerals, healthy carbohydrates, fats and protein. You don't even need to have plant milk at hand, just boil oats in water until the porridge becomes creamy, add raisins or currants, other dried or fresh fruits, nuts and seeds. If you want to go easy on your stomach, add a finely diced apple when boiling the oats – it makes the porridge lighter and easier on your digestion.

Fruit and veg smoothies
You need to drink to stay hydrated and if you're not hungry, the best way to get some healthy vitamins, energy-giving carbohydrates, disease-busting antioxidants and water down you is to make a simple smoothie. Use any fruit or vegetables you like as long as they are fresh or frozen. Avoid preserved fruit and pasteurised fruit juices – they've lost most of their nutrition value and won't give your body what it needs.
Citrus fruit is great for vitamin C, bananas for minerals and sweetness, berries for lots of antioxidants, green leafy vegetables for vitamins and minerals and apples and pears for vitamins and antioxidants.

Lentil soup or dahl
In my local supermarket aisles once full of rice and pasta are consistently cleaned out. Enter, lentils. A simple lentil soup or dahl gives you exactly that and more – lentils for healthy protein, carbohydrates and minerals; vegetables for vitamins; garlic and onions help fight bacteria and you can add powerful spices, such as turmeric, ginger and oregano as they help to fight inflammation and clear congestion. Use whatever vegetables and type of lentils you have! Throw it all in one pot with spices, salt and whatever additions you might fancy and let it boil – minimum effort, maximum effect!

This information has been provided by registered charity Viva! Health (formerly The Vegetarian & Vegan Foundation founded in 1994). Viva! Health monitors the scientific research linking diet to health and provides accurate information on which you can make informed choices about the food you eat.
Author Veronika Charvátová MSc is a biologist and Viva! Health researcher. Veronika has spent years uncovering the links between nutrition and good health and is an expert on plant-based diets.
Photo by Lena Volkova on Unsplash