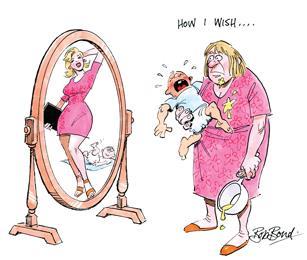 Is perfectionism a 'female' problem?
It's a question that keeps coming up, says author of The Perfectionism Book Rev Will van der Hart – but it comes from a misunderstanding of the problem ...

I have spent a lot of time considering this question, not least because so many of the first populist books on perfectionism were written by women for women: Anne Wilson Schaef famously wrote, "Perfectionism is self-abuse of the highest order" (1990 Meditations for Women Who Do Too Much republished by HarperOne, 2006). In reality perfectionism dehumanises us; it equates our value to our performance, our identity to our usefulness and our beauty to our presentation.

Arguably women have been subjected to far more harsh cultural expectations than their male counterparts, and as a result it is not surprising that they identified more easily with the perfectionistic mentality. However, I believe it is a huge mistake to attribute perfectionism to one gender or another.

Stereotypical definitions of perfectionism have been partly responsible for its misattribution. People may see a beautiful, manicured woman, perfectly dressed and assume she is a 'perfectionist', whilst a 'stay-at-home mum' covered in baby food might not conjure up the same conclusion. These classical assumptions really do nothing to define the problem of perfectionism because it is an issue of internal motivations not external perceptions.

Perfectionism has very little to do with how smart, clear or organised you are. It is often confused with excellence and even perfection itself, but it is neither. Psychologists Hewitt and Flett developed a Multidimensional Perfectionism Scale (MPS) to help reflect the three clear dimensions of perfectionism. The beauty of this is the way in which it reveals so many of the hidden manifestations and dimensions to perfectionism.

1 Self-Orientated Perfectionism – Setting excessively high achievement standards for the self, over focusing on mistakes, inflexibility
2 Other-Orientated Perfectionism – Having harsh or unrealistic expectations for others, difficulty delegating, offering harsh or overly critical feedback
3 Socially-Orientated Perfectionism – Living under a belief of harsh socially prescribed standards, lives to avoid the harsh evaluations of others

Behind all of the different dimensions of perfectionism are deep vulnerabilities, including the desire to avoid scrutiny, the fear of losing control and a gnawing sense of insufficiency. Perfectionism is a safety mechanism that proposes to offer lasting affirmation whilst at the same time suffocating whatever fragments of self-esteem a person has left within them.

Brené Brown writes: "Perfectionism is a self-destructive and addictive belief system that fuels this primary thought: If I look perfect, and do everything perfectly, I can avoid or minimise the painful feelings of shame, judgement, and blame."
If there is a gender weighting to perfectionism, it is a superficial one that is only perceived because women use more obvious mechanisms to conform to 'socially orientated perfectionism'.
This has been particularly exhibited by the cosmetic surgery industry with 51,000 Britons opting for surgery in 2015 and women accounting for 91% of these procedures. What is not seen so easily is the number of men crushed by procrastination, or attempting to dominate their colleagues because of 'other orientated perfectionism'.

However it is manifest in your life and whether you are female or male, the Bible is good news for perfectionists: "Are you tired? Worn out? Burned out on religion? Come to me. Get away with me and you'll recover your life. I'll show you how to take a real rest. Walk with me and work with me – watch how I do it. Learn the unforced rhythms of grace. I won't lay anything heavy or ill-fitting on you. Keep company with me and you'll learn to live freely and lightly" (Matthew 11:28-30 The Message).

Grace is the antidote to perfectionism. Brennan Manning says in All Is Grace: A Ragamuffin Memoir, "This vulgar grace is indiscriminate compassion. It works without asking anything of us ... Grace is sufficient even though we huff and puff with all our might to try to find something or someone it cannot cover. Grace is enough. He is enough. Jesus is enough."

Grace begins with you. It is a battle that is won in your own heart between the voice of Jesus, who loves you and has saved you as you are, and the voice of judgement that wills you to pretend you are more than you are, so that others will think you are acceptable to God in your own strength. The battle for grace belongs to us all, male or female, each of us needs to win this battle and treat each other with gratitude and compassion.

Hewitt PL, Flett GL (1990) Perfectionism and depression: A multidimensional analysis. Journal of Social Behaviour and Personality 5:423-438
Brené Brown The Gifts of Imperfection: Let Go of Who You Think You're Supposed to Be and Embrace Who You Are
+ Rev Will van der Hart is pastoral chaplain of HTB in London. He is married to Lucinda and they have two children Skye and Joseph. Will is a director of the Mind and Soul Foundation and has been working to support people with emotional and mental health issues within the church for the last 10 years. Previous books include The Worry Book and The Guilt Book. His new book The Perfectionism Book is out now on Amazon UK and in all good Christian bookshops (RRP £9.99)