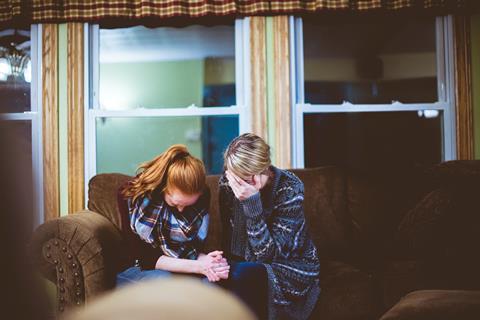 I was faced with a life changing decision: to pursue path A or stay on path B. Both were positive experiences but drastically different. I was confused as to which God was calling me to walk and enlisted prayer support from a loved one. We sat down before a meeting and I shared what was on my heart and mind- the faithful aspect and how this could be an option God is presenting for specific prayers, I have prayer. On the other hand, it could be a test to see if I was giving into the ideas, insecurities, and desire for security in guarantees instead of the Heavenly Father. I could argue how this supports either stance and my mind felt so foggy and confused. This trusted person and I hit pause and prayed. During this prayer I couldn't help but feel disappointed and aggravated. I was coming before the Lord with a prayer support and I felt that their prayers were so generalised as to almost be irrelevant to me or my situation. I was disappointed.
Nearly a week after this prayer I have come to realize the lesson in that moment- while it was not related to the decision I was praying for, it helped me see why prayer is so important and the additional layer of our prayer life. As Christ followers it is essential to build a strong base in our faith through prayer not only for ourselves, but for others. The body of Christ should be an example of Jesus and the goodness of the Holy Spirit. While we're not perfect like He is, we embody aspects and a glimmer of the light too pure to be a creation of this Earth. When our friends, colleagues, community members, children - or even strangers have the courage to ask for prayer, it is important as Christ followers to be able to understand the power this holds. We are not only approaching God and deeming wherever we are geographically a sacred space, but we are declaring God's goodness over the issue, or questions the person we are praying has.
We can not offer the community and support God has intended us to give as his chosen people, to others, unless we first do the work ourselves and show up day after day after day for Him. In His word, God encourages us to pursue a prayerful community. Jesus says: "again, truly I tell you that if two of you on earth agree about anything they ask for, it will be done for them by my Father in heaven. For where two or three gather in my name, there am I with them." (Matthew 18:19-20).
I keep thinking back to the prayer. My heart longed to hear the words pour out of someone I love and admire most, asking the Lord to guide me in making this decision- to equip me with His knowledge and to not be swayed by what I think is "good" but what He defines as good. I encourage you to keep praying. Pray for your life. Pray for the lives around you. Pray specifically so you can impact others in the way in which we as Christians are created. Don't skip approaching God because it's too late, there isn't anything "new" to talk about, or because you don't know what to say or how to say it. Pray when things are going perfectly according to our ideas. Pray when life is hectic and confusing. Pray when you're happy. Pray when you don't know what to think or feel. Pray when you have things to celebrate and also mourn. Pray about the people you love. Pray for your prayer life to grow and develop into a deeper relationship with our creator.
Praying is not only our connection to God, but how we can connect others to God.
I urge you to sit down today and pray. Don't let the fast pace world and the never ending to-do lists or the shaking voice pull your attention from God. Don't fall into a pattern of prayerful disappointment and shallowness. Don't become someone who sabotages their growth or negatively impacts others who are showing up daily before the throne.
You are saying something- don't let the silence speak instead of prayers.
Pray specific prayers. Pray specific prayers to help you grow. Pray specific prayers to help others grow. It's okay to have a more general prayer, but this should not be every prayer. For example, I am starting a new prayer routine to challenge my prayer development- I am going to have my general prayer in the mornings when I wake up- before I start my day- because I'm not sure what the day will bless me with or how I may be challenged. So, I will go through my prayer list, pray intentions over the day, ask for the fruits of the spirit I may be lacking during this time and pray for healing for the current worldly circumstances. However, as I go through my day and feelings or situations occur that are leaving me feeling less than, I will turn those specific things, thoughts, or emotions over to God. I will ask Him to provide healing if I'm feeling a physical or emotional toll. I will ask for clarity in making XYZ decisions. Lastly, the final prayer I will initiate before I go to sleep will also be specific. I like to identify aspects of my day/ week and give thanks to God. I also like to pray specific things that may have frustrated me. I break them down in my prayer as specific as I would a school outline- the ones when we first learned how to read and had to identify and write in the spider web looking diagram what the issue is and list the tools to help us solve it. While I might know the tools or have too many to choose from and feel confused, I speak this before God uses this time to talk about what is on my heart and mind. Think of it like this: prayer is like a well. We are the jar.
Every day we need to toss out the old water- the one that may be too dirty or unsafe to drink- in order to have a clean vessel for the new water to be poured into. Prayer is how God pours into us and how He fills us with "clean water" so to speak. During this time we are strengthened, encouraged, and stretched in ways we can't begin to imagine. The decision to initiate a prayerful relationship with God overflows into the lives of others. Because God has filled us with his fresh, clean, drinkable water, we are able to share this and pour into cups that may be empty. Prayer is not only about us- there are people who need our prayer life to be strong and to witness the power of God through our decision to pursue Christ and pray with them.
Read more from Macaila Britton at MacailaBritton.com and look out for the next instalment of this Christmas holiday series.

Macaila is a freelance writer and author of a sustainable and purposeful living blog. She blends her passion for stewarding the earth with her love for storytelling. Macaila often writes on ways we can foster deeper connections, working to integrate Christianity, environmentalism and the arts. Drawing inspiration from the world around her, Macaila hopes to leave her mark, making it better for future generations. Connect with Macaila on Instagram and her website.
View full Profile