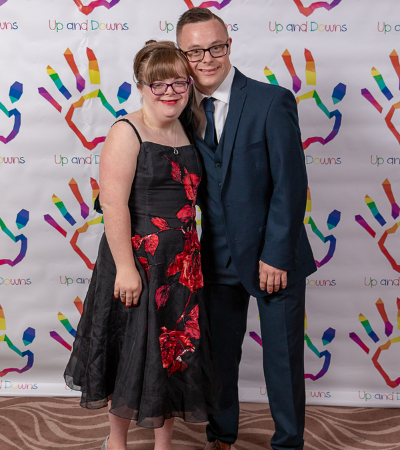 It takes a strong woman to believe something so passionately that she forces the government to take notice – and that is exactly what Heidi Crowter has done. Heidi has Down's syndrome (DS) and is adamant that the laws that discriminate against people simply because they have an extra chromosome must be changed. It's hard to believe something so small can make such a difference, but DS dramatically impacts those born with it and their parents, not least because current UK abortion law allows babies with DS to be aborted right up to birth whereas for 'normal' babies the cut-off date is 24 weeks. Down's syndrome is feared and people often display extreme prejudice towards it. Liz, Heidi Crowter's mother, was one of them.
Falling in love
In the days after Heidi was born, Liz felt something close to despair. The vision of the little baby girl she'd longed for crumbled as she searched her baby's face, hoping desperately she was mistaken while anger against God bubbled just below the surface. "Why, God? Why? How can I love a baby with Down's syndrome?" When her two boys were born, Liz had felt an instant rush of love, but when she looked at Heidi there was just a terrifying blankness. Liz's cousin had had DS, and had been badly handicapped, and so she shed bitter tears as she mourned all the things she believed her little girl would never do – such as get a job, have her own place or get married.
Like many babies with DS, Heidi had additional health issues – a life-threatening combination of a large hole in her heart and leukaemia. The consultant took Heidi's parents Steve and Liz, to one side to explain: "She needs a heart operation urgently but she can't have it because of the leukaemia. I'm afraid she's likely to fade away very quickly." It was a devastating moment, except for one thing. As Liz saw Heidi battling incredible odds to survive, the love that had been missing welled up inside her. "Please don't let me lose her, God," she prayed.
Many other people were praying for Heidi too and something amazing happened. The leukaemia cells decreased and finally vanished altogether, making it possible for Heidi's heart operation to go ahead. In the months that followed Heidi put on weight and developed a determined personality and a cheeky smile.
One of the things Liz and Steve found hardest as Heidi grew older was the barrage of negativity with its wearisome mantra of "Heidi has Down's syndrome, so she won't be able to do that," which they countered with a positive attitude: "If she wants to do it, let her try." Determined that Heidi should live as normal a life as possible, they trialled putting Heidi into mainstream education rather than a special school. One of Steve's favourite memories is of Heidi's first school play, Goldilocks and the Three Bears. When the question, "Who's been eating my porridge?" was asked, Heidi rushed onto the stage and pointed at Goldilocks: "It was her!"
Steve and Liz's choice of mainstream schooling proved justified as Heidi exceeded all expectation, gaining GCSEs, the highest grade in her class for Foundation French and BTEC and NVQ qualifications in other subjects. After college she continued to overcome hurdles as Liz and Steve encouraged her to be independent, working part-time as a salon junior in a kids' hair salon and even getting her own flat.
The campaign trail
One thing Liz definitely didn't see coming was Heidi's role as an activist. It started at the 2016 'Don't Screen Us Out' campaign, a protest against a more intensive screening method called NIPD (Non-Invasive Prenatal Diagnosis), which is capable of identifying genetic abnormalities in a foetus at an early stage. With 90 per cent of pregnancies where DS was detected already aborted, the potential of NIPD to raise that number still higher and possibly even eradicate people with Down's syndrome altogether was frightening.
Heidi explains: "When the organisers saw how upset I was about NIPD, they asked me to speak and I said 'Yes' because I wanted to stand up for people like me." Since then, Heidi has become a campaigner and often takes part in debates and interviews for newspapers, magazines, radio and TV.
More recently, Heidi, together with Máire Brady whose son Aidan also has DS, has taken up arms against the discriminatory UK abortion law. Heidi explains: "When I first heard babies with Down's syndrome could be aborted right up to birth under UK abortion law, I was deeply shocked. That could have been me if my mum hadn't been a Christian. How can it be right for a law to say my life has no value just because I have an extra chromosome?"
In June, 2020, Heidi and Máire presented a petition with 18,000 signatures to 10, Downing Street, challenging this law and on 18 October, 2020 they heard they'd won the right to take the government to court (early Feb, 2021). Heidi was over the moon. "It feels amazing to have got this far." Paul Conrathe, the case lawyer, is backing her all the way: "Heidi's love of life is an astoundingly good advert for why this unfair abortion law must be changed.
Finding her life partner
The success of the petition was not the only thing Heidi was celebrating in the summer of 2020. While at her birth, Liz, Heidi's mum had doubts she'd ever marry, God brought James and Heidi together and plans for a July 2020 wedding were gathering momentum when COVID-19 struck. At one point it looked like the wedding might have to be postponed, but, amazingly, Heidi and James were able to get married on their original date – which happened to be the first day marriages with 30 people were allowed to take place. It was a joyous reunion as the couple had been separated for three months due to shielding and living in different parts of the UK. Heidi was ecstatic: "When I saw James looking so handsome in his suit, I almost cried. It was definitely the best day of my life."
Fearfully and wonderfully made
Heidi's faith is very real. While a real motivator for her campaigning, it is also an anchor for her life. "It can be hard having Down's syndrome as when I'm out people often stare at me or even call me names. The verse: "I am fearfully and wonderfully made" (Psalm 139:14) is really important to me as it reminds me that God created me and sees me as precious. I'm not a burden. Or a risk. Or a page in a medical journal. I'm a person with feelings. I may have an extra chromosome but what I want is the same thing every woman wants – to be loved and valued just as I am."
How to be Down's syndrome aware
• Befriend: Get to know someone with DS.
• Be kind: See the person behind the extra chromosome. Smile and engage with them.
• Communicate: Talk directly to the person with DS, not just their parent/carer (if they have one). Speak clearly and make eye contact but don't talk down to them.
• Don't assume: Find out the facts rather than making assumptions – about anything.
• Don't be passive: If you see prejudice against someone with DS, intervene.
• Watch your language: Don't say a Down's baby, say a baby with Down's syndrome – people are not defined by their condition.
• Take a stand: Join Heidi in her fight against discrimination (see further information box).
Further information
• To find out more about Heidi's case, and to help fund it, click here.
• Heidi posts regularly on her Facebook page: Heidi Crowter – Living the Dream
• For more information about the campaign against NIPD screening, click here.
• Helpful information for individuals with DS and their families can be found here.