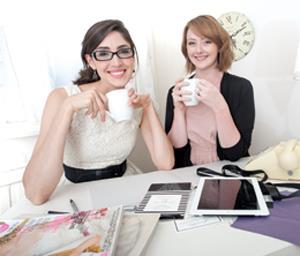 Holly Poulter is the Creative Director of Pretty, Please Events – creative wedding planning company in London and the South East. Holly lives in Surbiton, Surrey, with her husband James and her bi-polar cat. She talks to us about why she loves what she does, what it really means to be a wedding planner, and how her faith influences her work
Becoming a wedding planner has been a dream of mine since I was maybe as young as seven! I have this vivid memory of planning one of the 'pretend weddings' kids do during lunchtimes – finding a boy in class to play the vicar, exploring the area of the playground with the best light, making flowers out of paper. It was clearly a seed planted early!
I started planning fundraising events when I was in secondary school with friends, but it wasn't until my final year of university that I made a conscious decision to make my dream a reality and start my own business. I offered my services for free for a few years, to get a portfolio together. Then when I had enough confidence in my work, I started Pretty, Please Events.
We plan all sorts of events it could be for two people or 200 people! We can work with people on corporate events, birthday parties, Christmas dos and anniversaries. We do love to plan.
The best thing about my job is that I'm never bored! Every client is different, which means every wedding is unique. I get to flex my creative muscles all year round by working to new briefs and coming up with new ideas to suit individual styles.
All sorts of people come to us. It's often assumed that wedding planners are for big expensive weddings, but I find that the people who need the most help with their wedding plans are the ones on lower budgets, the ones that are working full-time and can't commit to the (on average) 250 hours it takes to plan a wedding. I don't think enough planners cater to those couples. Our ethos and our aim has always been to help couples get their dream wedding, no matter how much they have to spend. By working with us they can use what they have better, and still have an amazing day.
We get some interesting requests. A number of our weddings have been a fusion of different cultures – Italy and Australia, India and Nigeria – and it's always fascinating to hear about the different ways families celebrate, and discover ways of marrying those together, legally and stylistically! Brides will come to us with an idea of the look they are going for, whether that be an inspiration from a film or a particular colour scheme. Over the years we've been asked to recreate indoor midnight picnics, botanical gardens and 1920s shindigs, but I'm still holding out for a Star Wars theme.
Sometimes we have to negotiate between family members who want very different things. As the wedding planner, you're looked to as the advisor and can often be caught in the middle between two people and their opinions. More often than not, this power struggle is between the couple and their parents. It's normal for parents to help their children out financially for the big day, which can lead to decisions being made for them that they don't necessarily want.
Whether it's about the size of the guest list or the flowers in the bouquet, it's important for everyone to remember that it's about the bride and groom, and about what they want for their big day. So a big part of my job is facilitating and suggesting creative compromises to get through all the inevitable wedding politics!
I do get nervous – even before the big day. But I'm glad I feel that way because being nervous banishes complacency and encourages creativity. Nerves help me be a better wedding planner and push me to do the best I possibly can. So the day I don't feel nervous is the day I stop being good at what I do!
I've had a few hairy moments. One wedding in particular we had some guests arrive at the dinner who couldn't find their name on the table plan. I reluctantly pulled the groom aside to find out whether they were meant to be here, and it turned out that they had only been invited to the ceremony! At that point, the best thing to do was to take the hit for the couple and tell the guests that it was our fault they hadn't been seated yet.
So after some last minute creative table arranging and requests to the kitchen, the grumbling, unexpected guests enjoyed the reception. Not the most pleasant experience, but taking the blame for something we didn't do wrong was just part of the job that day! The bride and groom were very appreciative!
My faith is at the root of everything I do and, as much as possible, I try to focus my clients onto the marriage, and not just the wedding. Thinking about everything with a long lens instead of just this short period of time that can be so stressful, can really help ground a marriage from the start, even if the couple aren't Christian. Also I'm lucky enough to work with someone who is also a Christian. So when things get tough or stressful, we can turn to prayer and ask God for direction, and for peace about it. We will often pray before the day itself that everything will go perfectly, of course! We'll pray for the bride and groom and that they will have a fantastic day that they won't forget – it's the work we do as wedding planners that we don't charge for!
I would advise any 'brides to be' to set out what you want from the start. It's important that couples try not to let too many friends or family members influence their big day. It's a problem we see a lot of, when the couple are having to compromise this way and that, to the wishes of their family. As important as it is to keep everyone happy, the main thing is that you have the day you want.
And for mothers of the bride, I would definitely encourage them to try and enjoy this time with their daughter, rather than just take on a project. For many, this is the last time that their daughters will be living with them or on their own, so it's good to pencil in time just to be together. Don't spend all your time discussing napkin colours or who should be seated next to who!
+ You can find out more about Pretty, Please Event Planning at
www.prettypleaseevents.co.uk