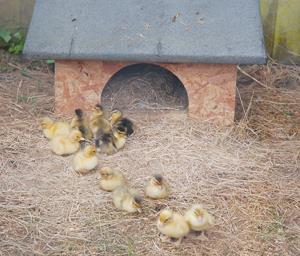 A meal with a friend prompted Ellie Philpott to explore growing her own food and now she and her family are enjoying a more natural way of living
It's 6.30am on a Monday morning and I'm standing at the door of our chicken run in a bitter wind with snowflakes blowing into my face.

I've got one foot stuck out behind me, trying to keep our puppy out of the run and one hand in front of me stopping the chickens and ducks from escaping. The chickens' water is solid ice and the duck pond is frozen over. I've got to ferry hot water from the kitchen to try and defrost everything. As I go to get the chickens their food pellets, I notice there are two more rat holes coming into their run. Even the council rat man is struggling to deal with our latest 'visitors'.

Then I lift the hatch of the nesting box and see a trio of gorgeous freshly-laid brown eggs. Fudge, our little Call duck, comes over to me and starts nibbling on my boot and I realise it's all worth the effort.

In the past, it was common for many households in the UK to keep a few chickens for eggs and meat and to maintain a vegetable patch. Today, it seems, we're going back to our roots. According to the latest statistics, nearly three quarters of a million households now keep poultry and the numbers are rising all the time.
The proliferation of television programmes such as Jimmy's Farm and campaigns by chefs like Jamie Oliver have encouraged us to look closer at where our food comes from.

The benefits of taking a few steps back in the food chain and having a go at growing and producing food yourself are immense. The minute you harvest a vegetable, it starts to lose quality. Compare the snappy bright-green feistiness of a home-grown French bean fresh from the garden, to its limp, pale, shop-bought equivalent and there's no contest. Added to this, growing your own produce gives you control over what pesticides, if any, you choose to use.

But there are other, profound benefits to this kind of lifestyle that you don't necessarily hear about on the television. Martin Luther once wrote, "Our Lord has written the promise of resurrection, not in books alone, but in every leaf of springtime."
For me, it's the thrill of holding a runner-bean seed in my hand, planting it and watching a green shoot push its way out of the earth, wind itself around a bamboo cane and produce beautiful bright red flowers that become huge, long beans. Every bean you eat is a miracle from God! When you think about it, we started off as gardeners in Eden, so it's no surprise that many people feel close to God when they're experiencing nature at first hand.

I can still clearly remember my first taste of home-grown produce as an adult. A few years ago, my friend Amanda invited me round for lunch. Most of the vegetables on the table came from her allotment. I took a forkful of mashed potato and the flavour exploded into my mouth. I had no idea potato could taste so good. I was speechless. And hooked. The very next day I joined her on the allotment to learn everything I could with a view to finding my own precious patch of earth.

It wasn't long before I was digging away on my own allotment. I became a vegetable addict and, like Amanda, proudly treated all my guests to liberal helpings of my own produce, sometimes with more success than others. There was the infamous occasion when I served up a dish of steamed broccoli and lots of tiny green and very dead caterpillars fell onto our plates alongside the vegetables!

Then I discovered I was no longer satisfied with simply growing my own fruit and vegetables. I wanted more. To be precise, I wanted chickens. Fluffy brown and white, cuddly clucky hens that each produced manna from heaven in the shape of beautiful brown eggs that tasted like nothing on earth.

Only, keeping chickens felt a bit daunting. Who would look after them when I was away? Where would I keep them? What would I do if they got sick? I only wish I'd buried these doubts years ago and gone for it. It took me a while to get my head around the fact that keeping chickens is really pretty simple and doesn't require huge amounts of time or space.

Fast forward 10 years and our garden now plays host to a menagerie of chickens and ducks, and there are six beehives tucked snugly in the bottom corner. Keeping animals is rewarding, but it's true that any venture into the good life has its fair share of pain as well as success.
When our duck, Fudge, produced her very first egg, it got stuck inside her. I spent hours on the internet, trying to find a cure for an eggbound duck. By day two, Fudge was fading rapidly and we were resorting to giving her hot baths and sticking our fingers up her bottom with KY jelly to try and manipulate the egg. Our last resort was a mad dash to the local vet. One injection later, we arrived back home, opened Fudge's carrying box and discovered a little egg sitting beside her!

Things didn't end well for Fudge's first clutch of eggs. We didn't do our research properly and our cute-looking drake, Toffee, bumped off all the tiny ducklings. Drakes, it turned out, are extremely aggressive towards their offspring. The spring attrition continued as many of our bees swarmed, leaving their cosy hives and heading off into the wide blue yonder, never to be seen again. Our honey harvest was hugely diminished, and it wasn't until months later we were consoled by the news that it had been an exceptionally bad year for bees and many other beekeepers around the country had suffered a similar fate. I'm pleased to say though, that Fudge sat on a clutch of eggs in the early summer and (with Toffee penned in with the chickens) successfully raised 12 ducklings!

We're always discovering more things to make at home. We've begun to make our own cheese (cream cheese and feta are unbelievably easy), produce jam from our fruit, make our own bread in a breadmaker, juice the apples from our trees in a press and we've just started to make lip balm with the wax from our hives.

One of the exciting by-products of this kind of lifestyle is a chance to develop links in the local community. We started selling our honey in the village store and were overwhelmed by the number of people who wanted to eat a local, organic product. We now have people coming to our door for supplies and the shop owners asked us to produce a poster for them with information about our bees. Giving away eggs and vegetables is a fantastic way of blessing our neighbours and is great for breaking down barriers.

One year, we had a glut of courgettes so we handed them out to our neighbours. Our entire street spent the summer swapping courgette recipes and seeing who could make the most unusual thing with their produce. We've also got a stream of children coming to our house to visit the bees (we've got a couple of children's bee suits) and we've got a waiting list of kids wanting to help juice our apples!

Our friends Elizabeth and David have started keeping an allotment with their housegroup – the group has really bonded over mud and mangetout. For Elizabeth it's also a means of helping friends out who are struggling to make ends meet. She told me, "Quite a few people are embarrassed at the thought of being given financial help, so handing out our vegetables and fruit is a great way of helping them without making them feel bad."

The beauty is, you don't even need a garden or a huge amount of space, or money to do many of these activities. You can hand-bake bread, make your own cheese and it's easy to grow vegetables in containers and herbs on a windowsill. There are plenty of chicken coops available that take up very little space. Some local allotments will also let you keep chickens and bees on them. There are also fantastic opportunities nowadays to develop this lifestyle on a wider scale and really impact your local community. Websites such as www.farmgarden.org give you information on how to start up community gardens and orchards in your area.

One of the most inspirational stories I have heard recently concerns the Yorkshire town of Todmorden, where residents Mary Clear and Pam Warhurst started up the 'Incredible Edible' project. They began growing vegetables in their gardens and communal spaces around town and encouraging fellow residents to simply help themselves to the produce. Their motivation? To do something positive in the world. Now, many people in the town have got the bug too and grow their own vegetables.

But most imaginative are the 70 communal vegetable beds dotted around the town; in the car park, in front of the police station, at the railway station … The local primary school is also just about to start up its own fish farm. The result? A reduction in vandalism and an increasingly strong sense of community. Wouldn't it be amazing if we could see hundreds of other projects like this springing up all around the country?

Here in the UK, the price of food is increasing and is likely to grow still further. As more and more of our countryside is developed and taken away from us, we can still find many exciting ways of creating a little bit of Eden around us and drawing our neighbours in too.

Create your own taste of Eden

+ Bees: For information on keeping bees, adopting a beehive and local beekeeping groups, try the British Beekeepers Association (Tel: UK 0871 811 2282)

+ Chickens: The British Hen Welfare Trust has heaps of information on their website and you can also give a home to an ex-battery chicken. (Tel: UK 01884 860084)

+ Vegetables: Advice on how to find an allotment and great tips at
www.allotment.org.uk

+ The Incredible Edible: For more information on the project in Todmorden and help with starting your own go to www.incredible-edible-todmorden.co.uk (Tel: UK 07528 037263)