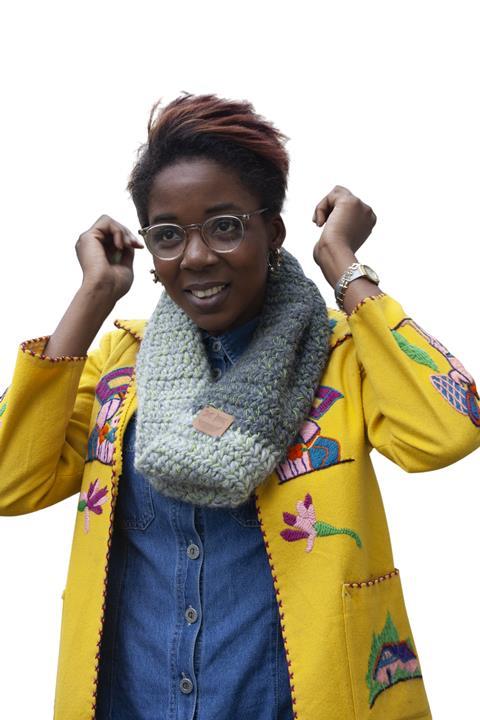 The start of an idea
After graduating from the London College of Fashion I became a freelance stylist and costume designer for film, TV and commercials. However, I found the fashion world incredibly toxic and began seeking a creative outlet and an expression of fashion design that I could access outside of it. Ten years ago before upcycling was all the rage, I started an upcycling/customising business. Sadly, it didn't take off. I believe because I was ahead of my time and, unfortunately, the fashion and creative industries were still overtly racist. This made it an incredibly difficult climate to be a black pioneer.
Even with that setback, I knew I eventually wanted to design and make my own collection. My initial idea had been to design a range of simple separates that could be created by working with women in Nigeria, but it was not a viable option. I was determined to find a way forward and, while undertaking more research, realised there was a gap in the market for cycling accessories that were high-vis but fashionable and easy to pair with any look. I was excited by the idea of creating easy-to-wear, light reflective garments that could be incorporated into an existing wardrobe. I was also passionate about wanting to work with women from my local community, the unseen women who are predominantly BAMER (Black, Asian, Minority Ethnic and Refugee), to empower them to create change in their lives. By creating community groups in which they could be paid to knit my designs, I realised I could help them find greater financial independence through craft.
I still felt some uncertainty over whether or not to start the business, but I felt a stirring to go with the word "Glow" if I did. I decided to give the whole idea over to God, asking him to clearly show me whether I should move forward with my plan. One night I felt he responded through others giving me affirming words of knowledge. I was at a prayer and worship evening and the people there prayed over me. Each one kept repeating the word "Glow" in their prayers. No one in the group knew that I had been thinking about starting a brand with that name, so I took that as real confirmation that God was saying yes.
Walking by faith
While working as a freelancer, I had learned to trust God. It is very much a feast or famine lifestyle as you have no idea when the next job is coming. So I had to trust God for provisions and also lean on him practically for the day-to-day things. For example, when styling a shoot, if I felt a strong urge towards something I tended to go with it.
I don't think I would have started Glow without God giving it a green light. Certainly, my faith has played a huge part in my career and God has really galvanised our relationship in the testing times by showing his faithfulness to me.
Running Glow has been a rollercoaster journey right from the start, but my faith has kept me steady. If I didn't have God to share my burdens, I am sure I would have become truly overwhelmed. As the sole founder of my business, I have found starting a new idea in an emerging market immensely challenging; the toughest obstacle was cash flow and support but pioneering anything as a black woman has included additional obstacles.
Both the start-up environment and the fashion world are almost exclusively rigged in favour of my white counterparts with research from the Baring Foundation showing that 76% of BAME organisations felt they had been discriminated against when applying for funding. The fact that several BAME groups may be competing for the same oversubscribed pot of money is often down to a lack of funders specifically targeting marginalised groups. This demonstrates that many funding bodies and foundations have no official diversity or equality measures to their programmes. If it wasn't for God's guidance I definitely would have given up by now. But I keep pushing forward with my business because I know it is his will.
An innovative product for all
The collection created at Glow is for everyone, but is primarily aimed at those who lead a casual, yet active lifestyle. So if you cycle, run, walk or scoot, or if you're simply a pedestrian, then our accessories are for you. Being safe on the roads is something everyone should be concerned about, but wearing accessories that help you be seen easily is particularly important if your commute involves cycling or scooting.
The head and neck knitwear we create at Glow is breathable and soft and has reflective yarn fused into its fibres. It is an innovative product that is making traction in this emerging market. I love the fact that I have a chance to create real change and impact in the lives of BAMER women too. Because everything we produce is handmade by these wonderfully skilled artisans, they are being empowered through the additional income and community connections and networks they make.
Sharing the load
I have learned a lot starting this business but one of the most important lessons is that it's always best to start off your day doing the one task you really don't want to do at all. It's hard to tackle first thing, but once it's done you feel you can take on anything else that day.
I've also learned that you really can't do everything by yourself. Even if you're a perfectionist and know exactly how you want things done, there comes a point where you have to let go and let others help. If you learn to relinquish control you'll go much further than you could on your own.
I am definitely a run before I can walk kind of woman and, on reflection, I think I would take things a lot slower if I had a chance to do it again.
Lockdown and beyond
When COVID-19 struck we halted production as most of the women we work with are in the high-risk category. So, in an effort to protect their health, we stopped the community groups they usually work within. These still have not started back up yet, which means production continues to be severely hampered. It has also been tricky getting hold of the wool we usually use as shipments have been haphazard and a lot more expensive.
Still, we press on and, looking to the future, we'd like to partner with other sustainable brands and collaborate to magnify our presence and reach. We will keep the range high-vis, but want to expand it to include other items.
Our continuing vision is to create a brand of clothing that is incredibly functional, transitional and versatile for active consumers who want to wear ethical and sustainable clothes.
We won a Precious Award right at the beginning of our journey, for 'Start-up of the Year' (2018), but I don't think we've achieved everything we want to yet. We're still trying to push boundaries and become a household name, synonymous with fashionable high-vis activewear.
Find out more about Glow and See at glowandsee.com
Instagram & Facebook