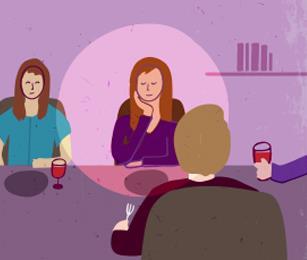 As my friend CycleMan and I stood at the back of the church after morning worship, catching up over coffee, the curate sauntered past. As he reached us, he stopped briefly to interrupt. "So when ARE you two going to get together?" he asked.
CycleMan and I both started gabbling about "just good friends" before the curate moved on with a knowing smile. Yeah. Awkward.

You'd think people would realise that if we haven't got together sometime in the last six years, we're unlikely to now – but it's not the first time this has happened. Recently, several of the church singletons – CycleMan, RunningGirl, SingingGirl and I – were invited to dinner by a lovely family. Sometime between the main course and the pudding, the conversation turned to the perils of being single in the church.
Possibly fuelled by a little too much wine, our host gestured sweepingly towards us three single women sitting along one side of the table and, in a slightly accusatory tone, told CycleMan: "But look at these lovely ladies, right under your nose!" as if he was being positively unreasonable by not just picking one of us to marry. We all stared at the poor chap, waiting to see his reaction. I felt like I was on an episode of Blind Date.

For some reason, church folk often seem to think that if there's a single woman and a single man in the same vicinity, they should just do the decent thing and get together, regardless of whether they're a good match or attracted to one another. He's single, you're single – so what's the problem?
Several times, someone has pointed out a single man across the church and said to me, "Well, what about him?" as if my response would be, "He'll do. Call the vicar and book the wedding at once." Never mind that in some cases, I wouldn't touch the guy if the survival of the species depended on it. Or that, once or twice, the man in question was very obviously gay.

Having said that, most singles aren't opposed to a little discreet 'fixing up' by friends. After all, it's an age old tradition (a Jewish friend told me that in Judaism, you gain a special blessing if you introduce a couple who end up marrying). Many singles are only too happy to be subtly introduced to someone who might be a good match for them.
My pal RunningGirl is off to a dinner party next week. The e-mail list of invitees revealed that, apart from her, it's all couples and one unfamiliar man's name. It definitely smells of an introduction! After our best internet snooping failed to dig out any information on the guy, she can't wait to discover who the mystery man might be.

As for me, after my break-up with CountryMan, romance has been the last thing on my mind. Between helping my exhausted step-mother look after my brain-injured father; supporting my disabled, housebound aunt; and propping up my brother after his breakdown – all while working long hours to stay afloat – I wouldn't have the time or the energy for a relationship. I'd rather have a nap!

In my experience, relationships require a lot of investment and emotional energy, and I just don't have anything to give right now. I don't want to be single forever, and if Mr Wonderful came along, I wouldn't be daft enough to send him on his way – I'd try to make it work somehow. But honestly,
I hope he doesn't make an appearance just yet …
Connect with HopefulGirl at www.facebook.com/HopefulGirlUK and www.twitter.com/HopefulGirlUK.

Would Like To Meet… (£6.99, BRF) is the funny and heartwarming story of HopefulGirl's four years on the Christian dating scene (www.brfonline.org.uk/hopefulgirl).