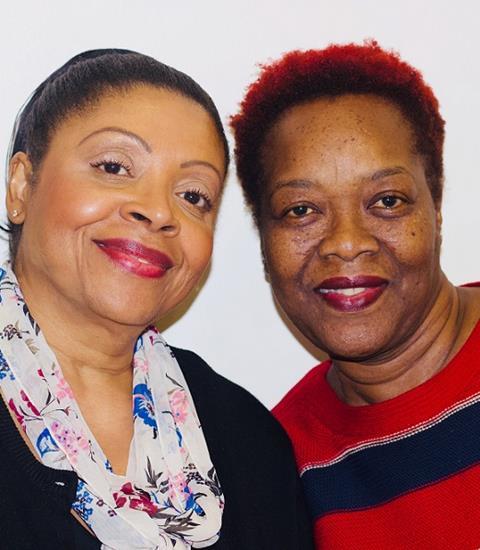 Rachel Matthews, one of Premier's Regional Producers, met those behind a new ground-breaking conference for women abused in childhood
Faith groups seldom talk about abuse. Restoration Christian Ministries (RCM) is an independent church located on the edge of Great Barr and Walsall and is hoping to change that.
This May, their women's ministry (Serenity) is sponsoring Silent No More, a ground-breaking women's conference for women who have been sexually abused as children, offering support, prayer and solitude.
Working alongside speakers from Serenity, experts from national charities Press Red and Thirtyone:eight will share their expertise in helping survivors of abuse and provide a biblical foundation for restoration.
Rachel Matthews, went to meet Pastor Pauline Mcdonald, who is part of the team organising the event and Pat, who will be sharing her story on the day.
Pauline, what gave you the idea and heart for the conference?
It's an area that I've been working in for the last 30 years. My background is social work and I've found when you work with children and families, you become so protective of children; you just don't want anybody to harm them.
Pat is a member of our church and when she shared her story the reality really hit me that there are so many adults who have gone through childhood abuse and have not shared it with anybody.
Pat felt safe enough to share her experience with us and, following this, we realised we needed a conference to create safe spaces for many others.
So we are really starting a conversation, breaking the silence that happens in so many churches about abuse. I feel nobody talks about it. It's a taboo subject and we feel this breaks the silence.
Pat, you're going to be at the conference and will be sharing your own personal story. Could you tell us a little of that here?
At home I experienced neglect from a family member; I didn't feel the love and the support my other siblings did. So I left home at the age of 15 and travelled to Birmingham to stay with another family member. It was basically a case of jumping from the frying pan into the fire as I was then sexually abused until I was about 16.
Then I decided I had to leave that home to seek refuge somewhere else...
But I kept silent about it. I didn't speak to anybody. I didn't want anybody to know. I thought people would judge me and think badly of me. So I thought it was best to keep my secret – for 35 years.
That's why the conference is called Silence No More – because so many victims are trapped in that silence...
It was affecting my relationship with people and God. I had a lack of confidence and low self-esteem, and found that I couldn't focus on God.
So I asked God to wipe out my memory. I didn't want to think about it at all. Because if I didn't think about it, then I wouldn't hurt. Obviously God wouldn't do that because he wanted to use it…but at the time I just wanted to forget about it. I wanted to just move on and be normal like everybody else.
I went to RCM ministries and thought: I think I can trust these people. I think I'll be able to open up to them, because at that time…I was really hurting inside. As I spoke about it, I just knew I needed deliverance, because there was so much pain. It had put obstacles in the way that prevented me from doing things or mixing with people, because I was always frightened of the rejection and the negative stigma (and everything else that comes with it).
As I told Pastor Pauline and Len, I began to feel a lot better about myself and I felt like a weight lifted off my shoulders.
Working back through my past with them has helped me to stand in my faith, and to know God is with me – and he always has been with me. I've never blamed God. I've always thanked him because I can now help somebody else. I can be like a lighthouse, salt and light to somebody else and show people that you don't need to allow an experience like this to define you.
As a pastor of a church Pauline, with a background in social work, what advice would you give us, if someone shares their story with us, in the same way Pat shared it with you?
I think the important thing is being able to listen: don't judge but be there to support and help that person through the process. I think it's important for the person to know that it hasn't changed anything. They are still special and important to God. They should also not be afraid to ask for expert help.
Pat, is it ever too late to tell your story or speak up?
It's never too late. A lot of people may ask, well, why now? But I would say: Well, why not now? Even if some of the people involved have died (that is the case for me) we still need to be able to tell our story because it releases us from whatever is holding us back.
What are your hopes for this conference Pauline?
We've been told that this is a very brave subject to tackle...but it's needed. Sexual abuse is not something that people talk about, although churches should be that safe place to do it within. I think the mere fact that we've decided we're not going to be silent anymore, will help people to feel that the church isn't afraid to approach this subject.
We are bringing this out in the open and pray that other churches and ministries will do the same thing. We want this conference to be a catalyst for change to equip and release Christian women who have suffered from childhood sexual abuse. We also want to raise awareness of the issue to help empower churches to address the aftereffects of childhood sexual abuse among their congregations.
We want people to leave knowing that they're not on their own.
THE WIDE SCALE OF CHILDHOOD ABUSE
According to new data published by the Office for National Statistics:
• About one in 13 adults aged 18 to 74 years (2.4 million women and 709,000 men) were victims of sexual abuse before the age of 16.
• More than 3 million adults in England and Wales were victims of child sexual abuse.
• One in seven adults who experienced child abuse indicated that they hadn't told anyone about it before, prompting concerns about under-reporting of abuses against children today.
(Figures taken from independent.co.uk, 12 Jan 2020.)
For more information on the speakers and organisations, please see: restorationcm. com, pressred.org and thirtyoneeight.org
Due to the current virus pandemic and recent government advice, the Silent No More Conference is now postponed and a new date will be announced. Please visit silentnomore.online for more information.