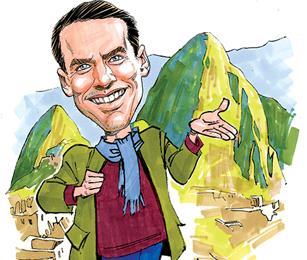 The writer, speaker and broadcaster tells Sharon Barnard about his first public speaking disaster and a recent God-given encouragement from a hospital ward

Describe yourself in three words

A friend suggested "Poet, ponderer and pilgrim". I think 'Busy of mind' also fits.
A cool drink on an Aussie beach or a warming coffee in an Oxford cafe?

During our five years in Sydney, Merryn and I dipped into the glistening waters of Bondi Beach just once. Does that give you a clue?
Any broadcasting howlers or touring horrors you would like to share?

I once let a radio station go off-air simply because I forgot to walk back into the studio and talk. (To make matters worse, I did it again the very next day.) My worst public speaking moment was my very first – MCing a friend's wedding in the early 90s. The audience was quiet, the jokes fell flat, and I vowed I'd never speak in front of others again. God mustn't have heard that last bit.
What keeps you going on those lengthy speaking trips?

In all honesty, adrenaline does. On my last speaking trip in Australia I got solitude for less than an hour each day. It can be exhilarating going from event to event, but for me there is a price to pay afterwards.
Who or what has inspired you this week?

My mother was recently hospitalised for complications with her chemotherapy treatment. Overhearing a conversation she'd had with a visiting friend, a lady in the bed next to her said, "Oh! Are you a Christian? I am too." A lady in the bed opposite overheard that and said, "I'm a Christian too." A nurse then walked in and said, "I'm a Christian too!" They all prayed for, and supported, each other. It was God-given encouragement at just the right time.
A place you've visited that has simply taken your breath away?

Sacré-Coeur basilica in Montmartre, Paris. That giant mosaic of Jesus on the ceiling will take your breath away. And Machu Picchu in Peru was pretty astounding.
What are you reading at the moment?

John Steinbeck's The Grapes of Wrath for its sheer literary brilliance, Scot McKnight's Story of God commentary on Matthew 5–7 as I'm currently writing a book of devotionals on the Sermon on the Mount, and a new-agey book on calling, to stay resonant with mainstream readers as I prepare to write the follow-up to Resurrection Year.
The best advice you've ever been given?

"What can you say that only you can say?" It was the advice of a seasoned radio host after listening to a tape of my early radio work. I was sounding like every other announcer back then and needed to discover my own voice. Of course, the advice fits for writers too.
Your favourite time of day and place for writing is ...

The place is dependent on whether we're talking about inspiration or crafting. To capture the initial inspiration or idea, I have to be away from the study and in a park, coffee shop or just sitting on the lounge downstairs with a pen and journal. Only then can I do the hard work of sitting at the computer, crafting the idea into finished paragraphs. As for time, the inspiration can come at all hours so I keep a notepad handy wherever I go, and mornings are generally best for crafting.
The Bible verse or story that you often return to?

1 Corinthians 2:4: "My message and my preaching were not with wise and persuasive words, but with a demonstration of the Spirit's power…" Wise, persuasive, well-crafted words are not enough for Christian writers and speakers. Without God's power behind them, our words are mere cleverness.
Four ways we can have our own 'resurrection year':

1. Get Some Rest: If you've experienced a broken dream you're probably exhausted from trying to get what you wanted, so plan some sleep-ins, leisurely breakfasts, walks in the countryside, or even a reduced workload at the office. Have a season of enjoying whatever truly relaxes you.

2. Have Some Recreation: Recreation literally means 're-creation'. What helps you to re-create joy and energy? Think about rediscovering a hobby or picking up a sport, starting a new project, learning a musical instrument, or even writing a book.

3. Find Renewal: A broken dream can rock your sense of perspective and raise doubts about the goodness of God. After some rest and recreation, you can start addressing some of these questions by finding a soul friend, a Christian counsellor, trying a guided retreat, or something similar.

4. Try Some Reinvention: When a dream dies a little part of you does too, as you can't become the person you've wanted to become. A certain degree of reinvention is needed. Ask yourself, who am I deep down? What other dreams could I pursue? Can my suffering be recycled to help others? What does God have next for
me?
+ Sheridan Voysey is based in Oxford with his wife, Merryn. His latest book, Resurrection Year: Turning Broken Dreams into New Beginnings is published by Thomas Nelson.
Read Sheridan's blog at www.sheridanvoysey.com