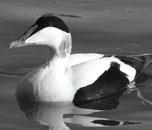 Worship your creator

Sometimes what we need is to be in a beautiful place and let God's creation minister to our tied souls. Mark Winter reports

I run retreats which combine reflective worship and biblical teaching with guided birdwatching in Northumberland. Many of these weekends are based on Holy Island, a beautiful place on the north Northumberland coast, where Celtic saints like Cuthbert made the link between worshipping the Creator and appreciating creation more than 1300 years ago! Even today the Eider duck is known locally as a cuddie duck, after the saint who instructed his monks to protect it.

The link for me is not unusual. As a process, birdwatching for me can seem like prayer. On occasion, I can be mesmerised and lose track of time as I simply enjoy watching and being in the presence of a particular bird. The 'being' is very important. There is no thought of the next task or a concern that I must move on to do something else. In a sense I am 'lost' in the experience and it takes some effort to eventually walk away.

More importantly, birdwatching becomes prayer for me on those occasions when, marvelling at the beauty and vitality of the bird I have seen, I spontaneously give thanks to the Lord.

Sometimes I recall the words of Jesus who taught that individual sparrows are loved by God and I remember his lesson that God loves each of us, much more than we can know or understand.

The sayings of Agur in Proverbs marvel at "the way of an eagle in the sky" (Proverbs 30:19). I too have marvelled at eagles, as well as many other kinds of birds. Owls are among my favourites and I am lucky to live in a village with four species of owl breeding close by.

Many rural people across the world dislike owls and fear them, associating them with destruction and death. People in ancient Israel shared these fears and there are various references throughout the Old Testament to owls living among the ruins of destroyed communities, for example in Psalm 102. Yet even these 'unclean' and feared birds honour God because he provides for them, as the prophet Isaiah noted in chapter 43.

That biblical image of a detested bird that God loves as part of his creation is one of the reasons why a Short Eared Owl features on our posters publicising the retreats. But the owl also features on the poster precisely because it is one of the birds we often see on our weekends.

The sight of one of these majestic birds iis always a highlight for the group as we stop and watch it fly to and fro only several feet above the ground on a hunt for voles.

More than half the people coming on our retreats are women and their feedback suggests that they appreciate the opportunity to draw closer to God in different ways, enjoy the peace and tranquility of a beautiful place, meet new people and share with them things that matter.

One woman wrote to us to say: "The impact of being so close to the birds and their beauty was breathtaking and the experience will be unforgettable. Appreciating them as God's creation on this isolated island brought me close to God and his love for each one of us."

Another said: "I feel like Bartimaeus, my eyes have really been opened in ways that they have never been before. I will always carry my binoculars in future!"

In a recent article - The God of Little Things - Ron Swan discusses the eighteenth century Anglican vicar, Gilbert White, who studied the wildlife around his village of Selbourne in Hampshire.

Mr Swan writes that for Reverend White, all forms of life in his parish "were potentially vehicles of the divine grace, waiting to yield up their secret to those who could learn to 'stand and stare receptively' ".

Gilbert White learned that lesson from Christ himself, who told his followers to look at birds like sparrows and ravens in order to understand that God provides for us and loves us beyond measure.

If you too want to "stand and stare receptively", consider a retreat where you combine prayer and worship with an activity that enriches your appreciation of God and creation.

Take it further

Enjoying birds as God's creation weekend, Holy Island in Northumberland 1-3 March 2008. £155 full board. More details at www.birdwatchnorthumbria.co.uk or tel: 01670 783451.