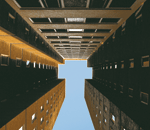 Secret conversations of the soul
Struggling to find God in the busyness of life, Christine Platt discovered the wisdom of a 17th century monk has a lot to teach us today
Is God your 24/7 partner? "In him we live and move and have our being" (Acts 17:28). Is this your experience of walking with God or does your life feel somewhat fragmented? Does God feel close when you're in church or reading the Bible, but at other times it seems the connection just isn't there? Maybe you flop into bed at night and realise you've hardly thought about God for hours - guilt creeps in.
If this is you, Brother Lawrence, a 17th century monk, has walked this path before. "But I can't live serenely in a monastery," you wail. "My life is nothing like his. How can I learn anything from him?" Let's take a look.

Practising the presence of God was Brother Lawrence's life motto. He learned it the hard way. He struggled for years with a disappointing relationship with his Lord. At 18 he had a dramatic encounter with God. He then fought for his country, France, during the savage Thirty Years War. At 53, concerned about the feebleness of his spiritual walk, he became a lay brother in a Carmelite monastery in Paris where he was sent to work in the kitchen.
In embracing the monastic life, he had hoped the austerity and discipline would transform him into a better follower of God. He launched himself into the required spiritual reading and practices, but it didn't work. He was an ordinary man, not bookish, not content with theory. He yearned for reality in his relationship with God. So he put books aside and began his journey of practising the presence of God. He came to describe it as:
* an alertness towards him
* a wordless conversation with him
* an acknowledgement that God is nearer to us that we can ever imagine
* thinking of him perpetually
* having secret conversations of the soul with God.

Brother Lawrence eventually found that he felt the same closeness and intimacy with God whether worshipping in the chapel or sweating in his kitchen surrounded by chaos and hungry brothers. This may sound like a man totally removed from our planet of stress, pain and busyness. However, you only have to watch Jamie Oliver concocting his culinary delights to realise that kitchens are not usually peaceful places conducive to quiet meditation!

"But," you protest. "I just can't think of God perpetually. I get so distracted even when I'm trying to concentrate on prayer." This is where Brother Lawrence would say: "apply yourself and in time you will become more centred on God. When your mind wanders, bring it back. Train yourself to think high thoughts of God as often as possible." Just as persistent rain gouges crevasses in granite, so thought patterns become more natural the more we think them.

Celtic Christians also had the expectation of encountering the presence of God wherever they were. This prayer (from Tides and Seasons, by David Adam SPCK) sums up their conviction:
God in All
In your walking - God
In your talking - God
In your life - God
In your strife - God
In your seeing - God
In your being - God
In your days - God
In your ways - God
In your night - God
In your plight - God
In your reason - God
In every season - God
With God I'm bound
All around.
Can this really work in the 2lst century? I'm learning that it can. My journey began when I was a student nurse. To my dismay, after saying thanks for my breakfast toast (if I had time), thoughts of God disappeared from my mind. Yet I craved the reality of his presence to cope with death and disease on every side and to meet the patients' needs. How could I draw near to God in the rush, stress and pain of my days? Jesus was "acquainted with suffering" (Isaiah 53:3), surely he was present at each bedside, but how to experience him?
I devised a plan. I started with the sluice! (For the uninitiated, it's where we clean the bedpans). I used the sluice as a marker to prompt myself to think about God. My early morning prayer - usually as I hopped on my bike to get to the hospital - was "Jesus, every time I walk in and out of that sluice today I choose to think of you. Please help me by your Spirit."
Needless to say many times I forgot, but when I did remember I prayed: "Father God, thank you that you're at these bedsides with me. Please give me the skill, wisdom and patience I need." At other times I prayed for a patient by name. It began as a mental exercise, but grew into an unconscious habit. I became increasingly aware of God being alongside me, prompting and guiding as I interacted with patients. Nowadays, I aim to have millions of five-second secret conversations with him about whatever is going on.
I found it necessary to celebrate small victories rather than get discouraged by larger failures. If I only remembered to pray once in the day it was better than nothing. Brother Lawrence has a word about this also. He was not a sackcloth and ashes type of monk. He learned not to trouble himself with guilt, but to recognise his hopelessness and helplessness before God. He confessed his sin, fully trusted God's promise to forgive him, and then continued on with a light heart. Even at that point, he considered himself as God's favourite. No wallowing in guilt for him!
Henri Nouwen says: "prayer is not saying prayers but a way of living in which all we do becomes prayer". Even when we're using all our skills, mind and energy to wrestle with relationship issues, fractious toddlers, computer blow-outs or hyped-up adolescents at school, a secret part of our soul can touch base with God, thus bringing every aspect of life into the orbit of prayer.
This doesn't mean that we don't need specific times when we fully concentrate on prayer. As a monk, Brother Lawrence spent hours in the chapel with the other brothers and in private prayer. We too need to pray with others and on our own. This type of prayer lays the foundation for practising the presence of God.
Our spiritual ancestors had a constant reminder of God's presence as they wandered through the desert. "By day the Lord went ahead of them in a pillar of cloud to guide them on their way and by night in a pillar of fire to give them light, so that they could travel by day or night." (Exod.13:21). Utterly awe-inspiring! It's tempting to think it was easier for them. All they had to do was look up and God was there! But today, we have a greater privilege. The Holy Spirit is with us for ever and he reminds us of all that Jesus said and did (John 14:16 and 26). All we have to do is apply ourselves to practising the presence of God, and we can be sure of the mighty help of the Holy Spirit.
Why not have a go? Choose a place at home or at work - maybe a screen saver - where, many times in the day, you deliberately turn your mind to God. Just start with "Thank you Jesus" - it only takes a second. Persevering in having these secret conversations of the soul will develop that prayer place in your heart and enrich your moment-by-moment experience of him. That makes life exciting for, truly, in him we live and move and have our being!
Take it further (set as box)
For more information about Brother Lawrence:
* Brother Lawrence, The Practice of the Presence of God, Oxford, One World, l999, First Published 1692. (Includes Spiritual Maxims)
* Finding God in the Fast Lane, by Joyce Huggett Guildford, Image, l993.
Ends 1345 words