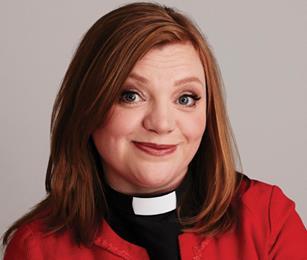 Rev Kate Bottley is not your ordinary parish priest. Or rather, Rev Kate Bottley is a very ordinary, fairly typical Anglican priest whose life and ministry has taken her to some extraordinary places.
When we met over beans on toast and a cup of tea, you wouldn't have guessed that half an hour earlier she had been sharing the Good News of Jesus with nine million listeners on The Zoe Ball Breakfast Show on BBC Radio 2. The previous evening, she had been at a reception at Lambeth Palace. Earlier in the week she had had to turn down an invitation to Buckingham Palace because she had a prior commitment to appear on a celebrity edition of Pointless. And after we had met, she was heading to the Glastonbury Festival, where she was planning to broadcast for BBC Radio 2 and Radio 5 Live, and also to dance, party and minister with some of the world's top music stars.

It's all been a bit of a whirlwind. Rev Kate was getting on with life as a parish priest in Nottinghamshire when she was thrust into the limelight after a 'flashmob' dance at a wedding she was officiating in 2013. The quirky, joyful video went viral, and since then everything has changed. She appeared on five series of Channel 4's Gogglebox with her husband Graham, a music teacher. That in turn led to appearances on Celebrity Masterchef and Celebrity Mastermind, then to a regular presenting slot on Songs of Praise. And for the last 18 months she has travelled to Salford every weekend to present BBC Radio 2's Good Morning Sunday, with her Muslim co-presenter Jason Mohammad.

Kate is in demand, and she turns down as much work as she takes on. She will only take part in a programme if it is "on message" and fits in with her calling. She wears her clerical collar whenever possible, because she wants her faith to be visible. "I want people to see me and think 'There's a Christian and she seems alright.'" In the words of the former Head of BBC Religion Colin Morris, she is "Keeping the rumour of God alive". But she insists that her new role isn't a departure from her original calling. "I do all the same things a priest does; serving the community, being visible, telling the stories of God in the marketplace. It's all stuff that you do as a priest anyway. I just do it in a different context."

Her vocation is constant, but Kate recognises that she has been through a massive culture shift. She comes from a long line of working class women who were made to feel invisible. It came home to her when she took her mum to hear her preach in Westminster Abbey. Her mum found the experience almost impossible, because she felt she had no place there. "Don't get me wrong," she says. "I come from strong women. But they weren't confident in their place in the world. We've spent time making less of ourselves. I'm not having it.

"One of the things people say to you when you get ordained is 'Don't change'. But that's rubbish. I think I know what they mean, which is 'Don't go all pious on us'. But I hope I am changing. I don't want to be the same this afternoon as I was this morning. We're all changing all the time, and that's fine. You just have to find out who God wants you to be, and be that person."

Some things don't change though. Kate's family have always been used to the fact that she couldn't get all the way round the supermarket without chatting to the other shoppers. Now strangers stop her in the aisles and ask for selfies with her.

When I ask how Christians have responded to her fame, Kate is confidently defiant. "Not everybody gets what I do," she says. "At first that troubled me, because I used to want to please everybody. But I've grown past that now. I don't necessarily expect to be understood. It's OK if I'm not everybody's cup of tea," says Kate. "I'm not really there for the Christians anyway. I'm an evangelist. I'm in sales."

Kate doesn't take her fame too seriously. "Sequins drop off," she says, "and false eyelashes and fake tan don't last, do they?" She's quick to point out that it's not always as glamorous as it looks. "Celebrity is a very strange animal. Everybody thinks it's all cocktail parties and cars coming to pick you up. But it can be lonely too. I spend a lot of time alone in cheap hotel rooms wishing I was with my family."

Sequins or not, Kate is sometimes able to minister to others who occupy the strange world of celebrity. Stars also have problems. They are bereaved or have break-ups, and find themselves asking questions about life and faith. Kate has found herself ministering with people whose faces are so familiar that they couldn't easily walk into a church.

"When you've been on the television everybody feels they own you. If you are a parish priest with your dog collar on everybody feels they own you, and mostly that's fine. But you can take your dog collar off and go out for a walk, and nobody knows who you are. I have to be cheerful all the time, because that one time you're miserable and you don't want your picture taken, that will be the time when someone puts it on social media, and they'll say, 'I met that vicar off TV and she was a right cow.'"

Social media means that people can make direct contact with celebrities. Sometimes people ask Kate to baptise their child or bury their granny. She tries to respond, usually by pointing them to their local church. "I don't have to be everybody's vicar. I'm part of a team." But with over 100,000 followers on Twitter, Kate gets her fair share of abuse too. "Some people are horrible. I'm sometimes used as a vessel in which people dump their rubbish. Every priest gets that. It's the same for me, but on a bigger scale."

Does the abuse get to her? "Not anymore. If people are abusive on Twitter I just bless 'em and mute 'em. Bless and mute. Bless and mute. Don't let it get to you. When the flashmob first happened, it was like a wave hitting me. But if you've got your feet firmly planted, that's OK. Plant your feet."

Over the past five years Kate has gathered a team around her to keep her feet planted. Besides Graham and her two children there is her Spiritual Director, who challenges her to own the space God has called her into. On the professional side there is her agent, who understands the sort of things she wants to take on or avoid. Then there's 'Team Bottley', a small group of trusted friends who pray for her in tough situations, and help her make decisions. They have been instructed to pull her down if she ever gets "up herself". Then there are the rugby girls, friends she has known since college who meet up a couple of times every year to go out together.

"I was a hooker before I was a vicar," she says, with a typically cheeky grin.

Another turning point in Kate's life came about last year through a chance remark from her co-presenter Jason whilst they were on air presenting Good Morning Sunday. The BBC's annual Children in Need fundraiser was approaching, and looking out of the studio window, Mohammad suggested they should offer to swim in the outdoor water in Salford Quays. Before she knew it, Kate had agreed. She was a reasonable swimmer, but hadn't swum in open water before.

With only a few weeks to prepare, she found a trainer who introduced her to 'wild swimming' and she hasn't looked back. She has swum in the open air every day this year, sometimes alone, but often with other women she has met along the way, sometimes in temperatures below freezing. More than a new sport, open water swimming has become a part of her spiritual life. "The water holds you, it carries you, it sets you free, it makes you feel alive."

Body image is a campaigning issue for Kate, and all the more so because of her recent experience. "Because of a small change in my shape, I have had an absolute torrent of people commenting on my weight, and I cannot abide it. I genuinely believe everybody is beautiful. I work really hard to be 'Body Positive'.

"A part of my priestly vocation is to try to be as happy in my own skin as I can be. That's a work in progress, as it is for all of us, not just those of us in the public eye. For women particularly, we are sold this story that to take up less space in the world is a good thing. I have never once, in a eulogy at a funeral, talked about how much someone dusted, what car they drove, or what size knickers they wore."

Kate embraces life and ministry with passion and energy. "When I started this journey one of my pastors said to me, 'You've got to risk reputation. Risk ridicule. Risk being misunderstood. Risk everything for the Gospel of Jesus Christ.' And that's it. I've found my vocation," she says.

"Of course I'm a show-off. And that's alright! God uses the best of us and the worst of us. God says 'Oh, you've got a bit of an ego have you? I know exactly where you'll fit!' It's a wonderful thing when you find the place where you're supposed to serve God."
Andrew Graystone is a freelance writer, teacher, broadcaster and undercover theologian. He presents Pause for Thought on BBC Radio 2 and The Daily Service on BBC Radio 4.