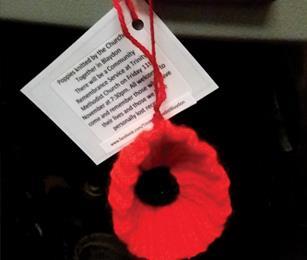 Imagine heading out into the still-dark morning on Armistice Day to find that your community has been 'yarn-bombed' with hundreds of knitted poppies, carrying the names of local soldiers who died in the First and Second World Wars.

That's what happened in Blaydon-on-Tyne, Gateshead, last year. A team of early risers scattered the eye-catching poppies everywhere from phone boxes and cashpoints to bus shelters and supermarket shelves – creating a social media storm and enabling all ages to experience Remembrance Day in a new and powerful way.

The person behind the project was Tracey Hume, Deacon at Trinity Methodist Church in Blaydon, who wanted to help the community engage with remembrance on a deeper level.

"When I was planning the Remembrance Day service the year before, I wrote down all the names of soldiers on the Blaydon War Memorial and we named them in that service," she explains. "Because we'd put knitted angels in the community at Christmas and they'd been well received, I thought why don't we do poppies for Remembrance Day?"

Tracey's first step was to approach the busy craft club, which meets in the church hall every week. One of the ladies there had a knitting pattern for poppies and the project took off, with club members, others from local churches and individual knitters donating more than 500 poppies.

Each flower had a laminated card attached, with an invitation from Churches Together in Blaydon to attend a Community Remembrance Day Service that evening. Around 330 of the cards also carried the name of a soldier remembered on the town's war memorial, while some of the poppies were knitted in white, to pray for peace in countries still in the midst of war.

The Trinity Methodist Church Facebook page was also shared on the cards and soon dozens of messages were appearing there and on the local Facebook page. Parents, including Nichola, shared photographs of their children holding the poppies they had found.

"I just thought it was a lovely gesture to help remember those that fought for us and get the young children more involved. I took my older son, Max, who's three, to place it on the memorial and we spoke about what it meant."

Others, such as Michelle, put out appeals asking if anyone had found their relative's name on a poppy. "I was over the moon to be given the poppy with my great-uncle's name on it," she said. "It was very moving. My son, Oscar, loved finding the poppies and took one into nursery to show everyone."

"We put a lot of poppies around Blaydon West Primary School and we know that they took the poppies into the school and classes," Tracey says.

People told of how they were wearing their poppies to work or planned to place them on the war memorial in memory of the soldier named. For those wanting to find out more, a link was added from the church's Facebook page to the Blaydon and Winlaton War Memorial Project website. Run by volunteers, the site honours and preserves the memory of all those lost from the area, gathering not just war records but family stories too.

Not all the knitters who made the poppies are on social media, so Tracey gathered more than four pages of comments, which she printed out to share with them.

"One woman, whose daughter was about to give birth, found a poppy on her car and was going to put it in the baby's memory box," Tracey told me. "Another wrote: 'Can someone let me know who is responsible for leaving the poppies and the cards with the brave soldiers' names on them, please? What an absolutely amazing gesture to honour our fallen like this. Makes me really proud to be from this area.' People were taking their children to visit the war memorial too. A lot of the feedback was about children engaging with remembrance for the first time."

Tracey sees projects such as the poppies as an "unconditional blessing" for the community. "It is about trying to bless the community, as a church, because we want to engage with them at times of the year when they are more likely to want to engage with us as well."

This year, hundreds of fabric flowers were distributed locally on Mother's Day, and while Tracey said that they would never repeat a project, the knitters and crafters have spent the summer making more poppies, ready to be discovered on November 11th.

"We are going to do it again because it meant so much to the community. This year we are looking to involve the two local primary schools at their request. We have links to soldiers and veterans in this area. One couple have donated wool for making the poppies this year and the British Legion also gave us a free bag of red wool. We've also had people offer memorabilia and help to plan the service. It's a way of engaging with others and giving them a forum."

While the poppy 'yarn bomb' was primarily aimed at connecting with the community, many of those in the church felt it helped them to experience Remembrance Day in a new way too. Trinity Methodist Church steward Pam Scott wrote: "Went to the short service after church in Blaydon and laid my knitted poppy next to Charles Pletts' name at the war memorial. It makes it more personal knowing this person lived in Blaydon. We are all thankful that we can live in peace because of their sacrifice."
Feeling inspired?

If you would like to do a similar outreach in your area, here are Tracey's top tips:

? Start early – allow at least 10 months to plan and make the poppies.
? Use a variety of patterns – including crochet and fabric – so you don't have to be an experienced knitter to take part. (Tracey taught herself to knit using YouTube videos and says it's never too late to start!)
? Make sure you obtain permission if you want to place poppies in places like supermarkets or other local shops.
?Add a Facebook or website address, so people can share their selfies and feedback.