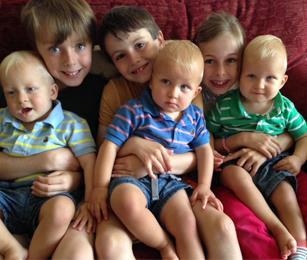 Angela Moore has six precious reasons to celebrate Mothering Sunday this year. The 40-year-old and her husband Jon, 42, adopted three siblings after years of infertility, then were thrilled to discover they were expecting not one baby … but triplets! Angela tells her story to Sarah Lothian

We first started trying for a family a year after we got married in 1999. But six years later and after two failed rounds of IVF, we realised it might not be straightforward for us.

Before our wedding I'd been a nanny. I knew I could love someone else's children, and for me starting a family was top of the agenda. I wanted to know that the person I married felt the same way and that if we couldn't have our own biological children then adoption was always going to be the next thing.

In fact it was Jon who first raised the possibility. He felt very clearly that God was speaking to him. We were in church one Sunday and he had a 'picture' in his mind of Moses in the Bible being left in the bulrushes and then being picked up – and adopted. He thought that could be the next stage for us.

At the time I didn't respond too well because I was just getting over the emotion of failed IVF and I just had to come to that point myself. I knew that was what we wanted, but I just had to process it. It was brilliant that it came from him first.

In 2006 we found ourselves at an Adoption Exchange meeting, holding a magazine with the faces of dozens of children needing a family. When we saw a sibling group – twins aged two and a half and an 18-month-old younger boy – we knew these were our children. We simply fell in love with them and welcomed Richard, now nine, and twins Phoebe and Ben, 10, into our home and our hearts.

It was a very exciting time and the joy that we experienced was equal to giving birth to our own biological children.
Life soon settled down though and we concentrated on bringing up our ready-made family.

Then in 2012 I was in a church service and the senior pastor was talking about God's promises that had yet to be fulfilled. I felt in my heart that God had promised us more children. I assumed this meant another child rounding off our family to four. Jon and I talked about it and we both felt that IVF had advanced in the 10 years since we'd last tried and decided to make tentative enquiries.

But our existing children came first – it was all about them. Timing-wise things were getting easier. Logistically we thought about it as you would if you were trying for a child naturally – our bigger children were settled at school, there was a nice age gap, financially we felt we could take on another child.

For me, I felt it was going to happen. It was all so different from the past. I think because I had children already there was no pressure. As part of the IVF process, we had two embryos implanted. Because it didn't happen years ago when we tried, we just thought if we put two embryos back, we'd have double the chance.

At eight weeks we were told we'd conceived twins. Then at nine weeks I went to the scan on my own because Jon was looking after the bigger children.

Our consultant was a very jovial man and he was checking the heartbeats. I actually thought he was joking when he said there were three heartbeats. The nurse had to tell me he was being serious.

Both embryos had successfully implanted and one split, creating – identical twins within the triplets. My first thoughts were – wow, where am I going to get the pushchair to accommodate triplets, and how could I possibly breastfeed three? The consultant told me this would be a complicated pregnancy and that we had a long way to go.

And the pregnancy was not straightforward. At one point we did not know if any of the babies would survive. It was a very traumatic time for us, but the older children were blissfully unaware. Many prayers were said and the triplets were delivered at 30 weeks and one day gestation. They spent eight weeks in a local neonatal unit.

We named them James, Jacob and Daniel. The latter was named after a young boy who some years ago we had fostered. They were all surprisingly healthy and with help from the team in the hospital and my mum, who is a retired special care nursery nurse, they continued to thrive.

Our bigger children were thrilled with the three additions to our family. There's not been a hint of jealousy. I picked up Richard from football last week and he said – look at my baby brothers to his friend. He was so proud. They don't go as far as changing nappies though…

Life is certainly full-on, but as Christians we believe God will not give us more than we can deal with.
We've swapped our car for an 'A-team' van to transport our children around town. And family time with the bigger ones is an important part of the new routine.

Jon works shifts as a licensed aircraft engineer, so he is often around before and after school to help at our busiest times. It's very much teamwork all the way with us.

We have learnt to ask for and accept help. Life is rich – not in money terms – but we're embracing it all. When the babies were little, it seemed that our friends from the church and our wider circle would just come and get stuck in.

We knew that God had told us to bring up our family in community and it has enriched our lives. People come willing to help in many different ways, sometimes it is to chop veg, bring a meal, hang out and sort the endless laundry or feed and cuddle a baby. It's amazing how God provides. Our family is now complete and all our children are a real blessing to us. There's never a dull moment, but we would not change a thing.

+ Sarah Lothian is a freelance journalist with more than 20 years of experience in print media and television.

Could you give a child a home?
Angela is telling her story to encourage others to step up and adopt sibling groups as part of the Christian adoption and fostering agency Home for Good's Mothering Sunday campaign.

She said: "Adopting a sibling group has been the most fulfilling experience of our lives and we would encourage anyone who thinks that adoption is for them not to hold back. Keeping siblings together who have already experienced breakdown in family life and offering them a stable and loving home can make all the difference to their future lives."

Founder Krish Kandiah said: "Across the UK lots of brothers and sisters are waiting to be adopted. Sadly, sibling groups are among the children who wait the longest. Although it's not always the best solution for them to be placed together, in my experience as a foster carer, it can be heartbreaking for the children involved when older siblings are left in care while their younger brother or sister gets adopted.

"Last year, I and some of my friends left our jobs to help start a new charity called Home for Good which exists to help siblings and other hard to place children find the homes they need. Mothering Sunday is a fantastic opportunity not only to celebrate the mother figures in our lives, but also the mums we could be to children in care."
Find out more from their website www.homeforgood.org.uk