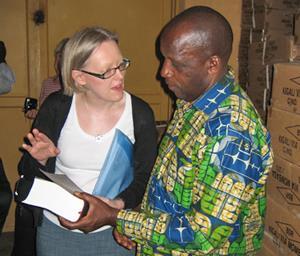 Time off during the summer months means different things to different people. Three women talk to Suzanne Green about how they spend their summer holiday

'I lead a summer camp with Scripture Union'

Hilary Phillips lives in the country on the edge of Edinburgh and runs a writing and web development business with her husband, Mark. Over the last few years, with the help of their own three children, they have fostered eight toddlers (but only one at a time!).

I first volunteered with Scripture Union (SU) when I was in school, and then as a student helped with missions and camps. When I was asked to consider leading a team, it felt like a huge challenge and generally it still does. I've been a summer camp team leader since before my first child was born – and he has just turned 20! Over the years, camp has proved to be a place where I've seen God at work, and it's a privilege to be part of that.

Every summer I lead an event for 11 to 16 year-olds at Lendrick Muir, near Kinross, Scotland. Lendrick Muir is an outdoor activity centre owned by Scripture Union Scotland in a lovely setting among hills and trees. Although it's only an hour from Edinburgh and Glasgow, when you're there, you feel like you're a million miles away from everyday life.

The centre can sleep 150 people and has a fabulous range of indoor and outdoor activities, such as bungee trampolining, kayaking, trailbiking, abseiling and high ropes. Often the young people choose to come back year after year, and it's exciting to see them grow up, explore faith and develop as people.

A week at camp is a whirlwind of activity from dawn until dusk – especially if you are the team leader! The day starts with a leaders' meeting at 7.30 am. We worship, pray, read the Bible together, and sort out activities for the day. Then it's non-stop until all the teens are settled in their dorms and I've had a quick catch up with the rest of the team. Around midnight we team members gratefully fall into our beds.

For campers, the day will be made up of a series of different activities. Some, such as archery and raft building, are in small groups, while others (a wide game in the forest or a sports tournament) involve all 60 campers.

Although I'll pop in and out of many of these activities, my day revolves around helping ensure everything offered is well planned and delivered. I also need to deal with any unforeseen events. I've had to call an ambulance a couple of times – once for an epileptic fit and once for someone suffering back pain. Thankfully, both experiences ended well.

No day would be complete without lively worship and teaching, which includes music, drama, games and exploring the Bible together. Many young people say that camp is the place where their fledgling faith came to life. Others return for the activities, and yet others come back because of the people.

Preparing for a week of summer camp starts around Christmas time. Recruiting the team is a major job. As the summer approaches, the focus increases. With a team of around 30 adults, including the kitchen crew, there is quite a bit of co-ordinating. I spend time thinking and praying about the teaching programme and planning the evening talks. It can be a challenge to fit in the preparation time because I work full-time and have three kids. And, as a family, we foster a toddler!

Is it worth it? Yes! Seeing young people grow up, commit their lives to God and come back as members of the team is immensely encouraging. It's also been great to bring my own three boys to camp and see the impact on them. And it has been a huge joy to have my oldest son as a member of the team.

Leading an SU camp is by far the most intense and challenging thing I do each year, but I will be there again this summer. I know I couldn't do it on my own. Every summer I learn new things about trusting God.

I spend part of my summer in Rwanda

Emma Galloway lives in Edinburgh with her husband Mark. She is the Chief Executive of the Grassmarket Community Project, a social enterprise that creates community and develops potential in people who are disengaged or marginalised. In her spare time Emma runs half marathons and plays the fiddle in a ceilidh band called Sporrandipity.

Visiting any African country is like the red dust that you find there; it sticks to you and is very hard to wash off! For me Rwanda is where I find peace and rest for my soul. Life is so much less complicated there. Spending part of my summer in Rwanda gives me perspective on life and helps me to value things it's easy to take for granted, such as running water and hot showers.

For the past four summers I have joined my church, St Mungo's near Edinburgh, in a mission trip to Rwanda. My first trip was in 2009 and marked the start of my involvement with an organisation called Comfort Rwanda. This charity was established in 1999 as a direct response to the 1994 genocide in Rwanda, which saw one million people killed in 100 days.

Comfort Rwanda works with local indigenous Christian partners to relieve the suffering of orphans and widows, and bring about healing and reconciliation. Its work includes supporting orphans through education (primary, secondary, university and vocational), supporting the local church by training pastors and providing care and relief through the provision of housing and cattle.

On our first trip we visited a village called Gakagati, near the border with Uganda and Tanzania. We were the first Comfort Rwanda group to visit them, and we simply gave the people some toiletries and played football with the kids. At that time there was no church or running water in the village.

Our team prayed with a local woman, who was struggling with mental health. A day later we were told that the villagers had decided to start a church because she had shown such an improvement – for the first time in years she had washed herself!

We've been back to Gakagati a number of times. Over the years the atmosphere has got lighter, and there is now a thriving church and growing school. There's also running water now, because a well was sunk with the help of Comfort Rwanda.

We visit survivors of the genocide – usually orphan families – and listen to their stories and pray for them. Though it doesn't seem like much to us, it's really important to them. They value knowing that someone cares about them, especially considering that during the genocide they often felt abandoned by the Western world.

And they want to tell their story: those who survived are often the only members of their family who did. We've taken on practical projects too. One summer we plastered the inside of a church building and paid for some local houses to be plastered.

Usually we spend a few days in Kigali, the capital city, and if there are new people on the trip we may visit some of the genocide memorials. One of the most memorable is a church in Nytarama where the Tutsis fled into a church to gain sanctuary.

Unfortunately the Hutu militia invaded the church and killed everyone. Today it is filled with the clothes of the people who were killed there.

This year, in addition to visiting Rwanda, I hope to spend a week in the Democratic Republic of Congo, visiting some of the projects run by Comfort Rwanda's partners there. The situation in Congo is far worse than that in Rwanda, and Comfort Rwanda is beginning work to relieve the suffering. Plans include visits to a maternity hospital, farm and sewing project.

'We enjoy camping in a Christian holiday park'

Melanie ?Morton is a marketing/communi­cations manager and writer who lives in the Netherlands with her husband and two sons.

This will be the fifth summer that we've travelled to Le Pas Opton (LPO) in France, Spring Harvest's four-star holiday park. The first time we went was in 2007, when Noah and Kevin were just three and one. We enjoy camping but didn't want to take them into the wild, so this seemed like a good alternative.

LPO is set in the Vendée, a beautiful region in Western France. You can choose to take your own tent or hire a pre-erected tent (complete with beds and a refrigerator!), a mobile home or a villa. So there are all sorts of possibilities for accommodation. We choose a luxury tent. I am more of a 'backpacker type' camper, but my husband likes a bit of comfort. This option is good value and makes it easy for the kids to play with other children living along the same strip, while we get to know the adults. The campground is a friendly and safe environment – and we love France.

Camping brings you closer to nature, closer to God's creation. It also helps you appreciate what you have in your everyday life more. It does us good to simplify and go back to basics. Because there are not as many distractions, such as TV, computers and other technology, we have more quality family time, more time alone with God and more time for reflection.

For those who like a lot of organised activities, LPO has much to offer! There are age-appropriate groups for primary age children and youth. There's a quiz night, a karaoke night and even a wine tasting evening. Each week there's a street barbecue, with a bouncy castle and face painting. My husband Nico enjoys fishing so, every other night or so, he takes our boys fishing which gives me time to write or to read a book. And we enjoy spending time at the outdoor pool or just sitting and chatting with other campers while our kids play.

Because it's a Christian holiday park, there's Christian teaching and daily worship for both kids and adults. I don't consider the meetings to be a burden. On holiday there is more time for quiet, and somehow I feel more peaceful and find it easier to take time to reflect on spiritual matters. It's in such quiet moments that God speaks to my heart and in that stillness I can really appreciate what he has given me and notice his creation around me. But there's no pressure at LPO to attend anything. You choose what you want to participate in.

There are special weeks at LPO for various target audiences. Nico and I help translate for Dutch children during 'Dutch week', which is a lot of fun. We really admire how the children's groups are led, and take home a lot of ideas to help us with our own children's ministry.

It takes us about 13 hours from our home in the Netherlands to get to LPO, but it's worth the journey. We've made friends – from the UK and other places – and because it's a place people like to come back to, we see them again or keep in touch on Facebook. Camping at LPO is like coming home. I normally lead a busy, hectic life so there's a lot of peace in that!