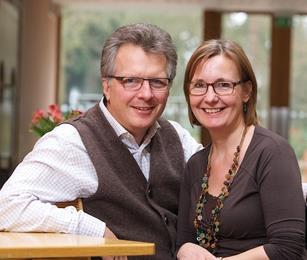 The rot had begun to set in pretty much from day one. The Daniels were on honeymoon when they had their first major argument, and a few months later Mark told Christine that he didn't think he wanted to be married – and he didn't want to be married to her.
"It was the beginning of the end really," says Christine, "but for about seven years we muddled along and swept everything under the carpet.
"We had big cheese jobs (Mark worked in army bomb disposal and Christine in bank management). We had plenty of money, a nice car, nice clothes. Materially we had everything, but beneath the surface it wasn't right.
"We weren't communicating, we were just getting on with life. There was a growing distance between us and we were not resolving the issues. We were both afraid of tackling things and had no idea how to have difficult conversations. We hid behind the busyness and the needs of our jobs."
For Mark, the warning signs were "uncontrollable anger and frustration, arguments about sex and being too proud to get counselling help, though Christine wanted to".
It wasn't until their first daughter came along that the couple were brought to a point of hopelessness.
"I had postnatal depression," explains Christine. "This is when it all hit rock bottom. It was awful for both of us. It was either split up or go for help, and Mark finally agreed to go to counselling.
"We went to Relate every Monday morning for months and had another baby in between. The counselling was great because it got us talking again and helped us understand the issues and the baggage we were carrying. But it didn't bring us closer together."
"We went to see our local Anglican vicar as we wanted our baby christened," continues Mark. "Over the weeks he gently challenged and encouraged us to explore the Christian faith. Christine became a Christian first.
"There was a HomeBuilders Bible study group for couples and he invited us along. I thought to myself that I'd rather go to the dentist, but we discovered things we'd never really considered before."
For Christine "it was discovering that we're God's gift to each other (we're not enemies!) and the power of forgiveness. It's crucial to be able to forgive as you unravel the hurt and pain of the past."
Mark agrees. "It was very practical and helpful. We also learnt how to resolve conflict, get equipped for communication, what spiritual and physical intimacy looks like and discovered the common purpose for our marriage beyond getting into bed with each other and looking after the kids.
"After about nine months we looked at each other over our kitchen table and realised that we had changed. We were experiencing this blessing and we realised we had to tell others. In my case I was in my early 40s and was experiencing an increasing desire to do something worthwhile."
Now married for more than three decades and the directors of the relationships network FamilyLife UK, the Daniels say their "mess has become our mission to help other couples" by building on what they learnt themselves all those years ago. They have been doing this through the successful A Day Together and Together courses, and they are hoping their new free Toucan app, launched in February this year, will encourage many more couples, Christians or not, to improve their communication and relationships.
"The pressures are the same for everyone," Mark points out. "Busyness, finance sometimes and children and their many, many activities. As for the issues that couples face, people are just not very good at communicating and resolving conflict."
"Most of us struggle with relationships", adds Christine. "It's a huge need and we're passionate about reaching out to others."
"We'd been getting favourable comments after A Day Together courses like, 'every couple in the country needs to do this!' " says Mark. "It was very encouraging and we thought about doing a DVD at first. But it wasn't until I was out walking the dog one night, looking at the stars and talking to God about what we should be doing, that I realised he was nudging me and saying: 'Mark, I keep telling you!'
"I went back home and we talked about what it was that we kept being told and were not hearing. Then it dawned on us: it was the feedback. The DVD format wasn't going to reach many people – it all needed to be accessible via cyberspace. That's how the Toucan app came about.
"It's completely cutting edge. We wanted to do something that gives couples the tools but is also fun. It's something 'two can' do in complete privacy online, either together or individually – and on the go. The app has lots of interactivity and tools for the busy person and a generation that has their whole world online."
"And we wanted to incorporate lots of learning modules delivered by ordinary couples, not experts," says Christine. "People who could share really honestly from their lives."
"Everyone has experienced relationships that have blown apart. What we're trying to do is cause a positive ripple and show more relationships that are alive and kicking," Mark explains. "Families are at the heart of our society, but the incidence of family breakdown is higher here in the UK than the rest of Western Europe. We have a huge social problem on our hands and we don't want to be quiet about this."
Thanks to fundraising efforts including organising two mammoth cycle rides, the Daniels have been able to work with their technology partners OneSheep to produce modules on communication, conflict and loving. Others on the subjects of growing, money (in conjunction with Christians Against Poverty) and parenting will be added to the app when funds become available.
"Toucan is a good context for sharing the Gospel and meets a real social need at the same time. Our biggest challenge now is getting it known so that many more people – those who are struggling and those who are not – can make use of it."
More about Toucan
This free app provides a unique online platform for couples to think and work on their relationships – both separately and together.
It's in an interactive format that can be accessed anywhere and at any time via a phone, tablet or laptop.
Available from App Store and Google Play.
Sign up for the app at www.toucantogether.com
Find out about all of FamilyLife UK's resources at www.familylifeuk.org