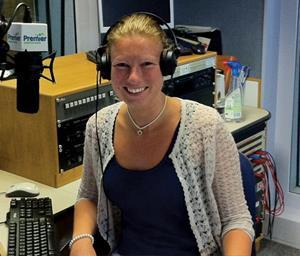 'I want to gather women together'
Maria Rodrigues-Toth is the presenter of Premier Radio's Woman to Woman daily show. She chats to Ali Herbert about breaking down divisions between women and how she came to set up the successful Woman to Woman conferences
I became a Christian when I was 18. I have quite clear memories of church because my mum came to faith when I was just a young girl. I remember mum going off to church and having a profound experience, so as her faith was growing I could see the change in her life and watch this transformation taking place. Then, when I was 18, lots of my friends were going off on clubbing holidays to Ibiza. That wasn't for me, but I really wanted to get away from home and family. I saw a poster for a camp for young people at the back of church and it said "Donation only''. In my mind I saw "Free", so I got on the coach and made a point of telling the first person I met that I wasn't really 'into' this stuff. But there was someone at the camp who was talking about the importance of acknowledging and confessing our sin, and I just burst into tears and knew that God had 'got' me.
I never ever planned to go into media! During my teenage years I was quite shy. In church, if I was ever asked to read from the Bible, I'd refuse. I didn't like having one-on-one conversations with adults because it was too overwhelming, so I'd be playing with the children in order not to have conversations. But when I had the powerful experience of the Holy Spirit, I just wanted to give my whole life to God, although at that point I didn't know how it would look. I thought perhaps I'd be a missionary. I knew I wanted to live a radical life – I thought if I'm going to do this Christian thing, I want to do it 100%.
I'm one of those people who is completely not qualified for the job I'm in! I came to the end of my degree and had no plans to apply for anything unless I felt that God was telling me to. In order to earn money, I was cleaning people's houses and on one occasion when I was on my knees cleaning the toilet – I would use the time to pray! – I remember crying out to God, "Is this all that you have for me?" Two weeks later, I found myself at an event on media and faith. Again it was a sense that I got from God that I should attend it. I had no real interest in media, but something prompted me to go. The CEO of Premier Christian Radio happened to be there and at lunchtime I tracked him down to thank him, as I'd listened to the station. He asked who I was and said, "Oh we might be able to help you out with a job". The following week I got a phone call from him saying that they'd just created a new post editing the teaching programmes and would I be interested? I felt it was God opening the door and three months later I found myself co-presenting the breakfast show! I've been at Premier for eight years now.
I've been hosting the Woman to Woman radio show for five years now. It was quite ironic when I was offered the post because I've never been a 'girly-girl' and the thought of doing something just for women didn't really appeal. So again it was God pushing me out of my comfort zone. Earlier on in my Christian faith I'd been at a Christian conference and the speaker had asked, "What is it you like about being a woman?" I found that question really difficult to answer because I thought, "What's different about being a woman to being a man?" I think being asked to present the show was God's way of saying, "You haven't dealt with that question yet – it's time."
Now, I think it's really good to be a woman. I appreciate that God has created us male and female, and both of them reflect who he is. There is beauty in a woman being able to nurture and pastor. We often think our worth as women is in what we do and not who we are. And that's something I've really had to learn in my role at Premier – that it's not my achievements that make me valuable before God, it's about being obedient to him. I think that, in our attempts to prove our worth, we've put so much emphasis on being able to do the same things as men that we've lost sight of the fact that God has created us different for a purpose. And we need to understand why God has made us different, that it's ok to be different and celebrate that difference rather than trying to be like men or even compete with men.
I believe we do need a specific programme just for women. One of the reasons is that on the show we cover a whole load of issues – perhaps infertility, women struggling with pornography or whatever – that women only feel comfortable discussing in a female-only environment.
There is something powerful in coming together with other women, bringing together women of all ages and all different church backgrounds to share something of what we've learnt and try to grow together and seek God together.
The Woman to Woman conferences really developed from the show. We often have phone-in discussions and I began to realise that we had women listening from completely different walks of life: from very traditional backgrounds, or new independent movements, women doing the washing up with a baby under their arms, women in a care home . . . And one morning when I was listening to some of these discussions I thought, "I want to gather these women together." There was an opportunity to break down those divisions and realise that what's common is Jesus, and our love of God. And while we have church differences, there is so much we do have in common that can unite us. So my vision was to bring women together regardless of their age, church background or cultural inheritance.
My own background is in Catholicism. And one of the big things I've learned from this is the power of prayer. I think there is a lot to be learned – from the great monastic traditions, from the Saints of old, from the likes of Mother Teresa – of the importance of sitting at the feet of God and letting him love us. I want to see a church that takes prayer seriously.
I've been married a year now and it's been an amazing experience. Prior to getting married, I asked people their advice and the general consensus was that the first year of being married is really tough, so fasten your seatbelt – but I haven't experienced that at all.
I've found it's been a really good time for consolidating my vision – it's like starting with a clean slate and you can say, "Well, how do I want my life to unfold? What structures do I want in place? What role do I want prayer to have in my life?" And being able to have that moment to stop and see has been a real gift.
A few months before I got married, I was in hospital with a tumour. Waking up in a hospital bed a few months before your wedding to find that you have no feeling in your arms or legs is not how any bride writes the story of the last weeks leading up to the big day.
It all began early in January 2011 when I noticed that my stomach was a little larger than usual. By March I began to realise that the expansion in my waist was not normal, and a scan revealed that I had a tumour the size of a small football on one of my ovaries, which was given the label 'borderline cancer'.
My reaction was not to burst into tears, or to worry, but to rejoice and say to myself, "Hooray, the bigger the better, because the bigger the growth is, the greater the testimony will be when I am healed."
It felt like the whole world rallied together in prayer for my healing and I can truly say that the process of not knowing what would happen brought me to a beautiful place of peace, finding a love for God like never before. Although I have witnessed God heal other people's lumps and growths, mine didn't disappear – I had to go through the operation to have it removed – but the incredible news came from the post-op analysis which declared that every trace of cancer they had seen in the tumour on the scan appeared to have gone!
It was a challenging time, but one I would not change because I learnt so much about what is important in life.
I think this is such an exciting time in which to live. I believe more people are going to be turning to the church in times of desperation so, while I might have dreams and visions of what I would like to do, I think it's a time of preparation. Both individually and as a Church, we need to weed out the things that are not of God.
While it's important to have vision, it's also important to maximise the moment and see what God is doing in this time. Whether you're retired, in work, unemployed, going through the menopause, wherever you're at, all that matters is that you are obedient to what God is calling you to, in your particular time.
*For more information about Maria or the Woman to Woman conferences go to www.premier.org.uk/woman