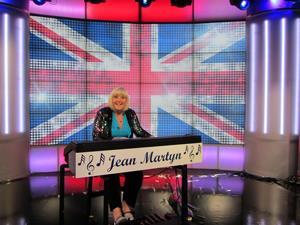 'I want to show God's love in everything I do'
Life really did begin at 60 for pensioner Jean Martyn, who shot to fame in the 2011 series of Britain's Got Talent with her energetic keyboard playing. Matthew Murray met this unlikely star
Jean Martyn made herself a promise. The eccentric musician vowed that if she hadn't hit the big time by the age of 60, she'd hang up her piano and retire. Then along came a TV show called Britain's Got Talent …
Aged 59 and facing her final shot at stardom, Jean marched onto the stage at the ITV show's auditions and produced a performance that surprised everyone – even herself. As the nation took one look at Jean and expected an old-fashioned rendition of some cheesy seaside classic, up popped this mesmerising music maestro with her sparkling keyboard and beaming smile. She then wowed judges Amanda Holden, David Hasselhoff and Michael McIntyre – not to mention the 2,000 people in the audience and millions more watching TV – with a fantastic display of piano prowess.
Her cheeky grin became a regular hit on British television in the following weeks, as Jean beat all the odds and reached the talent show's final, playing to an incredible 14 million viewers.
Life for the music teacher changed forever and, as Jean performed to 7,000 people on the Britain's Got Talent tour on the night of her 60th birthday, she was reminded of her promise. Not that she believes in coincidences, however. Jean is a committed Christian who reckons it's God who has helped her to the top.
"I've always had a secret dream of being famous," she admits. "But I just didn't think it would happen at my age. I said that if I didn't hit the big time before I was 60 then I'd pack it in and call it a day. I guess I cut it fine, but I know God has always been with me so it shouldn't be a big surprise. He really has been good to me and it's him who gave me this talent to play the piano in the first place.
"I haven't stopped since Britain's Got Talent. I am doing three or four concerts a week. I've done lots of work for television shows, like Big Brother, and I've just got back from Switzerland and should be in Hamburg in October.
"When I first went on Britain's Got Talent, I thought it would be full of youngsters and I wouldn't stand a chance. But out of 60,000 entrants I got to the final 10 – what an achievement!
"I realised life was different when I went to a concert where there were 20,000 people and I had two big bodyguards looking after me. That's when I knew things would never be the same again. I get spotted in the street all the time and it's strange. People ask for a photo or an autograph – who would have thought it?"
Jean is now travelling the world and her itinerary is getting busier by the month. She was invited by Amanda Holden to play for the cast of Shrek at Drury Lane Theatre in the West End last year and was the celebrity guest at the Christmas lights switch-on in Cannock, Staffordshire, a few miles from where she lives. But despite her hectic schedule and array of star-studded performances, Jean still finds time to fulfil her role as parish organist at her church in Brewood.
"I always try and make it to church when I'm not working – it's very important to me," she says. "In fact, I appeared on Songs of Praise last year, which was one of the greatest honours of my life. Aled Jones came to interview me and I told him that I could be having a dark, dismal day, but then I turn up to church and ask God to show me he's there. Out of the blue, a light will shine through the window where I'm playing the organ and it can be blinding.
"When Aled came, I told him to expect a visitation and sure enough, a big bright light shone through the window at us. It was so bright that the cameraman couldn't even film it. I find things like that reassuring and I see them as a sign that God is with me."
Jean, who has a son, Scott, 31, was brought up in church and has attended all her life. "My faith has always been an important part of my life and I know the Lord is with me. I want to show God's love in everything I do. Sometimes, people don't understand me when I talk about faith, but I ask them if they love someone. If they say yes, then I tell them that they are beginning to believe in God – because the Bible says that God is love."
With God shining down on her and with her unlikely career on the rise, Jean has no plans of slowing down. "I can't take any more bookings this year – I'm packed out," she adds. "I'll keep going for as long as I can; I've waited long enough. In fact, I want to be rocking when I'm in ?my 90s."
Matthew Murray is a freelance Christian journalist based in Sheffield