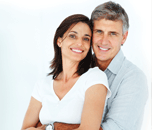 Looking for Mr Right . . .
How do you meet eligible Christian men? Three women talk to Caroline Masom about their dating experiences

There has always been a market for dating agencies, but they've changed hugely over the last 20 years or so. At first, admitting to having met through an agency carried a bit of a stigma, an implication that you were in some way not measuring up and had had to resort to desperate measures. For some Christians, using an agency smacked of trying to force God's hand, or doubting his ability to find you a life partner.
Fortunately, those days are long gone. For a start, more people are single, whether through divorce or bereavement, through concentrating so hard on a career that there's little time left to socialise, or because they just haven't found the right person. Many women are no longer content to wait and see what happens, but prefer to take active steps to find a potential partner. Dating agencies are just another tool in that process, no better nor worse than any other.
In the days of snail mail, meeting through an agency was a somewhat measured process. Online dating has transformed that. Sites constantly have to offer new features in order to attract customers and the growth of specialist, or 'niche' sites has mushroomed. You can find internet dating sites which cater for animal lovers, single parents, over-40s, larger people, people interested in yoga, Muslims, Sikhs, disabled people and people who want a celibate dating experience. Small wonder, then, that there are plenty of online dating sites specifically for Christians -– and they're popular.

Gill's story
I was brought up in a strict Brethren environment and by the time I was 19 I'd never been out on a date. I wasn't allowed to go to things like discos and, as I didn't particularly like anyone from the church, I was a bit stuck. When I went to work at the post office, I did date a non-Christian man for a while, but it was a disaster. I tried some singles' groups too, but they were awful.
Eventually, I found an organisation for Christian penfriends and that seemed safer. Everything was done via PO boxes and it was quite a lengthy process, as you had to wait while the person you'd written to received your letter, then give them time to reply.
Three people wrote to me and it turned out that one of them lived very close by. After corresponding for just over a month, we decided to meet, on 9 August 1989. We were both 24. We got on really well right from the start and found that we had a lot in common.
* Gill and Edwin were married just under two years later, are still married and have two children

Beverley's story
I'd been a single mum since my husband left, when my children were small. I'd devoted my life to them, but at my daughter's 21st birthday party I thought that perhaps I could start dating again. No-one special had come along through the church up until then, although everyone told me: "When it's right, something will happen."
I found an online Christian dating site and posted my profile.
Two days later, I had a reply. It was great – I was 49 and suddenly, I felt I wasn't over the hill any more! The man who replied said that he'd prayed about it and God had told him that I was the one. I thought, this is going to be good. I was so used to having to take sole spiritual responsibility for myself and the children that it was great to know that someone else was praying too.
We e-mailed via the website and then I let him have my personal e-mail and phone number. It was only later that I realised he had never responded directly to anything I said. All his messages could have been sent to anyone. And although he texted me, I could never get through to his mobile.
He was still saying he was praying and fasting about our relationship, and had bought me an engagement ring and a wedding ring – everything I wanted to hear. I was completely smitten.
Then I had a text message asking me to read an e-mail which said that he'd been attacked and was in hospital, needing an operation. Could I send him £500? After I replied, there was silence from him for several days and I realised that I'd been conned.
I'd thought that dating would be easier and safer via a Christian website, but it's obvious to me now that unscrupulous people might target Christian sites thinking that Christians are gullible. I'm wiser now.
* Beverley removed her profile for several months, but is currently dating someone else she contacted through the same website. They have met several times and are getting on well . . .

Rachael's story
After the break-up of a long relationship while I was at uni, I went on a few dates and met a few blokes in pubs and clubs, but nothing happened. I didn't like being single and I really wanted a proper, serious relationship, but I just wasn't meeting the right people. I tried using newspaper ads and several different, general dating websites. I wasn't particularly impressed with Christian guys my own age, and didn't think I'd end up with a Christian partner.
Then a friend suggested I tried some Christian agencies. I found a free one and posted my picture and a profile. It's quite a daunting process and I found it quite hard. Although what you're actually doing is trying to give people a true idea of what you're like, it feels as though you're selling yourself and setting yourself up for rejection. To be honest, I didn't expect much; there are more girls than boys on the site and the search facility isn't that great.
I'd been using the Christian site, along with newspaper ads and other sites, for about six months, e-mailing and meeting people, when Chris popped up as a 'newbie'. Lots of stuff in his profile resonated with me, so I initiated e-mail contact and he replied.
This was in late October. I was fed up with starting relationships that went so far but then fizzled out. Chris and I were both really busy around Christmas and New Year, so we didn't actually meet until 12 January 2008, by which time I thought that he wasn't very interested.
I really liked him when we met, but he was very laid back and I thought he didn't like me. But when it was time to go, neither of us wanted to stop talking and I thought, 'Oh, maybe he does.' He texted me the next day.
My second meeting with Chris was our first 'date' -– by then I'd fallen for him anyway. By my birthday on 24th February, we were both starting to use the 'l' word! There was no point in beating about the bush – we already knew a lot about each other and we were both 'marriage-minded'.
* Rachael (28) and Chris (27) were married this September, just under two years after their first contact.

Tips for Safe Dating
* Be aware that not everyone is who, or what, they claim to be. It's not unknown for men to target Christian sites, either assuming that the girls are naïve or specifically looking for virgins.
* Make sure that your first meeting is in a safe, public place and always tell someone else where you are going, and when. Don't hesitate to get away if you become uncomfortable. Be streetwise and aware of the dangers, and take the same precautions you normally would when meeting someone for the first time.
* If you are a parent, be particularly cautious about inviting anyone new into your home.
* Pray!

Look out for our new series beginning next month which charts a single 30-something Christian woman's search for love