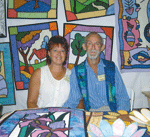 Two's company
Ever since Adam and Eve first toiled together in the Garden, countless husbands and
wives have paired up to run businesses or chosen to work alongside each other in the same job. But what's it really like to live and labour in your spouse's pocket 24/7? Three couples give the low down to Sharon Barnard
Christopher and Gail Lawther

Chris, a typographic designer, and Gail, a quilter, met during their first term at Reading University. They've been married 27 years and have an informal partnership, Teamwork, for their joint projects, and also publish books under the imprint Teamwork Craftbooks. In addition, they each have their own clients and both enjoy teaching in their own areas of speciality. They live in West Sussex and are actively involved in their local church.
What are your individual skills and how do you bring them together?
Gail: I trained as an editor, so when we're working on books my main responsibilities are the writing/editing, and doing any illustrations needed. If we're working with another author - rather than doing a book for ourselves - then I also check the technical side of whatever craft the book deals with. We both do bits of photography, and both liaise with our authors constantly - and with each other - while the book's being put together.
Chris: Give me a batch of text, plus any pictures and diagrams (and an Apple Mac!), and I'll aim to put them together in a clear and effective way. I also take responsibility for making sure all our work is in a suitable form to send to the printer, as well as doing odd bits of writing and editorial work when needed.
What do you most enjoy about working on joint projects?
Gail: I'd say combining our skills to create something special. Producing a craft book is often about making a dream come true, whether that's for ourselves or for another author, and that's a lovely thing to be involved in. Nothing beats the thrill of opening that first carton of books, straight from the printer.
Chris: I also love it when we're at exhibitions together, demonstrating, chatting, getting direct feedback on our work . . . and the camaraderie.
Do you share out the business admin and household tasks as they arise, or do you have clearly defined responsibilities?
We always say that we have plenty of time both to work and to relax because we have no children, no pets, do no housework, no DIY and no gardening! We tend to do tasks as they come up. Whoever's least busy during a particular day or week cooks and shops - and if we're both really busy, we ring up for a pizza or a Thai meal!
Do you have different ways of dealing with the panic of tight deadlines?
Not really; we both take deadlines very seriously, and do whatever is necessary to meet them, which sometimes means working very punishing hours as we balance different responsibilities. We're both good problem-solvers, and we see part of our work as trying to take pressure off our clients. Our theory is that they pay us to work, not whinge . . .
How would you rate your ability to switch off from work?
Chris: It's impossible to turn off the creative part of the brain - everywhere we go we notice designs, colours etc. And we're very grateful to God that we make a living doing what we enjoy so much. I love having time out - especially from the admin and business side of things. Not having a mobile phone protects our 'downtime' too from unwanted interruptions, and allows us to be truly off-duty.
Gail: Very good, when I have the chance; I can lie in the sun or read for hours with the best of them, though as creative people we're never more than a few moments from a new idea or a new inspiration. As I do quite a bit of driving, that's time I use for thinking; it allows problems, solutions and new ideas to bubble to the surface. The same goes for lying on a sunny beach.
What advice would you give to other creative couples who are thinking of working together?
Gail: Learn your own strengths and weaknesses, and play to them. If areas cause you tension, divide them so that one or other of you is taking responsibility and then you don't create unnecessary friction.
Chris: The same advice for anyone wanting to build a strong relationship - mutual respect and commitment not competition, an ability to laugh at oneself and own up when you make a mistake, and remember to involve God in your decision-making and daily lives.

Their latest book is Stained Glass Patchwork Techniques, by Gail Lawther, published by Teamwork Craftbooks, ISBN 0 9532590 8 0. Woman Alive readers can buy a signed copy of the book, post free. Send your details and a cheque for £14 (made out to C and G Lawther), to: Teamwork Craftbooks, 44 Rectory Walk, Sompting, Lancing, West Sussex BN15 0DU.

Nick and Sophia Rook-Blackstone
Nick and Sophia, have been running the family's market garden farm (OrgaNick) in Liss, Hampshire for the last six years following Nick's father's retirement. They've been married for 11 years, have three young children and are members of Trinity Church in Liphook.
Do each of you have clearly defined roles and responsibilities on the farm, or is it a case of 'mix and match'?
In the beginning it was all hands to the pump. Sophia was far more office-orientated as computers and I are incompatible! I tended to be the workhorse, while Sophia supplied sustenance to keep the fires burning.
What are the biggest pressures on you as a couple working together and 'living above the shop', and how have you overcome them?
The biggest pressures will always be both financial and time. I'm always looking for the 25th hour of the day and the eighth day of the week. This will put pressure on any relationship. There is an unwritten rule in the farming world that farmers and their wives will always be subject to the laws of seasonality, and the constraints of time it brings.
So how do you carve out time for each other?
One grabs time when one can and takes the golden opportunity when it arises. If this means going to the beach on a rainy day or flying a kite when there is no wind, then that's what we do. People will often say that one should make time, but in farming that's about as useful as trying to grow money trees. Time is an un-palpable form that cannot be moulded, manipulated or reasoned with. At best we go with the flow.
What's the best thing about working together?
By working together one experiences the same pressures, anxieties, highs and lows which ultimately means we save a few precious moments each day that could be lost to pleasantries like 'How's your day been, darling?' A moment's silence with a cold G&T between two people that have worked together all day can save a million words!
What would be your top tips for other married couples thinking about working together?
I think that farming, or land based activities, offer a unique experience for couples to work together. There seem to be hidden rules of engagement that allow it to be possible for couples to work under extreme pressure and not break. One thing's for sure: they need to be 100% committed to one another before contemplating investing time and energy into a business which, by its very nature, will try to pull them apart. However, should the hurdles and pitfalls of running a business be overcome by being united - and still be in love at the end of it - then I think it's fair to say that there are few theme parks that offer the same adrenalin rush that can so often be achieved in working together!

Buy Nick and Sophia's freshly picked organic fruit and veg from the OrgaNick farm shop at Wylds Farm, Warren Road, Liss, Hants GU33 7DF, from farmers' markets in Hampshire, or sign up for their local home delivery box scheme. Call 01730 891490 or email nick@organick.org.uk for details.
Ron and Janet Benrey
Ron and Janet are mystery writers who met at a New York City party after Janet had travelled to the US to work as a secretary. They've been married for 41 years and live in Columbia, Maryland. The couple were involved in helping to plant a new non denominational church in their community where Ron was a founding trustee and served as an elder. Ron also teaches theology courses as part of the Adult Education programme.
When and why did you start writing novels together and how many have you written?
We've been writing together since the early 1990s. We both liked cosy mysteries, so we decided to write one together. We sold our first in 1999. Five have been published so far; six and seven will be published next year.
Do you have separate work spaces or do you work alongside each other in the same room?
We've done it both ways. We now have independent offices because we both have day jobs. (Janet is a literary agent, for the Hartline Literary Agency; Ron is a marketing manager for Northrop Grumman and works from home.)
Were you clear from the start how you would approach your joint writing projects?
We have a process that many don't believe when we talk about it. For starters, we don't write together. We often describe our process as analogous to creating a clay sculpture. I typically create the 'wooden armature' inside (ie a detailed scene outline). Janet then takes the armature and piles on the first layer of 'clay' (a quick first draft). I then go back to the 'statue' and refine the layer of clay (I typically do an extensive rewrite of the first draft).
What do you most enjoy about working together?
The single biggest advantage of collaborating on novels has nothing to do with the actual writing of our books. Because we work together, we both understand the crazy drive that propels otherwise sane people to spend thousands of hours sitting in front of a computer. Janet doesn't complain that I'm wasting time we could use for holidays and other joint activities - and vice versa. And because we work together, we share activities such as lecturing at writers' conferences, doing research in interesting places, and signing books in bookshops - all of which can be great fun.
And the downside...?
At times, we disagree about stories and characters; we've had writing related tiffs. But the downside problems we remember most tend to involve opportunities we've given up to finish a manuscript by the deadline. Because we write together, we both know the importance of honouring deadlines.
Many novelists find their ideas come to them when they're doing something else. Does this mean you're never fully switched off from work?
Goodness, that's one of the fun things about being a writer. I carry a notebook with me so I can jot down ideas and notes about interesting people I see.

The Benreys' latest novel is The Final Crumpet, the second book in The Royal Tunbridge Wells Mysteries, published by Nova, £7.99 ( ISBN 1593108702).