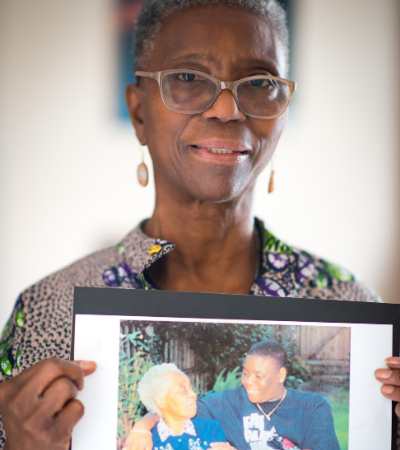 My biggest life lesson was learning to forgive after my son, Seni, was killed by excessive police force in 2010. It has only been the grace of God, prayer and his word that have kept me going and led me on a journey of healing and hope.
Early years
My mother was from Sierra Leone and my father from Nigeria. Mum arrived in the UK to work as a nurse before the Second World War and cared for German prisoners of war in a hospital in Colchester, while dad studied law at Oxford University. My parents met through mutual friends, eventually married in Nigeria and I was born in Lagos in October 1949. I had an older sister and younger brother.
My early years were in Nigeria, but I went to a Methodist boarding school in Bury St Edmunds when I was seven years old. I then attended teacher training college in Wimbledon and went on to teach in a primary school in Battersea. It was 1972 and there were very few black teachers. I got asked things like: "Miss, did you live in a mud hut?" I would say: "Yes, a massive one, with an indoor bathroom!" In those days most of the pupils lived in homes with outside toilets and a tin bath that was brought inside once a week, so they were impressed!
I then became interested in history, so studied African and World History at The School of Oriental and Asian Studies (SOAS) and Royal Holloway College.
My marriage
In 1978 I married Conrad, who is also Nigerian but was born in the UK. We had three beautiful children, two girls – Oluwakemi (Kemi) and Omolara (Lara) – and a son, Olaseni (Seni). Lara and Seni were miracle children, as after Kemi was born I was told I had a benign tumour on my pancreas and would not be able to get pregnant again. Despite the diagnosis, we tried to have another baby. I had a few miscarriages, and then eventually got pregnant but I had terrible pregnancies. For the first six months I could not leave my bed and was constantly vomiting. I lived off fresh coconut and tonic water, as that was all I could stomach, so lost a lot of weight.
I had a conventional Methodist faith at this time. I went to church regularly, and I prayed, but I hadn't given my life to Christ. I was a nominal Christian. I knew there was more, but I didn't know quite how to get it.
My father had been Chief Justice of Lagos State and law had always interested me. I went back to SOAS to do a law degree in 1980, focusing on English and African law. As a family, we then moved to Nigeria where Conrad had a job and I was 'called to the bar' and worked as a lawyer specialising in intellectual property. But things were unravelling with our marriage. We came back to England and eventually divorced. It was a painful time, although Conrad and I remain good friends.
Finding a renewed faith
My daughter started going to a small church in south London, where she ran a small group for the homeless and drug addicts. I started helping her; I was searching at this time.
I got baptised, and immediately felt like I had found my home. I had been seeking God, and finally had found what I was looking for. I started reading my Bible more, and God opened up his word to me.
I always felt it was important to serve in the community, and God opened doors for me in a miraculous way. I became the governor of a local school and trustee of a charity called Crossroad, which sends volunteers to sit with the elderly so that their family members can have some respite. During this time, God gave me the strength to look after my elderly mother, my brother (who had contracted polio through a live vaccination when he was five), and my own children.
My son's life cut short
My son, Seni did a degree and then a Master's in Business and Information Technology at Kingston University. His plan was to travel to America to undertake his PhD. In August 2010 he went out with friends, then came home saying: "Mum, they've given me something." He became disoriented and agitated so I sent him to bed, hoping that he would sleep it off. I was really worried. He had never had a psychotic episode before.
The next day Seni was still unwell, so Conrad and I took him to A&E at the Mayday Hospital in Croydon. Staff there transferred him to The Maudsley Hospital (a psychiatric facility). While he was waiting for tests he became agitated and walked out. Hospital staff and police followed him, and managed to de-escalate the situation. In the end the doctors told us we could either take him home, or he could go as a voluntary patient to the Bethlem Royal Hospital (also a psychiatric facility). I was uneasy but knew I could not have him at home, as I was scared he would leave the house at night. He was still so unsettled.
We took him to Bethlem, and at 8:30pm were told to leave as visiting hours had finished. We found out later that Seni deteriorated after we left and he wanted the nurses to call me. They didn't call, but instead contacted the police and that is when everything went wrong.
At 10.30pm Seni's best friend, Omari Faria, telephoned me to say that there had been an incident at the hospital and Seni was now at A&E at the Mayday. I rushed there with Conrad and Omari, where we were told he was on life support. Sadly, Seni was taken off life support a few days later and died. He was only 23 years old.
I was completely devastated; I didn't know if I would survive the pain of the grief.
Desolation and consolation
We had no idea what had actually happened, until a whistleblower contacted the Evening Standard newspaper. A journalist came to our door and explained that eleven police officers had restrained Seni for 45 minutes in such a violent way that it had killed him. When he went limp they left him, thinking he was faking it, so did not start CPR until later.
"Lord, why did you let this happen?" I cried out in anguish. The Lord answered by giving me a vision not just once, but three times. In the vision, I saw Seni sitting on a stile in a beautiful field. There was a bright light next to him; Seni's head was turned towards it and he was talking and asking questions. I knew Seni was talking to the Lord. This gave me the confirmation I needed that he was with the Lord. It was amazing consolation; Seni was fine, and he was where he wanted to be.
My pastor shared 1 Thessalonians 4:13 with me, which really helped: "Brothers and sisters, we do not want you to be uninformed about those who sleep in death, so that you do not grieve like the rest of mankind, who have no hope." It reminded me that as Christians we have a home; we know where we are going – my son just got there a bit before me. I will see him again.
A lasting legacy
When Seni died, I knew straight away that I had to forgive, or the unforgiveness would destroy me. But it was only God working in my heart that helped me forgive the police officers and medical staff who stood by and watched my son die.
It took us seven years to get an inquest, so I had to hear everything that happened again and again. It was heartbreaking. I clung to the comfort I found in Isaiah 54:5: "For your Maker is your husband – the LORD Almighty is his name – the Holy One of Israel is your Redeemer; he is called the God of all the earth." I was divorced and alone, but God said he was my husband and he would support me – and he did, in beautiful ways.
Because of Seni's death, my MP, Steve Reed, our solicitors, the charity Inquest, and many mental health groups got together to petition for a change in the law, in order to prevent unnecessary and excessive restraint being used in mental health units. In July 2018 The Mental Health Units (Use of Force) Act 2018 was passed, which is also known as 'Seni's Law' in honour of my son.
God has blessed me in so many ways, despite the tragedy of Seni's death. Without him we would not be standing together as a family. My daughters and two grandsons are everything to me. I love the song 'He favoured me' by Hezekiah Walker; I sing it as a declaration. I am favoured and I am loved, and that is enough.
Words by journalist and author Jemimah Wright. Jemimah writes real life features for women's magazines and has ghost-written several faith-building missionary biographies.