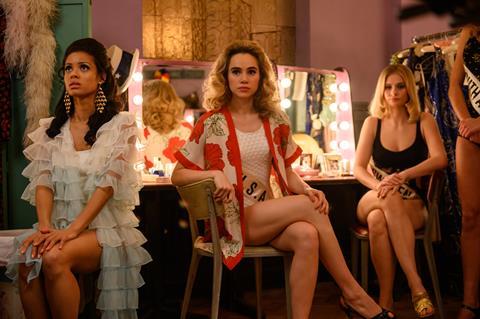 Set in 1970, this depiction of a true story recounts the clash between the Miss World competition and the emerging women's liberation movement.
Award-winning Director Philippa Lowthorpe bravely attempts to tackle the heavy weight injustices of racism and sexism, both featuring heavily in British society at that time. Film fans should prepare for an all-star cast including Kiera Knightly, Greg Kinear, Rhys Ifans, Lesley Manville and Jessie Buckley.
The script revolves around Sally Alexander, a single mum who is a mature student in a man's world, and the unexpected relationship she develops with commune leader Jo Robinson. Jo represents the women's liberation movement and, while the women are tied together in their fight for justice, they have opposing ideas of how to execute a campaign and be heard. Sally and Jo plan to hijack the Miss World event by hiding in the audience and at a key moment, disrupting the live show.
The unexpected star is Rhys Ifans who plays Eric Morley, the man responsible for creating the competition. His complete lack of self -awareness allows you to laugh at the way he manages the chaos of the competition and rows of women in bikinis. The best line comes from Sally (played by Kiera Knightly) who finally strikes a chord with him by observing that the 'only other competition where contestants are weighed and measured is a cattle market!' Briefly, we think she has cut through his chauvinistic attitude only to discover it runs to the core.
The other battle being fought is one of deep-rooted racism and here there is less comedy covering up the injustice. There are only two black women in the entire competition and South Africa, which is still under apartheid, has for the first time a black representative (alongside a white one). Comments from a few of the girls competing suggest they have aspirations beyond being judged solely on their looks with Miss Sweden claiming to hate the patriarchy. But a scene between Miss Sweden and Miss Grenada highlights the subtle difference in the injustices they experience when the former complains about being objectified. Miss Grenada responds to say that she looks forward to 'having the restrictions of a white woman' imposed on her – reminding us that she is not only dealing with the sexism but also an inherent racism.
The trump card is held by the perceived victims though as the next day they feature on every newspaper across the world who have reported on the scandal, therefore highlighting their cause. This event in history put the women's liberation movement firmly on the map of public consciousness and contributed to it being where it is today.
The film is fast paced, fun and extremely well written not to mention an important piece of history.
Misbehaviour is released on Friday 13 March 2020 cert 12A