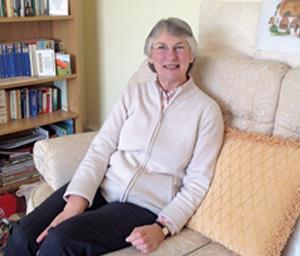 The street pastor
Jan Giles is in her early sixties and has worked as a street pastor in Nottingham for the last two years. She talks to Pat Hemstock about how she got involved
I never intended to be a street pastor, but I was very impressed by a woman who came and spoke to us about the ministry. I saw this as an opportunity to do something positive within my Christian faith and so I volunteered to do some of the administration, but I was encouraged to do the training, and then encouraged to go out onto the streets.
We did six Saturday trainings and a few evenings. We learned about drink, drugs and other kinds of substance abuse along with basic first aid. Most of our training was how to signpost people to the agency who could best help them. We had talks from the police and paramedics, as well as the agencies working with substance abuse.
On my first night out I was terrified. I thought that most people carried guns or knives. When we arrived, the air on the city streets was thick with 'testosterone and after shave'. By the second night the fear had gone and I have never been afraid since. I now realise that the experience was part of the training. We do get some abuse, but it's very rare, most people come and speak to us, and give us lots of hugs. We never go out without praying together first and this is a great support to us.
We carry a number of items with us for distribution. Plastic flip-flops for young women who can no longer wear their high heels (we often find youngsters carrying their shoes around the town), bottles of water for dehydration and a stack of lollipops. The lollipops give an instant rush of sugar if needed, but are mostly used to calm a situation down. It's amazing what a lollipop will do! The police and paramedics also like a lollipop. We also give out 'Spikeys', which are plastic covers to go over the top of drink bottles to stop them being spiked.
Our main role is to keep people safe. We have a 'safe space' in the city where we can take people who have had too much to drink so they can sober up without being taken into custody. Each team of three has a radio, so they can call for help and we work alongside the police and paramedics so they are always a call away. We will quite often stay in a situation until the appropriate agency is there and has taken over control.
I think the scariest thing that happened was finding two girls who had been drinking and had also taken drugs. One girl was OK, but the other was fitting quite badly and I feared for her life. We sent for an ambulance and the paramedics arrived, and she was taken into hospital. Quite often we never find out what happens afterwards.
But there are many encouragements. We have lots of fun and one comment was, "Keep up the good work. You're angels!" Another girl we had taken to the safe space didn't know how she had got there but, afterwards, wanted to say thank you to us. We engage with all the youngsters which makes me feel quite young again until one girl said, "Ah, street pastors! Let me give you a hug, you remind me of my gran!"
Some people might say there shouldn't be a need for this sort of ministry. But the need is there and we should respond. I'm just glad I have had the opportunity to be part of it.
Factfile
The Nottingham Street Pastors project started on 6th March 2010. Between then and July 2012 volunteers gave the equivalent of 9,922 voluntary hours on the streets to the community.
+ Safe space has hosted 174 vulnerable people.
+ Over 6,000 people have been spoken to and 650 have been signposted to voluntary/statutory organisations.
+ 73 taxis have been paid for.
+ 1,669 water bottles have been given out.
+ 221 space blankets used.
+ 1,390 pairs of flip-flops have been distributed.
+ 7,339 broken glass and bottles were collected.
+ First aid has been given to 326 people.
+ The volunteers were called to 985 separate incidents.
They say: "Street Pastors are not there to make judgements about who to help, and how. Street Pastors simply try our best to respond to the immediate needs of real people. Our inspiration for this is the teaching of Jesus Christ, as found in the Bible. Street Pastors reach out with unconditional care, love and protection to all who need it, no matter what brought them to this place. Our sole objective is to help them out of whatever situation they may find themselves in."
More information can be found at www.streetpastors.co.uk